Recently, I was asked about an investment company Maxim Trader & whether is it a scam?! Maxim Trader mainly focuses on Forex trading. Its very high returns & focus on recruitment incentives does raise some questions. Some observations are shared as per below.
Updated: Jun 22, 2017
As a note to all Web Visitors, there is the right available to Maxim Members, to go to LEGAL WATCH at the back office of the Maxim Trader website, where all legal questions will be answered, and legal licenses and records can be released to Maxim Members.

Maxim Trader is not approved by certain regulatory bodies
Not authorised nor approved under the relevant laws and regulations administered by BNM (Added to alert list on 25/09/2013)
http://www.bnm.gov.my/documents/2014/210504_FCA_en.pdf
No such company is registered or licensed in Belize (International Financial Services Commission Belize)
Maxim Trader Returns & Compensation Plan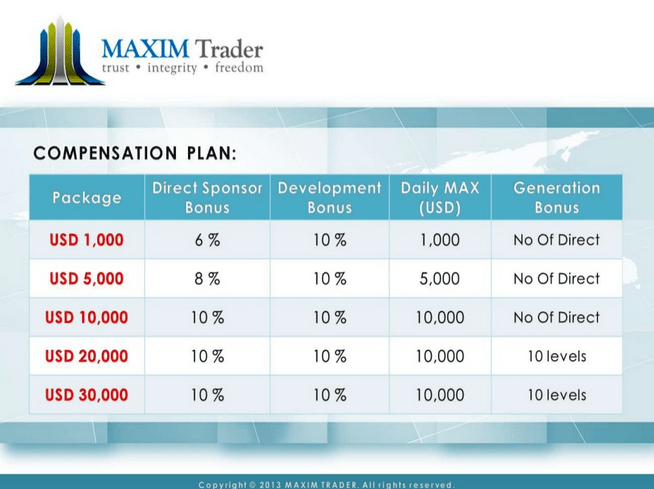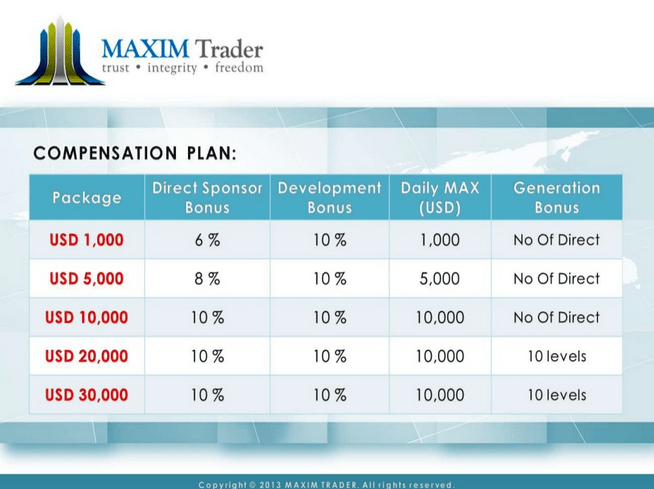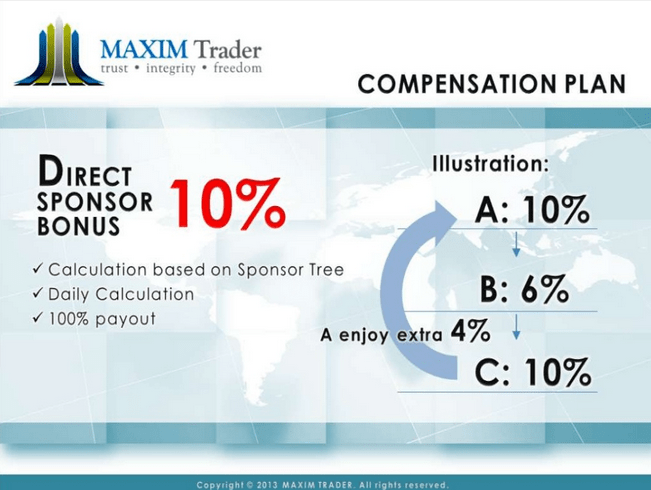 Monthly returns of up to 8% is very high
8% x 12 months at a simple rate is at an 96% per annum
Comparatively Warren Buffet's average is ~21% per annum
Investment is being marketed as guaranteed (Note: This may be certain individuals being misleading & not the company itself guaranteeing)
On Maxim Trader's general warning page, they do provide statements/disclaimers on Forex trading being a high level of risk & that they are not liable for any individual consultants misconduct or misinterpretation.
Public Details of Maxim Trader Company, Website & Owner Background
Company exists since 2012 & registered in New Zealand. Company does not appear to primarily do business there.
CEO & Director is a Singaporean Dr Andrew Lim Ann Hoe (LinkedIn).
Parent company Royale Globe Holding Inc is listed as mining related without significant operations (Source: http://investing.businessweek.com/research/stocks/snapshot/snapshot.asp?ticker=ROGP).
There is little public information available of the directors in both Royale Globe & Maxim Trader.
Maxim Trader is registered at Scotia Place, Auckland, NZ.

Maxim Trader website states operations throughout Europe & Asia.
Alexa showing website visitors primarily from Malaysia, Taiwan & Japan.
News announcements on Maxim website also appear focused on Asia only.
Photos of Maxim Trader Events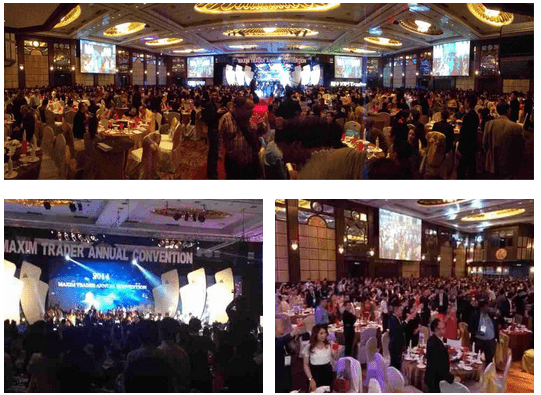 In any investment, it is up to the individual potential investor to determine if any investment is worth investing in. One would especially want to without bias examine your own self in regards to:-
Understanding of investment: The greatest risk is often when one has little knowledge of an investment & over-estimates his knowledge. Do ensure you know what you are investing in & how your money is being invested, and in detail.
Safety of returns: Even secure or contractually guaranteed returns are only as good as the company or government who guarantees them (and remains in existence). If returns are guaranteed/contractual, insist on the black-and-white contract specifically under your name.
Returns on investment: This comes last after ensuring everything else. There are many investments & many opportunities out there. Paraphrasing buffet, investing should be 1) in your circle of competence; and 2) investing wisely with your 10 bullets you have limited supply of in your lifetime.
More info:
Disclaimer: This article is a personal opinion and for information sharing only. Information is obtained from publicly available source(s) & are owned by each respective source(s). We are not responsible for and disclaims any and all liability for all comments posted which are the responsibility of the writers. Images and information, where applicable, are owned by their respective owners. Read full disclaimer.