Base Rate (BR) replaces Base Lending Rate (BLR) effective Jan 2, 2015. What are the changes from BLR to BR?

Base Rate Summary
Replaces BLR (introduced in 1983) which is viewed as less transparent & less relevant with retail loans offered at substantial discounts to the BLR
More transparent & better reflect changes in cost arising from monetary policy & market funding conditions
Determined by banks' benchmark cost of funds & the Statutory Reserve Requirement (SRR)
Other components of loan pricing such as borrower credit risk, liquidity risk premium, operating costs and profit margin will be reflected in a spread above BR.
How does it affect me?
Loans prior to 2015 using BLR still to remain on BLR (banks to show both rates). When changes to BR which is set by each bank, BLR to change as well.
Good for consumers as expected to stir up competition among banks
Good to check on refinancing with new BR whether will save with new rates
Banks Initial New BR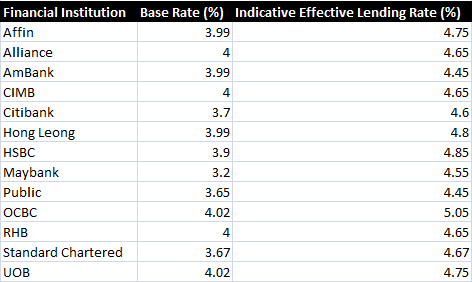 Banks on average 4%
More Info: Base Rate & Indicative Effective Lending Rates of Financial Institutions
Affin Hwang Research on BR
Neutral rating on the Malaysian banking sector (muted earning outlook 2015)
Impact on banks' profitability will be relatively immaterial
For sector exposure, favour Public Bank & Hong Leong Bank
Banks which have set a lower BR & effective lending rates (ELR) & strong niche in consumer financing (e.g. Maybank, Public Bank) will have an initial edge
More Info