Where to buy MBPP (previously MPPP) parking coupons? What types of parking coupons are available? What is a Smart Parking Gadget? What are the differences between red, green & blue parking zones?
Updated: April 20, 2019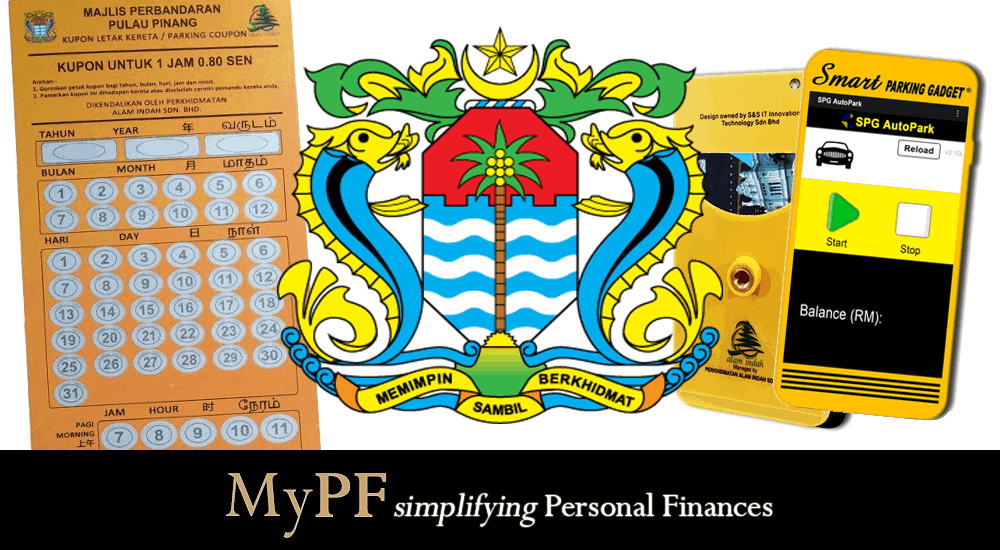 MBPP Parking and Zones
Previously, the new parking coupon system was implemented on Jan 1, 2014. Different parking areas are designated with different zones with signage depicting the payable operating hours. There used to be 3 different parking zones Green, Blue and Red with different operating days and hours which caused confusion to Penangites and visitors. Effective July 1, 2017 all MBPP parking zones will be replaced with a single yellow parking zone.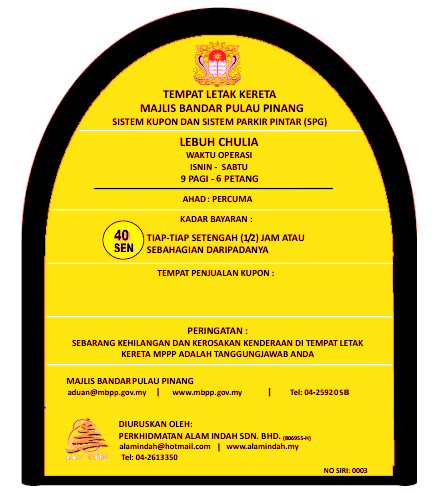 Yellow Parking Zone (All Zones)
Mon- Sat 8am-6pm
Including Public Holidays
Sundays free parking
Parking Coupons
Parking Coupons are based on a daily/hourly/30 mins scratch-card basis.
Half hour: Green
One hour: Orange
Daily: Red
Parking coupons are sold in books in various prices & coupons including:-
RM4 (8 half hour & 1 hourly) or  (10 half hour)
RM6 (5 half hour & 5 hourly)
RM8 (10 hourly)
RM60 (10 daily coupons)
Parking Passes
Parking Passes are based on monthly basis and is issued tied to the vehicle number. As of 2015, there are currently no promotions available for discounted pricing for purchasing longer than 1 month, and the senior citizen monthly pass has been removed.
Smart Parking Gadget (SPG)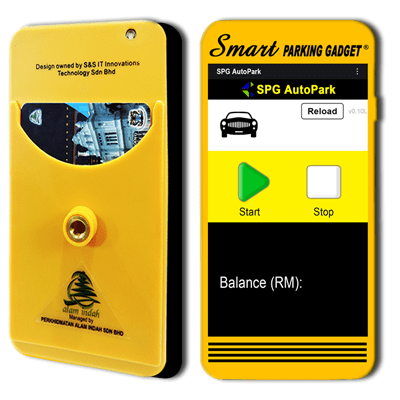 After a trial period in 2014, the SPG was officially launched in 2016 October. The device is displayed on your car dashboard & deducts parking credit once you hit start. The SPG is linked to your car number plate.
SPG was ended as of Dec 31, 2018 as the parking maintenance company was terminated by MBBP due to parking payment arrears.
Where to Buy Coupons/Passes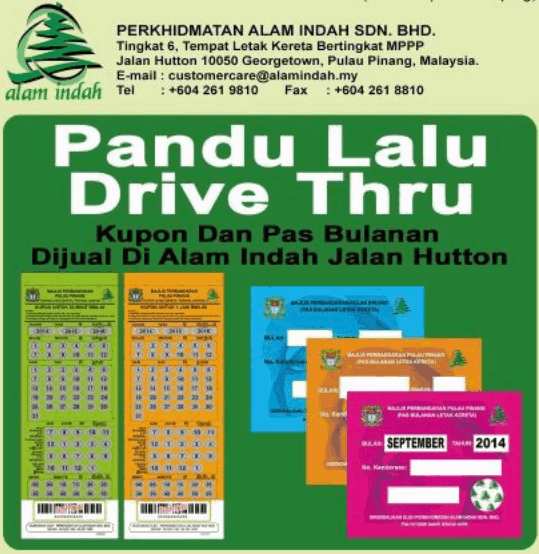 RM4, 6 & 8 coupon booklets are available in MPPP/Perkhidmatan Alam Indah offices, many convenience stores (e.g. 7-11, Happy Mart), roadside parking vendors, & some grocery stores/mamak/restaurants.
The daily parking coupons & monthly passes are only available from MBPP/Perkhidmatan Alam Indah offices
Head office: Level 6, Tempat Letak Kereta Bertingkat MBPP, Jalan Hutton
Tel: 604 – 261 9810
Operating days: Mon-Fri
Operating hours: 8am – 4pm
Branch Office: Level 3 KOMTAR
Tel: 604 – 259 2174
Operating days: Mon-Fri
Operating hours: 7:30am – 4:30pm
Branch Office: SPICE (formerly known as PISA), Jalan Tun Dr Awang
Tel: 604 – 645 1170
Operating days: Mon-Fri
Operating hours: 8am-4pm (Closed for lunch 1-2pm; Friday closed 12:15-2:45pm)
Branch Office: Balik Pulau, Kompleks Pasar Awam Balik Pulau, Jalan Tun Sardon
Tel: 604 – 866 8201
Operating days: Mon-Fri
Operating hours: 8am-4pm (Closed for lunch 1-2pm; Friday closed 12:15-2:45pm)
FAQ
Q: Can I purchase MBPP Passes online?
Unfortunately MBPP monthly parking passes are not able to purchased online. You will need to walk in to any MBPP branch at KOMTAR, Padang Kota, SPICE Arena (previously PISA) or Bkt Jambul (Ideal CEO building)
More info: call 04-640 2220 for further inquiries.
Q: Should I get a parking coupon or monthly pass?
This would depend on the number of hours you park in MBPP parking areas in a month.
Also to consider the time required for scratching the parking coupons if parking for many hours.
There are approximately 30.42 days OR 4.33 weeks in a month.
If daily you park 8 hours or more, you should get a daily parking coupon (red color coupon book @ RM6 per day)
If monthly you park 25 days or more (or weekly 6 days or more), you should get a monthly parking coupon @ RM150
Q: Should I consider a SPG?
You save on time & hassle of buying and scratching parking coupons. You also pay for what you use by the minute without having to overpay or risk parking longer than your coupons & risking a parking summons.
Factors which might deter some folks is the cost in time & money to service your device every year.
Look out for seasonal promotions for SPG discounts on new SPG and reloads.
SPG usage was phased out in Dec 31, 2018
Q: Are my parking coupons which expired last year usable?
In early 2016, MBPP informed that coupons expiring in the last year are allowed to be used until March 31 the next year as long as the year portion is left unscratched.
Q: What if I am asked to pay parking after parking hours by illegal jaga kereta (parking touts)
Do NOT pay illegal parking attendants including after operating hours!
Report to MBPP directly at 04-2592058 / 04-2637637 (HOTLINE)
Q: How much does your friendly roadside MBPP ticket seller make?
5% of coupons selling price (i.e.)
RM4 – earns 20cents
RM6 – earns 30cents
RM8 – earns 40cents