Great Eastern recently launched the 1st medical extender plan with adverts running in major newspapers & billboards planted across the country. What does a RM1,000,000 medical coverage extension mean? Is it something I need?

Updated: Jun 8, 2017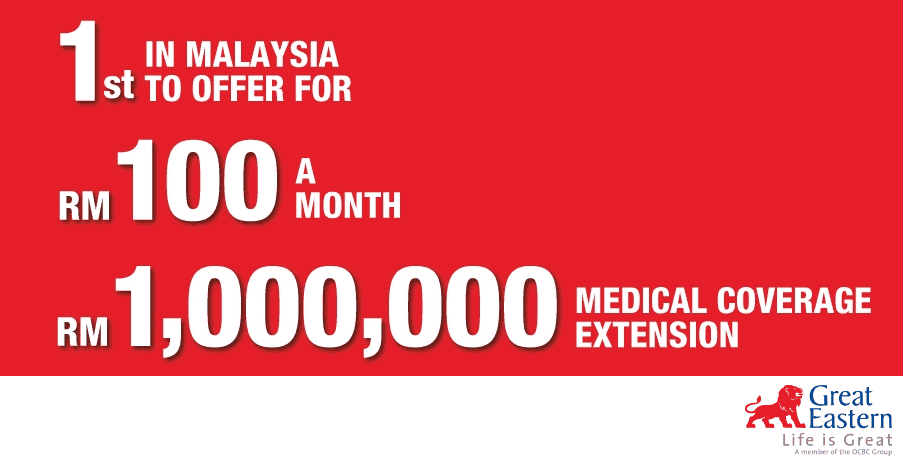 A look at medical insurance in Malaysia
The most popular and important insurance plan in Malaysia is medical insurance.
However, most of the medical policies have:-
Annual limit: 90-120k
Lifetime limit: 1m or less
In response to this, 1m medical annual limit coverage started entering the market from May 2014
2014 May: Great Eastern 1st to offer extension of 1m coverage with Smart Extender
2014 Dec: AIA launches A-Plus MedBooster
2015 Feb: Prudential launches PRUValueMed
2015 May: Allianz launches MediSafe & MediSafe Xtra
However, not everyone may want to upgrade/get new medical coverage with a higher medical limit due to costs or other constraints. Or you may have decided in the past to pay for medical costs in cash.
Smart Extender Max helps fulfill this need.
Why are medical annual & lifetime limits a concern?
Medical inflation as reported by Malaysia's Ministry of Health in 2014 is at a whopping 23%.
The estimated rise of medical inflation after Apr 1 is 14.4%.
Global historical medical inflation: 10%
Malaysia historical medical inflation: 15%
Effect of Inflation
Costs with per year impact on 100k medical costs at just 10% inflation:
Today: 100k
5 years time: 161k
10 years time: 259k
20 years time: 673k (!)
Key Questions
Are you prepared for medical inflation especially in 10 or 20 years time?
Is your medical plan sufficient to cover you for the next 10 years (and beyond)?
What if your health status declines, you can no longer purchase a new or upgrade your medical plan?
What is Smart Extender Max?
This medical coverage is not a typical medical card. But it IS an extension to your medical coverage annual & lifetime limits
This is especially targeted for those who are already having other company insurance plans, whether purchased on own, your company insurance, or you plan to cover your medical bills in cash.
You have a choice for SEM to kick in when your medical costs in a year goes above a certain limit (or called a deductible).
It is comparable to a powerbank that extends your smartphone's battery life significantly no matter what model your smartphone is.
SEM Deductible Options
Which deductible option do you need?
To ensure that you do not have to pay from your own pocket, you would want to obtain the deductible equal or lesser than your current medical plan annual limit, or your reserves for paying your medical bills in cash. For example:
You have no medical insurance and are willing to pay the first 60k per annum in cash. You can now get SEM60 that covers all medical costs above 60k.

Your current medical plan covers 100k per annum, you will want to get SEM100 that covers all medical costs above 100k.

Your current medical plan covers 150k per annum, you will want to get SEM150 that covers all medical costs above 150k.
Pros
High annual limit (10x deductible amount)
No lifetime limit
No co-insurance
Extensive coverage including:

Hospital R&B
ICU
Hospital Supplies & Services
Surgical Fees
Operating Theater
Anesthetist Fees
Pre-Hospital Diagnostic Tests & Specialist Consultation
Post-Hospitalization Treatment
Organ Transplant
Ambulance Fees
Day Surgery (cataract removal, colonoscopy, adenoidectomy, bunions, etc)
Outpatient Cancer Treatment
Outpatient Kidney Dialysis Treatment
Intraocular Lens
Cons
It is not a medical card & you will need to pay 1st for your medical costs before submitting your bills for claims. You can request for a Guarantee Letter which is given at company's prerogative.
Max entry age 70 next birthday.
Age 61 above subject to medical checkup.
Coverage only until age 80 next birthday.
Conclusion
Consider SEM if your primary medical/group insurance has low limits OR if you are self-funding your medical costs. SEM at a low cost covers high annual medical limit and gives you unlimited lifetime medical coverage from as affordable low as 100/mth.
E&OE. For educational purposes only.
FAQ
Q: I have my own/group insurance plan & I purchased SEM. Why did I need to pay part of the costs even though I have both my own/group insurance and SEM?
A: SEM kicks in as an annual deductible. There is an unlikely but possible scenario that can occur if you made medical claims prior to the current SEM policy year and then made more claims in the SEM policy year. It is advisable to coincide the SEM policy anniversary with your existing medical plan policy summary to avoid this possibility.
Queries on Smart Extender Max?