Public Mutual Declares RM141m Dividend for 14 funds for financial year end June 30, 2016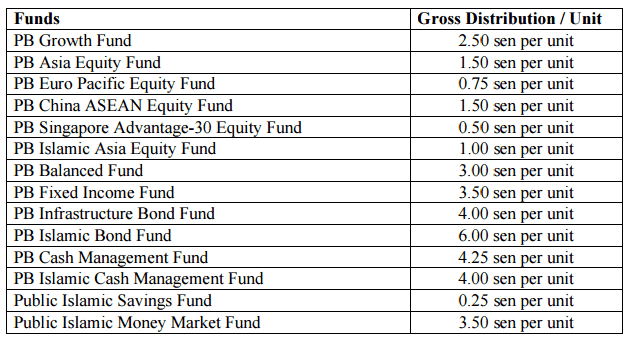 EPF Members Investment Scheme
PB Growth Fund
PB Balanced Fund
PB Infrastructure Bond Fund
PB Islamic Bond Fund
PB Cash Management Fund
Public Islamic Savings Fund
Public Islamic Money Market Fund
PB series of funds are distributed by Public Bank
Public series of funds are distributed by PMF UT consultants
About PMF
Largest market share for retail funds (49.6%)
Largest market share for PRS (41.9%)
Total net asset value (NAV): RM66.9b
Total funds: 121
32 customer service centres/branches
23 fund managers & 30 research analysts
All funds managed in-house
FAQ
Q: Does this mean that the other funds from PMF are not performing?
A: Not necessarily. Only 14 funds with the financial year end of June 30th are declaring dividends. Other dividend announcements are at other times.
Q: Would you recommend investing in UT?
A: UT performance was very good especially in the early years (i.e. 90s). However, investors face challenges in Malaysia with high charges upon buying (3-6%) & annual charges (1-2%) that reduce returns. A personalized recommendation would be upon meeting with the individual. In general though, you may consider investing using EPF funds & for PRS for tax/youth incentive purposes. There also exists discount brokerages for most funds (not including PMF) that charge lower fees. Controversially to some, we opinion that UT investments are high risk & arguably riskier than investing in shares.