IJM the first to offer Home Insurance Protection Scheme in Malaysia. What is a Home Insurance Protection Scheme & its benefits?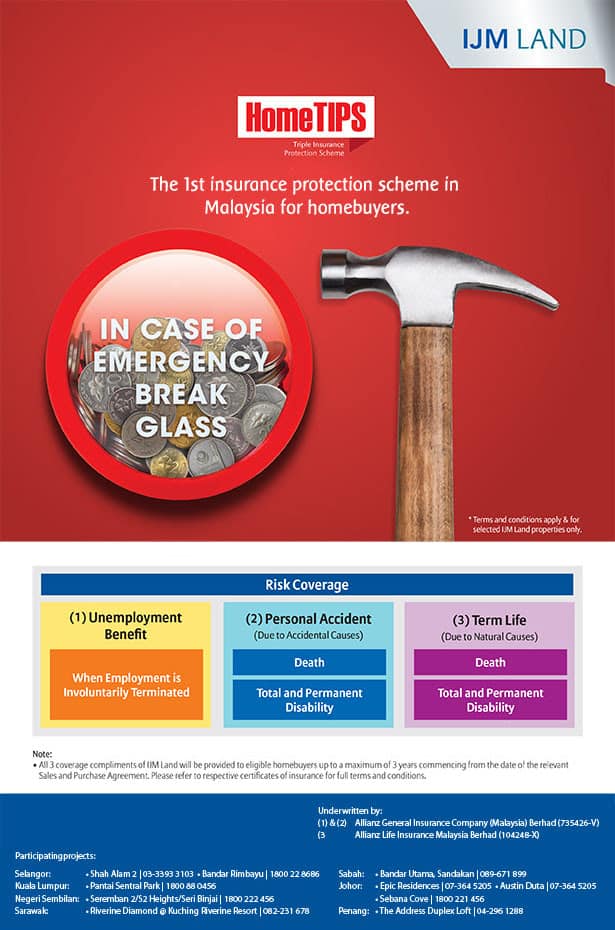 What is a Home Insurance Protection Scheme?
Insurance for home owners against losing their homes due to unexpected certain conditions. It is popular in certain other countries (for example, it is compulsory in Singapore for a HDB if you are using your CPF to pay for the home loan). IJM is the 1st to offer it on a large scale in Malaysia & have called it TIPS (Triple Insurance Protection Scheme) as providing 3 benefits.
IJM Triple Insurance Protection Scheme (TIPS)
On Aug 19, 2016 IJM Land proudly announced that they are the 1st to give complimentary property insurance protection to home buyers
Coverage: Term Life, Personal Accident (PA), & Involuntary Unemployment Coverage
Coverage Sum: Property purchase price rounded down to nearest RM50k
Insurer: Allianz Malaysia
Coverage Duration: 3 years from S&P signing date
Purchase Date: Aug 19 – Dec 31, 2016
Purchaser Age Next Birthday: 18-64
What is Involuntary Unemployment Coverage?
Condition: Involuntarily retrenched due to economic conditions affecting the employer
Employment: Min 1 year full-time employment for at least 30 hours a week
Exclusions:

Disciplinary/performance-related dismissals
Knowing of unemployment prior to date of effective coverage
Currently receiving termination or severance pay
Equity ownership of 10% or more in the company
Self employed
Is your IJM project covered?
Type: Residential only
Pricing: RM300k – RM2m
Projects:

Northern: The Address (duplex loft only)
Central: Bandar Rimbayu, Pantai Sentral Park, Seremban 2, S2 Heights, Seri Binjai
Southern: Epic Residence, Austin Duta, Sebana Cove
Borneo: Riverine Diamond, Bandar Utama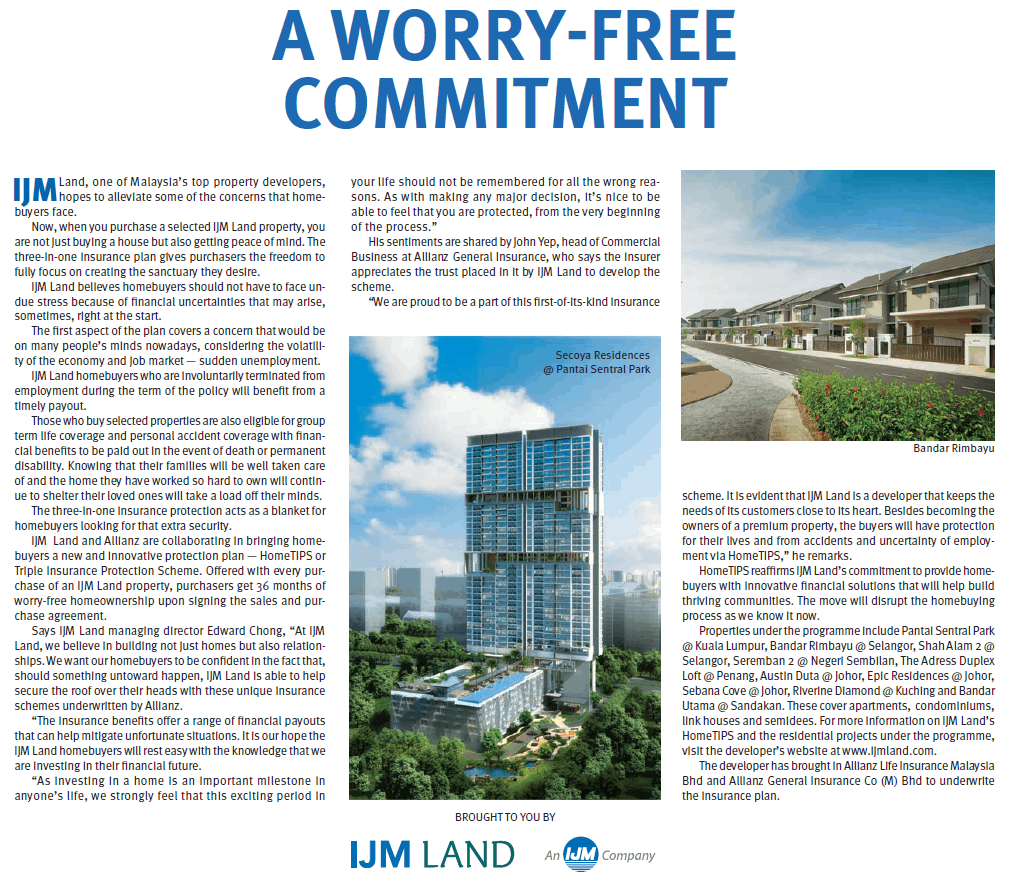 More Info
FAQ
Q: If I buy a IJM property subsale am I covered?
No. Only from developer.
Q: If I buy the property for cash without a home loan do I qualify?
No. You must be taking a home loan from a recognized bank / financial institute.
Q: If property under joint names?
PA: equal proportion for each insured
Term Life: as stated in insurance policy
Unemployment: full benefit