Change in TNB account numbers in 2016 July. Also some TNB customers are receiving higher than normal "estimated" bills OR being double billed.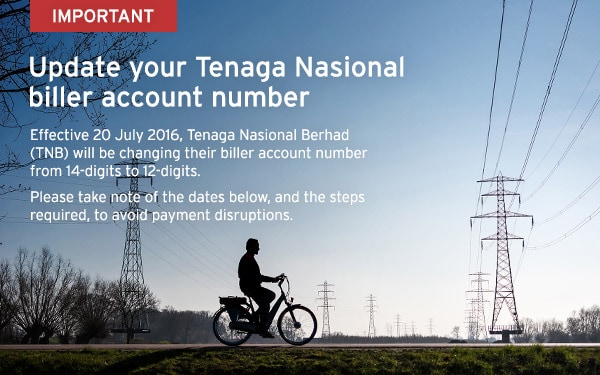 Effective 20 July 2016, Tenaga Nasional Berhad (TNB) changed its biller account number from 14 digits to 12 digits.
Why the change TNB?
Introduced on 21 July 2016, the Billing and Customer Relationship Management (BCRM) upgrade is a long-term TNB initiative which provides our customers with greater access to information about your power consumption, usage and bills. The BCRM programme involves an upgrade of TNB's billing system. (source: TNB)
Autopay or Direct Debit – No Action Required
No action required as your autopay / direct debit continues as normal
Online Favourite Bill Payment – Action Required
Delete your existing 14-digit TNB account number
Add your new 12-digit TNB account number
Issue: Bill Not Received
TNB is aware of billing issues affecting a number of customers especially customers not receiving electricity bills for the months of July & August 2016.
Will my electricity supply be disconnected?
No
My estimated bill for July and/or August 2016 is higher than normal. Should I pay?
Yes. But you can opt to pay your last generated bill amount.
What if I over or under pay?
Your next generated bill will reconciled & reflected in the next bill
Will I be charged a late penalty?
No for July & August 2016 bills
Issue: Double Billing
If you pay via credit card & are double-billed:
If you pay via credit card, contact your credit card issuer whereby you will need to submit a payment dispute form
If you pay using other methods, go to your nearest TNB Kedai Tenaga branch.
More Info