Info on Full Paying Patient Services (FPP) or Perkhidmatan Pesakit Bayar Penuh (PPBP) for private healthcare in public hospitals in Malaysia.
Updated: May 8, 2019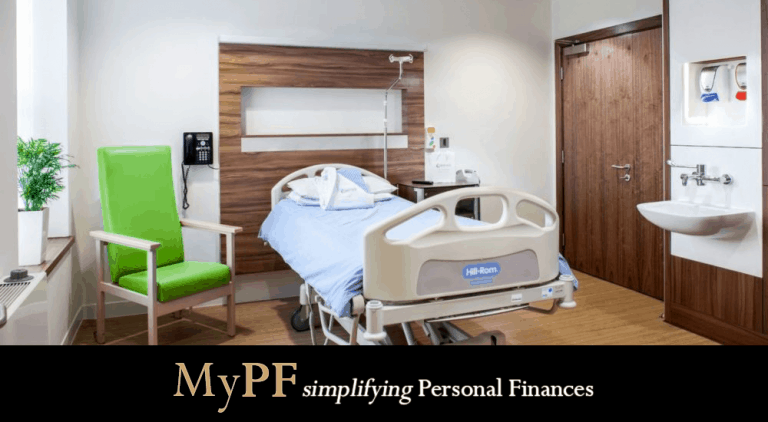 What is Full Paying Patient (FPP) Services?
FPP is a private healthcare service offered through selected hospitals in Malaysia whereby patients need to bear the cost of treatment on their own.
Implementation objectives
Reduce "problem" of private hospitals referring clients to government hospitals
Profit sharing given to doctor treating patient to offer competitive compensation
Reduce government medical treatment subsidy to citizens
FPP Advantages
Patient's choice of doctor/specialist/medical officer (min 3 years experience)
Scheduled (presumably faster) treatment/procedure date & times
Better room facilities with executive / 1st class / VIP room choices
Separate check-in counter (depending on hospital)
Food based on 1st class or equivalent food at the hospital
FPP Disadvantages
Costs (which are stated to be competitively priced) are fully paid by patient (or insurance)
Treatment is scheduled after the doctors official working hours (kira OT lar)
Some patients have complained that queues are long & wait times almost as long as subsidized patients
FPP Eligibility
Malaysian or non-Malaysian paying on own
Government employees choosing for FPP
Corporate/private employees with medical expenditure under FPP agreed to be borne by company
FPP Services
Outpatient treatment
Daily treatment
Admission treatment
Consultation
Therapy services
Surgery & procedures
FPP Specialisations
Anaesthesiology (RM120 – 4800)
Cardiology (RM120 – 4800)
Common Procedures (RM20 – 600)
Dentistry (RM20 – 4400)
Dermatology (RM30 – 750)
Gastrohepatology (RM300 – 1500)
General Medicine (RM50 – 3600)
Hand & Microsurgery (RM50 – 4800)
Hepatobiliary (RM750 – 4800)
Obstetric & Gynaecology (RM50 – 4800)
Opthalmology (RM20 – 4800)
Ortopaedic (RM50 – 3600)
Otorhinolaryngology (RM120 – 4800)
Nephrology (RM400 – 1000)
Neurosurgery (RM400 – 4800)
Paediatric (RM75 – 4800)
Plastic Surgery (RM300 – 4800)
Psychiatry (RM20 – 120)
Radiology (RM300 – 4800)
Rehabilitation (RM50 – 120)
Urology (RM75 – 4800)
FPP Charges
Deposit
Minimum RM3,000 OR 50% of estimated total treatment costs (whichever higher)
Additional deposit (checked daily) to ensure min RM1,000 cash balance (payable within 24 hours)
Registration and Consultation Charges Estimate
New registration: RM10
New consultation: RM100 (RM150 after office hours)
Repeat consultation: RM60 (RM90 after office hours)
Registration and Consultation Charges (Daily Treatment) Estimate
New registration: RM10
Consultation: RM60 (RM120 after office hours)
Consultation for ICU: RM90 (RM180 after office hours)
Hospital Bed Daily Charges Estimate
Executive: RM300
First Class (1 bedded): RM160
First Class (2 bedded): RM130
First Class (4 bedded): RM80
FPP Fees Profit Sharing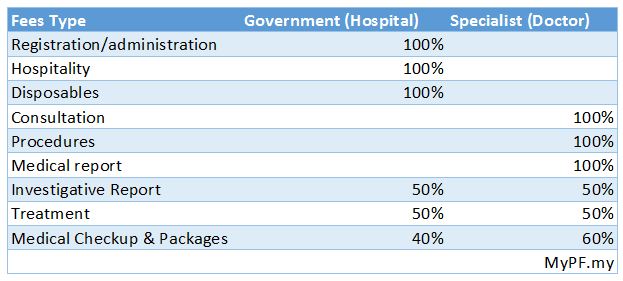 FPP Admission Process
Sign & register bringing IC/birth cert/passport/visa
Guarantee letter from company or insurer (if applicable)
Deposit payment (as informed by hospital – est. min 3k or 50% total costs)
Reference letter (if applicable)
Consultation hours: 8am-5pm
FPP Inquiries/Registration
Walk in or get information from Kaunter FPP (FPP Counter)
Recommendation by public or private hospital doctor
Email to inquire on FPP: hpj_info@hpj.gov.my
Call to inquire on FPP: +603-8312 4316
FPP Hospitals List
| State | Hospital | Address | Contact |
| --- | --- | --- | --- |
| Johor | Hospital Sultanah Aminah | Jalan Abu Bakar, Masjid Sultan Abu Bakar, 80000 JB | 07-225 7000 ext 2564 |
| Johor | Hospital Sultan Ismail | Jalan Persiaran Mutiara Emas Utama, Taman Mount Austin, 81100 JB | 07-356 5000 |
| Negeri Sembilan | Hospital Tuanku Ja'afar | Jalan Rasah, Bukit Rasah, 70300 Seremban | 06-768 4000 |
| Penang | Hospital Pulau Pinang | Jalan Residensi, 10990 George Town | 04-222 5621 |
| Putrajaya | Hospital Putrajaya | Jalan P9, Pusat Pentadbiran Kerajaan Persekutuan Presint 7, 62250 | 03-8312 4200 ext 4371 |
| Sabah | Hospital Queen Elizabeth 2 | Lorong Bersatu, Off Luyang, Jalan Damai, 88300 Kota Kinabalu | 088-324 600 ext 2070 |
| Sarawak | Hospital Umum Sarawak | Jalan Hospital, 93586 Kuching | 082-668 111 ext 8684 |
| Selangor | Hospital Ampang | Jalan Mewah Utara, Pandan Mewah, 68000 Ampang | 03-4289 6081 |
| Selangor | Hospital Selayang | Lebuh Raya Selayang - Kepong, 68100 Batu Caves | 03-6126 3288 |
| Selangor | Hospital Serdang | Jalan Puchong, 43000 Kajang | 03-8947 5555 ext 1669 |
| Selangor | Hospital Sungai Buloh | Jalan Hospital, 47000 Sungai Buloh | 03-6145 4333 ext 1302 |
FPP Hospitals offering obstetrics and gynecology (O&G)
Hospital Pulau Pinang
Hospital Putrajaya
Hospital Ampang
Hospital Sungai Buloh
Hospital Sultan Aminah JB
Hospital Sultan Ismail JB
Overall
FPP services may be good to get affordable paid healthcare especially if you are looking for a particular doctor/treatment that is only available (or the best choice) at a government hospital with less of the common issues & grievances faced with govt hospitals. This may include patients referred by private hospitals to the government hospital under FPP.
FAQ
Q: How do I register for FPP?
Walk in or call the hospital. Please refer for Inquires above.
Q: How early can I register for FPP?
You can register as early as confirmed you will need the FPP services. For pregnancy, this can be as early as week 20 (3rd month) upon pregnancy confirmation and suggested to register by week 27 (7th month).
Q: Can guarantee letter (GL) be used for FPP?
Generally yes.
Q: Does this mean that I need to pay for all government hospital services? No more RM1 treatment?
No. Subsidized services are still subsidized. Only affected are FPP services.
Q: Can I claim government hospitalization benefit from my insurance if admitted under FPP?
Believed to be no. We have yet to receive confirmation from insurers.
More Info