In 2017, Malaysian government hospitalization rates and treatment charges for first and second class wards will see an increase.
Malaysia's Ministry of Health (MoH) has announced on Nov 16, 2016 announced that charges for treatment as well as warding in first and second class wards will increase effective January 1st, 2017. The quantum of increase is awaiting official confirmation from the MoH. It is estimated that this will affect only 1.6% of paying patients. The change is expected to affect government hospital patients requiring warding in higher classes while seeking treatment, along with lab tests and/or surgery, in areas such as pregnancy, psychiatry, and chemotherapy.
Updated information will be shared once there is an official updated announcement from MoH.
"The number of in-patients every year is 2 million, and from that amount, 32,000 are from first and second class wards. "Even though there is an increase, the subsidized amount is still large," ~Health Minister Datuk Seri Dr S. Subramaniam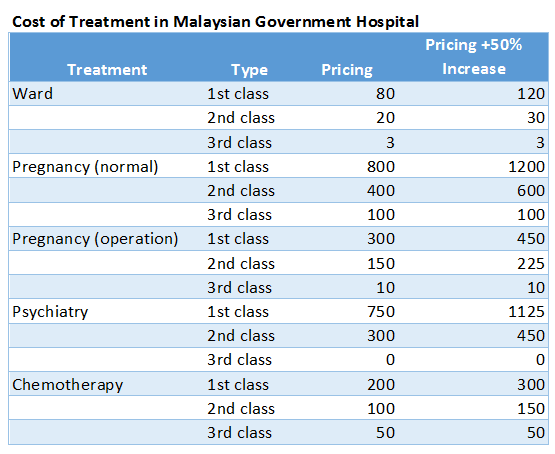 Share and discuss on Malaysian Hospitalization Room Rates Increase