There has been an increase in the number of people targeted by a fake PayPal spoofing scams in Malaysia. Don't lose your hard earned money! 
Updated: Apr 8, 2017
Who is targeted?
Those who list online postings of items for sale (most popular are cars, large items).
For example on www.mudah.my, www.carlist.my.
Or anyone whose emails have been leaked onto a compromised list.
Check at HaveIBeenPwned.
What is the modus operandi?
Pretends to be interested in buying your item for sale.
Tells you payment is made but it is not received in your account.
Asks you to either ship the item and/or make a payment to receive clearance to receive your funds.
OR
Informs you that confimration is needed for your purchased items.
Asks you to login to (fake) PayPal using the link provided.
Accesses your compromised account.
Fake PayPal email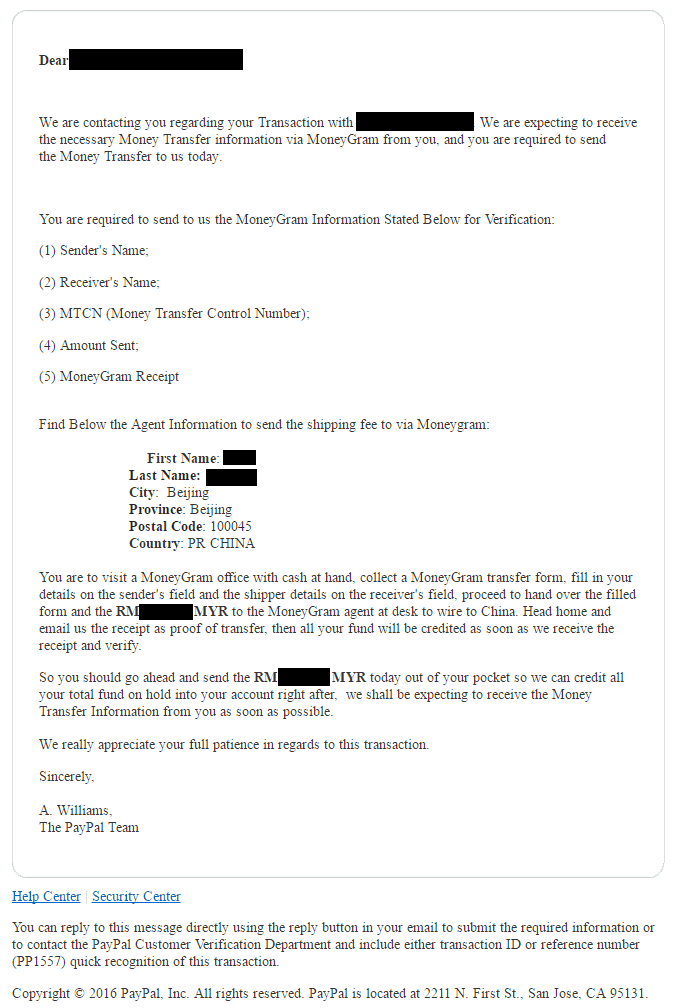 Red Flag Signs
Note: Even 1 of the following is a potential trigger for a red flag.
Addresses you by your email addresss, or as dear user/buyer (Official PayPal will address you by your registered first and last name).
Buyer is only able to communicate via email/sms/whatsapp (e.g. working on an oil rig/for Petronas).
Buying not for self but on behalf of son/daughter/relative
Immediately agreeable to proposed selling price without any bargaining/negotiation.
Phone number, country, or IP address details do not match what is being told.
Email sent supposedly from PayPal but if you observe carefully is a fake (e.g. slightly different logo, different email address, spoofed emails).
PayPal Scam Info
Have you or someone you know been targeted by scammers? Share tips on protecting yourself.