Did you know that you can withdraw from EPF for Medical Equipment for yourself or family members? (And it's tax deductible too).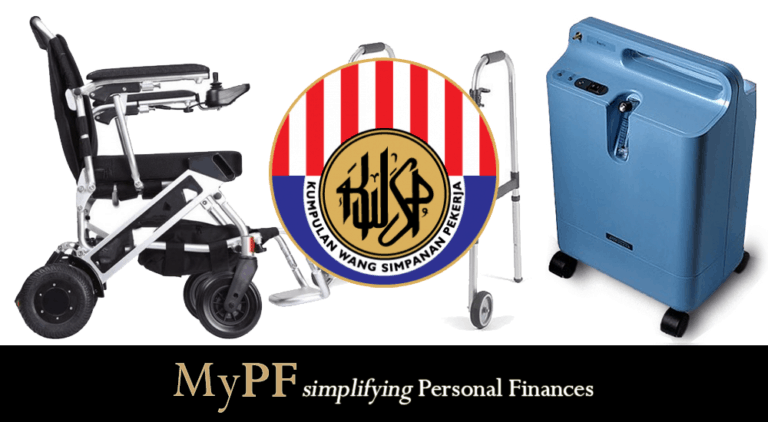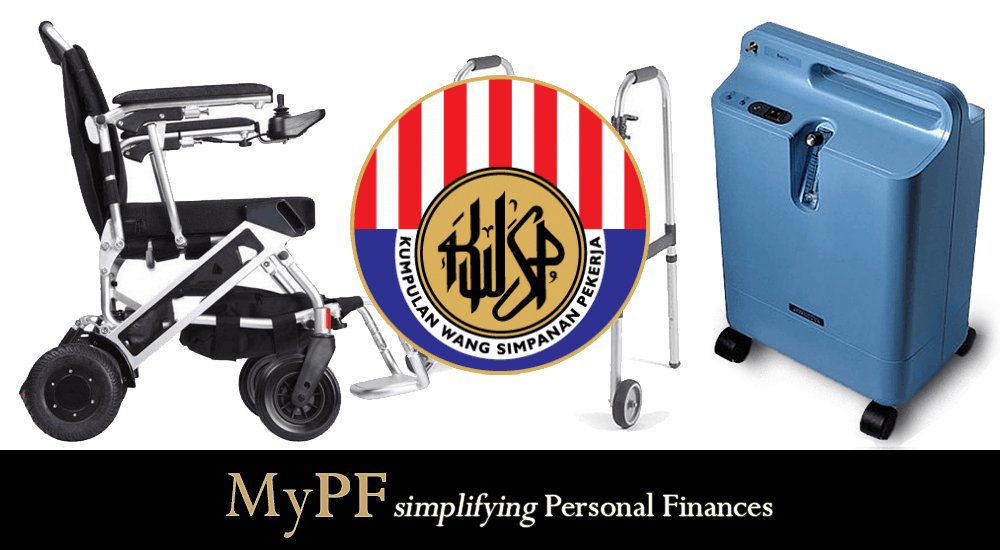 EPF Withdrawal Info
Category: EPF Health Withdrawal
Withdrawal Account: EPF Account 2
Sub-category: Medical Aid Equipment
Definition: Medical aid equipment refers to the medical support equipment used for the purpose of treatment for the approved critical illness.
Withdrawal Eligibility
Self
Spouse
Children/step-children/legally adopted children
Parents/parents-in-law/step-parents/legally foster parents
Siblings
Approved Critical Illnesses and Medical Equipment
#
Category of Illness
Type of Critical Illness
Approved Medical Equipment
1
Cancer / Malignancy
Gastrointestinal (Stomach / Colon)
Colostomy Management
Lung (Paru-Paru)
Home Oxygen Therapy
Other Cancers e.g Rectum
Intraluminal Curved Detachable Head Contour
2
Cardiovascular System
Coronary Artery Bypass Grafting (CABG)
Guidewire
Angioplasty / Heart Attack / Myocardial Infarction
Guiding Catheter
Coronary Dilatation Balloon
Coronary Stent
Aspiration Catheter
Intravascular Ultrasound (IVUS) Catheter
Fractional Flow Reserve (FFR) Catheter
Radiographic Contrast
Diagnostic Catheter
Intra-Aortic Balloon Pump (IABP)
Cardiomyopathy / Heart Failure
Cardiac Resynchronization Therapy Pacemaker (Biventricular Pacemaker)
Open Valvular Heart Surgery
Prosthetic Valve
Percutaneous Valvular Intervention
Percutaneous Trans-Septal Mitral Commisurotomy (PTMC) / Inoue Balloon
Transcatheter Aortic Valve Implantation
Heart Arryhthmia
Permanent Pacemaker
Automated Implantable Cardioverter Defibrillator (AICD)
Congenital Heart Disease
Ventricular Septal Defect Occluder Device (VSDD)
Atrial Septal Defect Occlude Device (ASDD)
Persistent Ductus Arteriosus Closure Device (PDA)
Patent Foramen Ovale Occluder Device (PFO)
Aortic Aneurysm
Endoluminal Graf
Deep Vein Thrombosis (Anticoagulation Contraindicated)
Inferior Vena Cava Filter
3
Musculoskeletal System
Systemic Sclerosis With Pulmonary Hypertension
Home Oxygen Therapy
4
Respiratory System
Severe Chronic Obstructive Pulmonary
Home Oxygen Therapy
Nebulizer
Secondary Pulmonary Hypertension / Bronchiectasis / Lung Fibrosis
Home Oxygen Therapy
Obstructive Sleep Apnoea
Continuous Positive Airway Pressure Ventilator (CPAP)
Bilevel Positive Airway Pressure Ventilator (BIPAP)
Auto-Titrating Positive Airway Pressure Ventilator (APAP)
5
Illness of Child under 16
Severe Asthma
Home Oxygen Therapy
Nebulizer
6
Nervous System
Alzheimer's Disease / Benign Tumor Of Brain / Coma / Encephalitis / Loss Of Speech / Major Head Trauma / Meningitis / Motor Neurone Disease / Multiple Sclerosis / Muscular Dystrophy / Paralysis / Parkinson's Disease / Poliomyelitis / Stroke / Total Permanent Disability
Respiratory Support: Home Oxygen Therapy, Any Equipment Related To Ventilator Support
Nursing Support: Nursing Bed, Ripple Mattress, Commode, Urinary Catheter, Ryle's Tube, Percutaneous Endoscopic, Gastrostomy (Peg) Tube And Diapers
Nutritional Support: Special Dietary Formulation (i.e. milk)
Ambulatory Support : Wheelchair, Walking Aid, Walking Frame
7
Other Diseases
Congenital Hearing Loss Requiring Hearing Aid / Surgery
Cochlear Implants, Pinna Prosthesis, Middle Ear Prosthesis
Sensorineural Hearing Loss
Hearing Aids
Conductive Hearing Loss
Bone Anchored Hearing Aids (BAHA)
Request Process
Ensure you have the medical report.
Request quotation from supplier.
Confirm your purchase and request invoice from supplier.
Payment/Claims
Receipts must not exceed 1 year from date withdrawal application is submitted.
Bills and receipts must be in the name of the patient or applicant.
Claim after payment made for reimbursement into your bank account.
OR fill up form and request for bank in of funds for purchase.
Tip: Making payment first and then claiming reimbursement has been reported to have faster processing time.
Useful Links