A look at the Forest City project by Country Garden in Johor bordering Singapore. The project is massive but has received mixed reviews.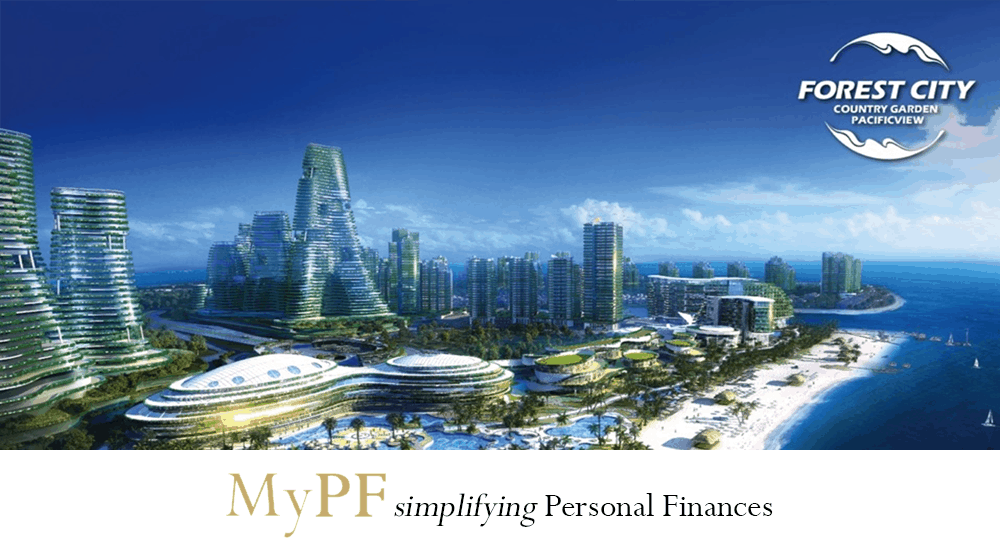 "I have a dream, to have a city where it is safe to live in, where no vehicles travel around, with lush green covering all buildings, and surrounded with gardens, and anyone can enjoy the sunshine, jog or swim" – Chairman Yeung Kwok Keung
Forest City Overview
JV between Country Garden (60% stake) and Esplanade Danga 88.
Country Garden is incorporated in 1992 and listed in HK Stock Exchange in 2007 with annual sales exceeding USD 20 billion. 500 projects globally, and 3 million property owners with developments in China, Australia, Malaysia and Indonesia. A Forbes World's Top 500 Public Companies (2016) and world's 2nd largest developer by property space delivered.
Located in Johor Strait between Malaysia and Singapore. Only 2 km from Singapore and 10 minutes drive to Singapore-Malaysia Second Link.
Forest City Key Features
Residential consists mainly of high-rise apartment units from 517sf to 1,862 sf (there are limited landed units available).
An integrated city development including shopping malls, hotels, international school, hospital, convention center, etc.
Located in Johor in very close proximity to Singapore including the future Pan Asian railway line and new single CIQ (Customs, Immigration & Quarantine) facility.
Development size 20 km2 and value of USD100b.
Freehold property at 1/4th of Singapore property prices.
Car-free city with no vehicles on the ground. Highway network and parking spaces underground. Light rail connecting the whole city.

Garden city with vertical green walls, sky gardens, rooftop gardens, parks, and green surroundings.

Malaysian Government Incentive Support Package
Duty Free Area Status to spur the businesses and tourism for four islands.
Corporate tax incentive for Approved Green Developer, and Approved Green Development Manager.
Corporate tax incentive for IDR status companies, in the sectors of tourism, education, and healthcare.
No foreign equity restriction to enjoy these incentives.
Partners
IT/Intelligent City
Multi-layer/Ecological
Engineering/Construction
CGCD (Guangdong Provincial Changda Highway Engineering Co)
Medical
Education
https://www.facebook.com/mypf.my/photos/?tab=album&album_id=1832771503656057
More Info
Forest City Site Visit
Free day-trip travel arrangements to Forest City from Klang valley (min 6 pax) with refundable deposit of RM50.
Optional 2D/1N stay at 4 star Phoenix Hotel at special promotional rate of RM400/n.
Contact us to help arrange for your free site visit to Forest City.