iPhone 8 and iPhone X (pronounced as "Ten") have been announced and here are how much they cost. Should you get one?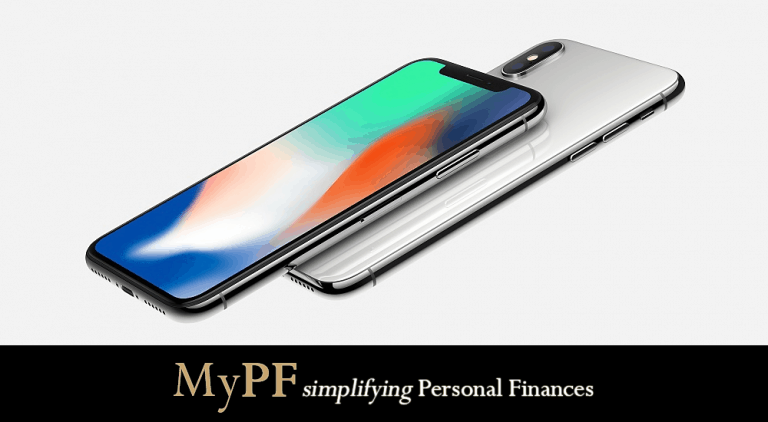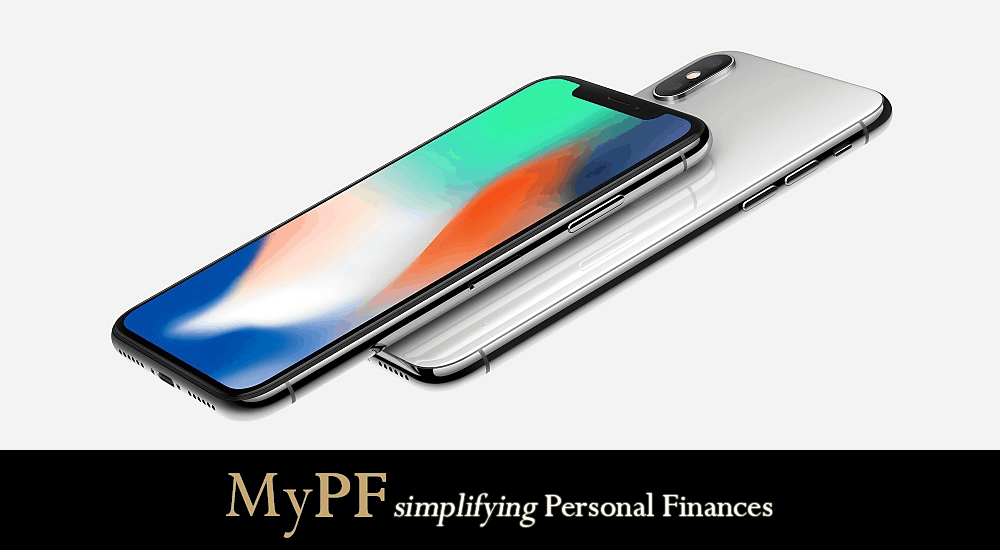 Today, Apple made a number of announcements including the iPhone 8 and iPhone X launch! Some are getting hyped over the new features and sleek layout after checking out the photos on Apple's official website. However, there is still no confirmed date on when the latest iPhone will arrive in Malaysia.
How Much is the iPhone 8, iPhone 8 Plus, and iPhone X?
According to the announcement by Apple, the new iPhone series is priced according to the following tiers:
iPhone 8 Prices
64 GB – US$699
256 GB – US$849
iPhone 8 Plus Prices
64 GB – US$799
256 GB – US$949
iPhone X Prices
64 GB – US$999
256 GB – US$1149
New Features
What's new in the latest iPhone 8, iPhone 8 Plus, and iPhone X?
iPhone New Specs:
Three new models including two minor "S" upgrades and an all-new flagship
Curved, edge-to-edge OLED display with True Tone technology and/or Ion-X glass
Virtual home button
Facial recognition alternative to Touch ID
"Wireless" charging (i.e. inductive charging) and/or faster USB-C charging
Dual-lens camera, possibly in a vertical configuration
AR capabilities featuring rear-facing 3D laser for enhanced depth perception
Support for the Apple Pencil
Stainless steel and glass body
Multiple color including a reflective, mirror-like finish
Upgraded storage and memory, possibly starting at 64GB and 3GB of RAM
Intel or Qualcomm modem
iOS 11
Enhanced water resistance or waterproofing
Higher quality earpiece for louder, clearer audio
Apple's next-generation processor (the A10X or A11)
What Can You Buy for the Price of a iPhone?
Based on the US pricing, we have made some estimates on the starting prices for the iPhone 8, iPhone 8 Plus and iPhone X to be RM3,199, RM3,599 and RM4,399 respectively. With that, we want to give you a picture of the things you can afford for the price of an iPhone 8, iPhone 8 Plus, and iPhone X.
Note: The prices stated here are iPhone pricing estimates for Malaysia. Adjustments will be made based on the latest pricing information once available.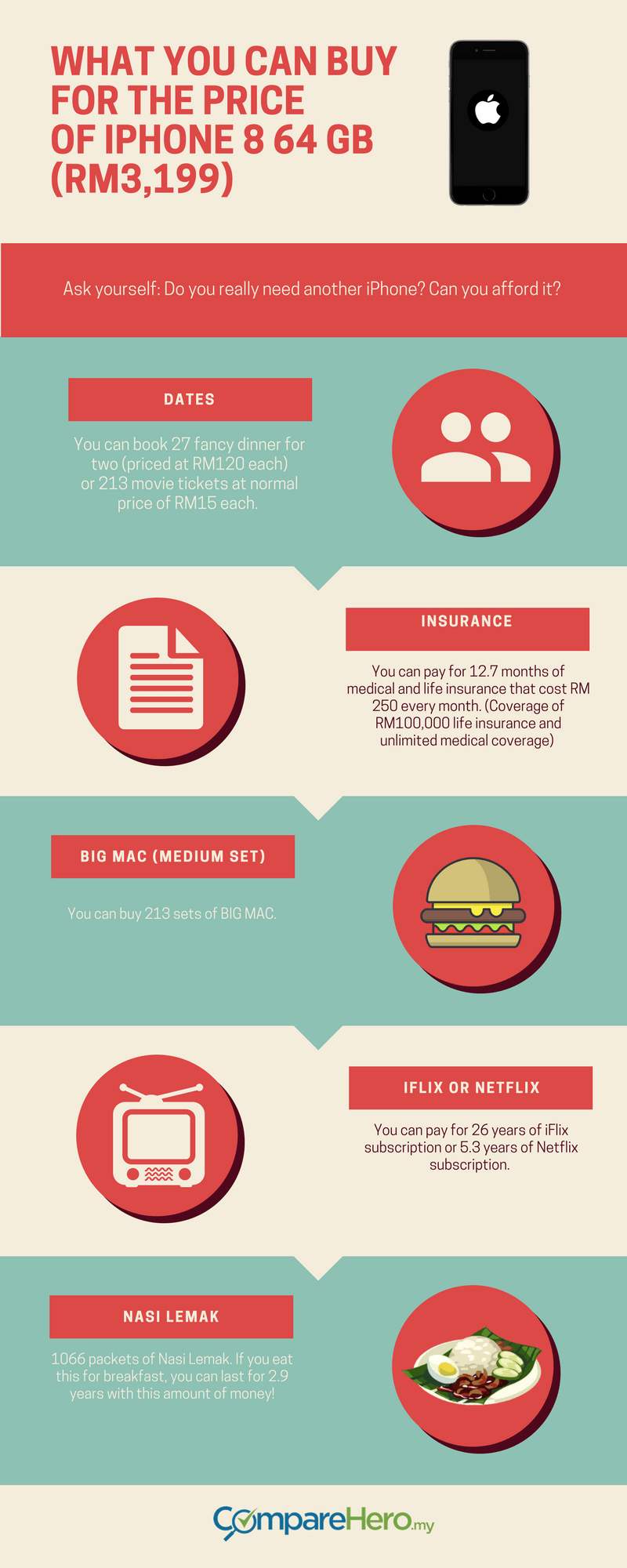 | Details | iPhone 8 | iPhone 8 Plus | iPhone X |
| --- | --- | --- | --- |
| Estimated Price (RM) | 3,199 | 3,599 | 4,399 |
| Fancy Dinners for Two | 27 | 30 | 37 |
| Movie Tickets | 213 | 240 | 293 |
| Insurance Monthly Premiums | 13 | 14 | 18 |
| Big Mac Sets | 213 | 240 | 293 |
| RON95 Petrol Litres | 1,448 | 1,629 | 1,990 |
| Netflix Annual Subscriptions | 5 | 6 | 7 |
| MyPF Premier Annual Subscriptions | 5 | 6 | 7 |
Should You Change?
You may want to calm down and think before buying the new iPhone immediately and impulsively when it arrives. The newly announced upgrades and features are nice to have but not earth shattering. The new A11 bionic chip is faster and camera improvements are good but not a significant difference if you're already using a iPhone 6s or 7. The wireless charging and extended battery life are great as well but it is worth the money that you will need to fork out? Comparing the iPhone 8 versus iPhone X as well, the iPhone X really is a premium product going for a significantly higher price and is a USD 4 figures price phone less one dollar (42% higher price for iPhone X vs iPhone 8!).
If you have been using a lagging old smartphone, are converting from a non iPhone smartphone or *gasp* currently using a non-smartphone, it may be time for you to make a switch. You will just need to wait a wee bit longer for the the new iPhone 8, iPhone 8 Plus and iPhone X to arrive in Malaysia. Or maybe consider to get an older iPhone model which is priced down when the new iPhones arrive. We would generally advise as well to buy the phone in full if possible instead of on installment/easy payment plans unless  the overall savings offered by the telco are worth it and you're disciplined with your finances.
This is a contributed guest post which first appeared on CompareHero.my's iPhone 8 and iPhone X Are Here And Here is How Much They Cost with edits by the MyPF editorial team.