New online brokerage player Rakuten Trade held their Expresso Workshop and Market Outlook 2018.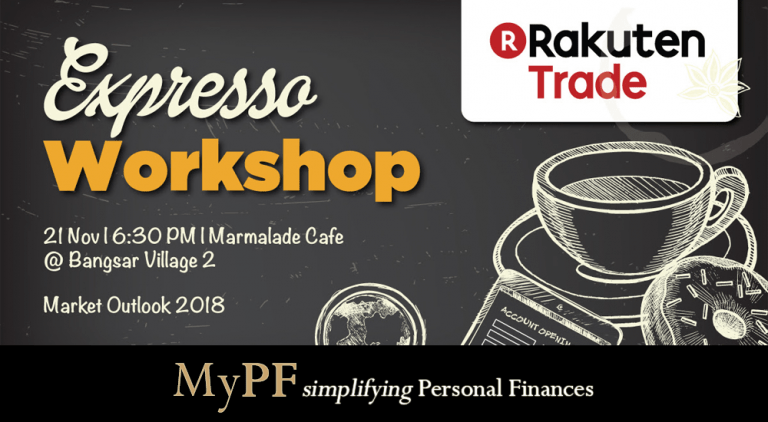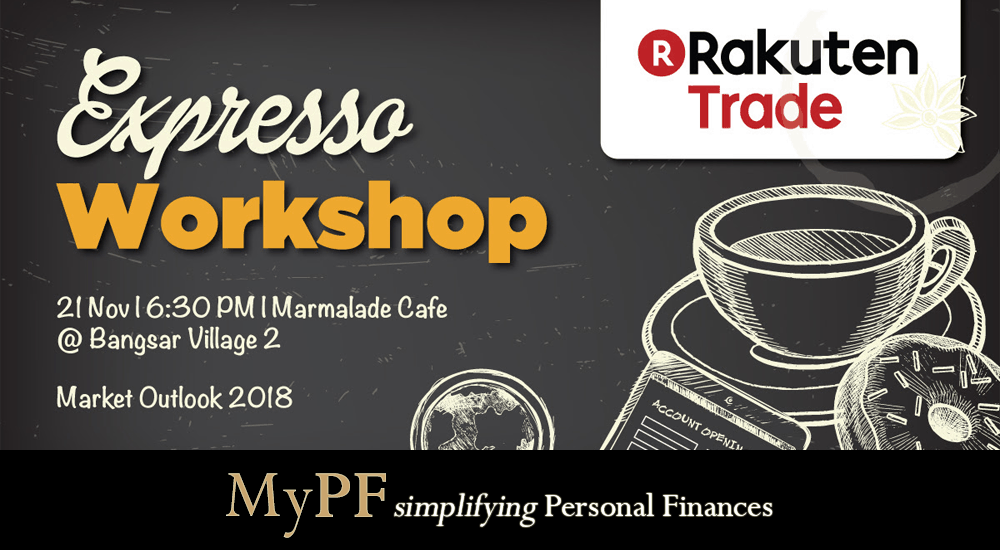 Event Details
Date: 21st November 2017
Time: 06:30 PM to 09:00 PM
Venue: Marmalade Café, Bangsar Village 2, Kuala Lumpur
Workshop where Rakuten resident experts Kenny Yee (Head of Research) and Vincent Lau (VP of Research) will share 2018 market outlook, beginners workshop to learn how to read a research report, Q&A session, and account opening stations.
Market Outlook 2018 Highlights
Overall positive with Malaysian elections coming soon.
Foreign funds selling recently but expect foreign funds preparing to reinvest into the market.
Ringgit strengthening expect to test USDMYR 4 level.
2017: 5% Growth; 2018: 6% Growth (KLCI 1920).
O&G sector expect positive and good for Malaysian economy.
Event Review
As one of first few workshops organized by Rakuten Trade, it is a good effort (and props for providing dinner). Both Rakuten and Marmalade Café staff were friendly and helpful.
Section by section review:-
Market outlook session was acceptable although slightly short.
Q&A session had good crowd participation and questions were generally answered.
Account opening stations were helpful although placement was slightly too close and contributed to overall noise level.
Trading website demo mixed with mic volume too low and people busy talking making it hard to follow presentation.
App demo was good with presenters showing familiarity with app and able to answer questions raised.
(Apologies as we only caught the tail-end of the 1st reading market report section due to traffic and rain but crowd appeared attentive).
Overall a decent event for engaging and sharing with public. *thumbs up*
Event Photos
Q&A
Q: Research appears short-term focused. How about long-term investments (3-5 years)?
A: Only 2 research analysts (increasing to 3). Companies researched & reports are not only short-term but based on good company management and fundamentals.
Q: Facing Rakuten Trade on web browser hanging issue.
A: Daily maintenance ~4:30am. Sometimes due to bandwidth issues. Also not to open multiple tabs. Will continue improving.
Q: Will margin account be introduced?
A: Yes in the near future.
Q: How often is the iSPEED.my app updated?
A: Major updates twice a year.
Q: What sort of enhancements to iSPEED.my app?
A: iSPEED.my app in Japan more advanced with custom screens, custom indicators, etc.
More Info
Were you at the event? Share your feedback below.