Pakatan Harapan (PH) has in a historic moment won Malaysia's 14th General Elections (Pilihanraya Umum GE14) held on May 9, 2018. What has happened and what can be expected in the days ahead?
Updated: May 11, 2018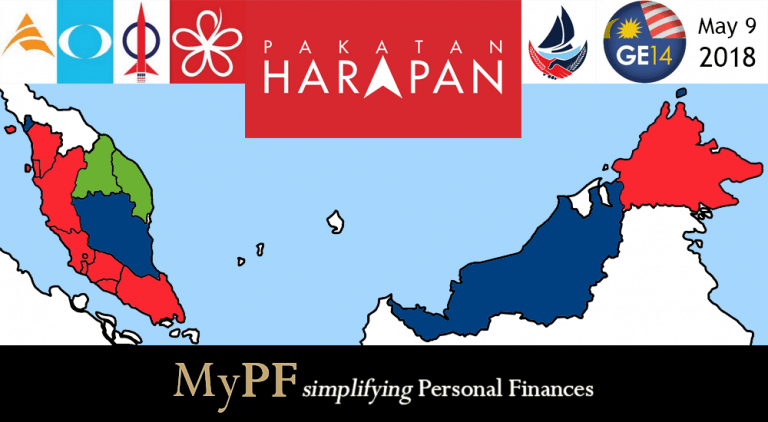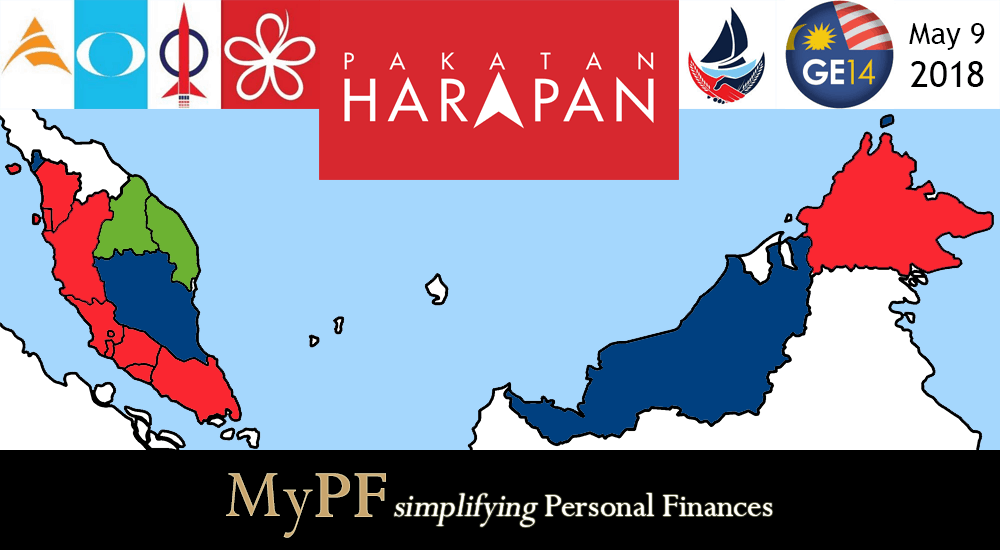 Membina Negara, Memenuhi Harapan
Rebuilding our nation, fulfilling our hopes
The Rakyat (people) have spoken through the democratic voting process to give Pakatan Harapan (PH) victory!
Voter turnout: 82% (12.99/14.96m)
Largest voter bloc: youth age 21-39 (41%)
PH and PH-friendly Parliamentary seats: 122/222 (55% majority)
PH States: Johor, Kedah, Melaka, Penang, Sabah, Selangor, Negeri Sembilan
PAS (Pan-Malaysian Islamic Party) not wiped out as per many analysts' predictions but instead improved performance forming state governments in Kelantan and Terengganu.
A number of historic firsts have been achieved with this 14th General Elections.
End of longest single ruling party in a democracy: BN replaced by PH after 61 years.
World's oldest Prime Minister (PM) elected: Dr Mahathir, age 92.
Malaysia's 1st female Deputy Prime Minister (DPM): Dr Wan Azizah.
Youngest ever Malaysian Member of Parliament (MP): P. Prabakaran, age 22, for Batu seat.
1st-time-ever states governed by PH: Melaka, Negeri Sembilan, Sabah
PH has identified 5 immediate focus areas:
Living costs (Kos sarah hidup)
Corruption (Rasuah)
Youth (Golongan orang muda)
Service delivery (Layanan kepada rakyat)
Personal safety and security (Keselamatan diri)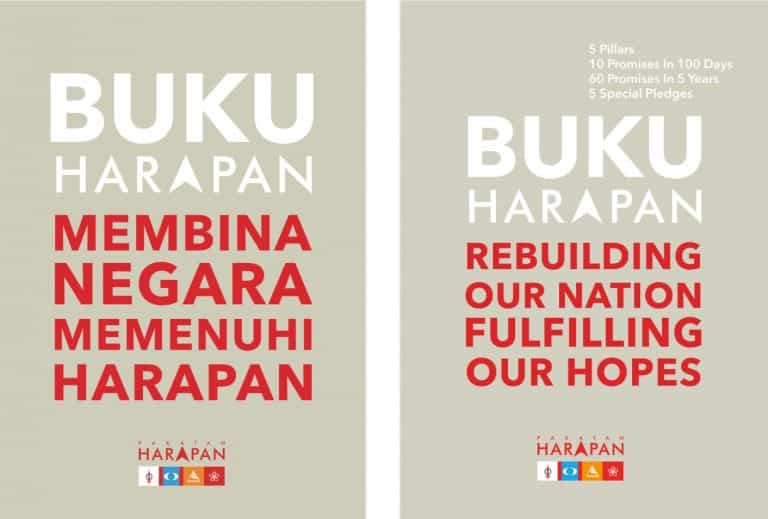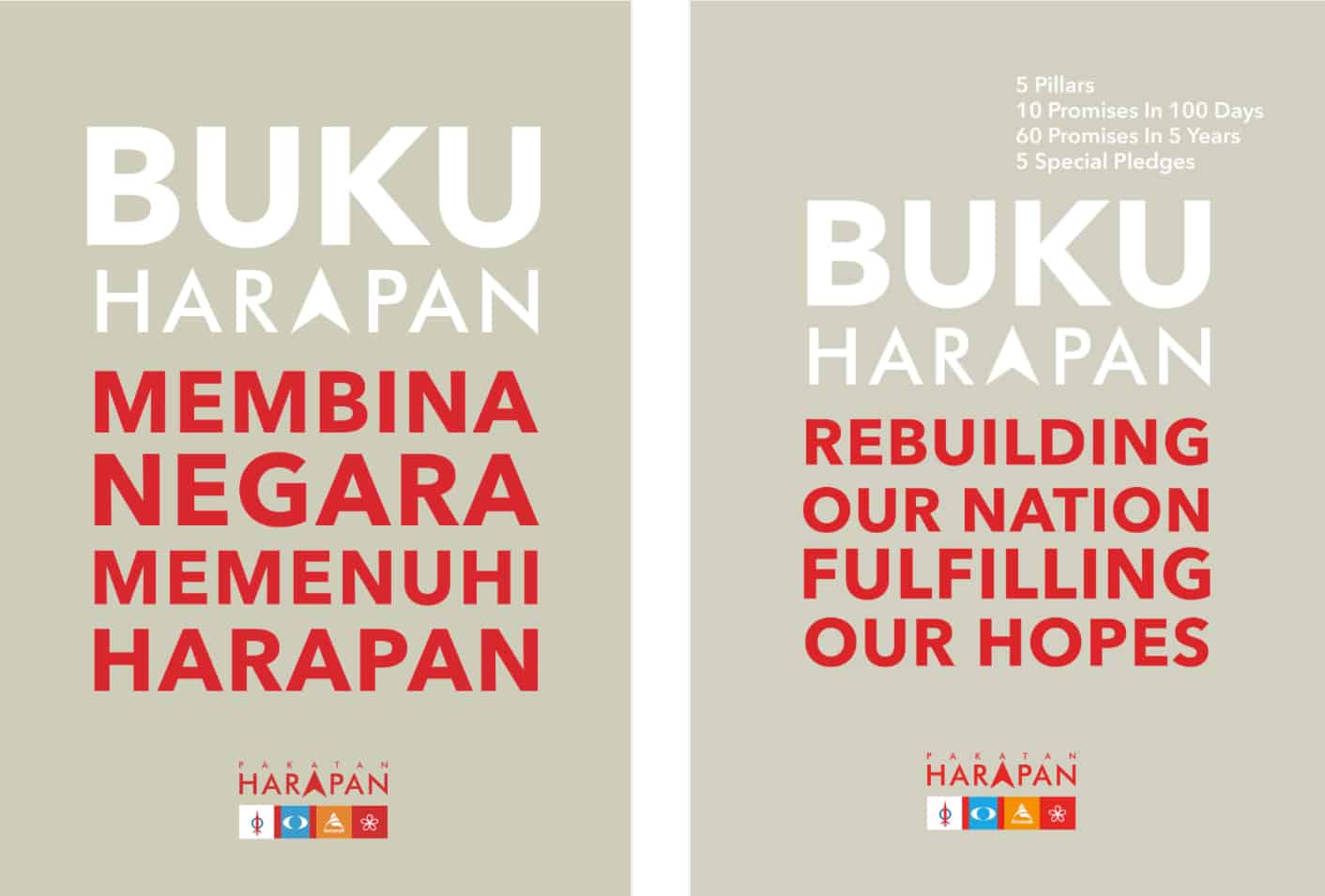 Janji Utama 100 Hari
10 Promises in 100 Days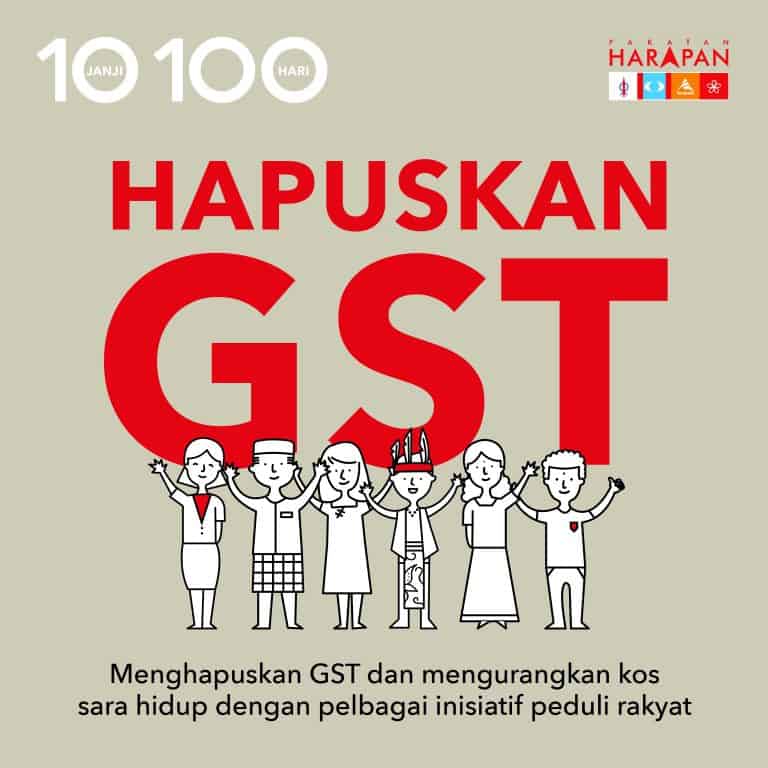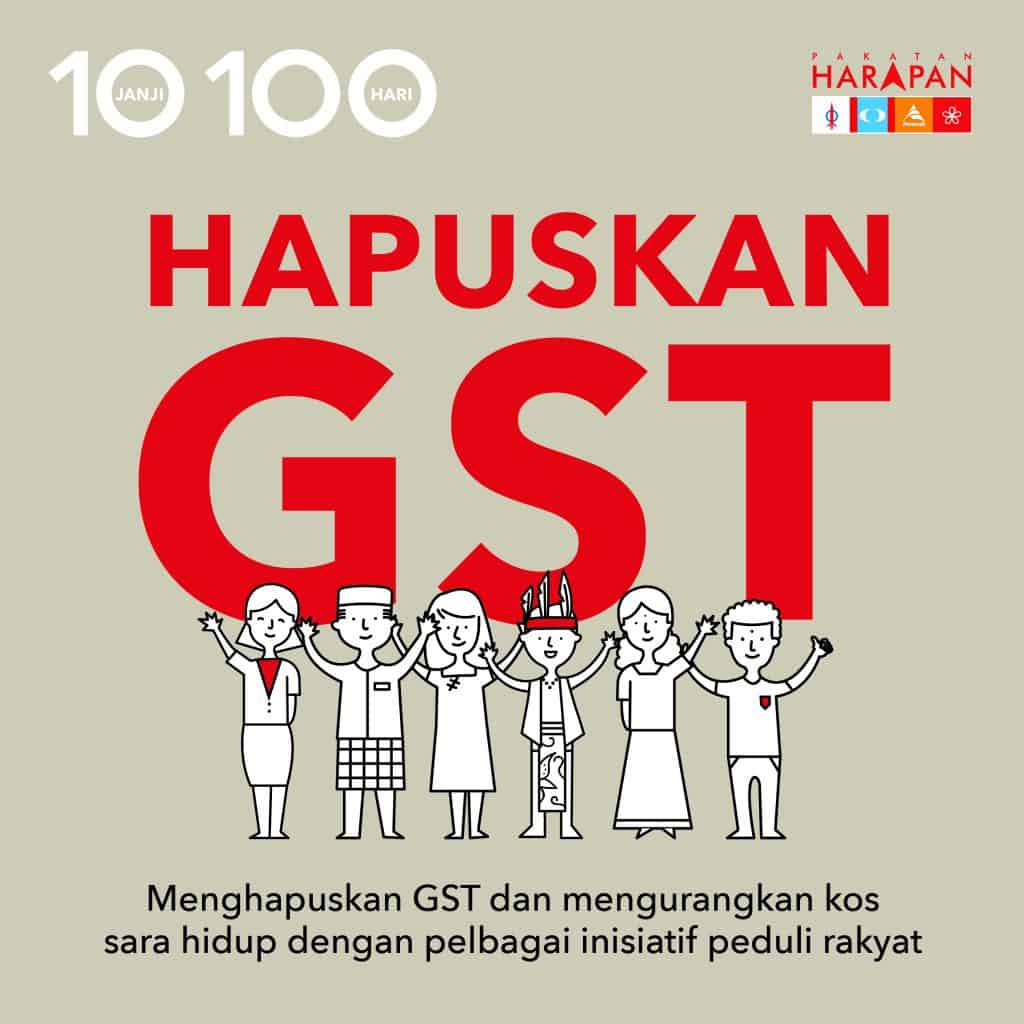 Abolish Goods and Services Tax (GST) implemented in 2015 April (not a rollback).
Replace with (previous) Sales and Services Tax (SST). Sales tax on only one level of production and service tax on certain services.
GST revenue estimate RM40b vs SST revenue estimate RM12b. Shortfall tax revenue by preventing leakages through corruption and reducing payment on sovereign debt.
Reversed in a way that does not hurt the government or people.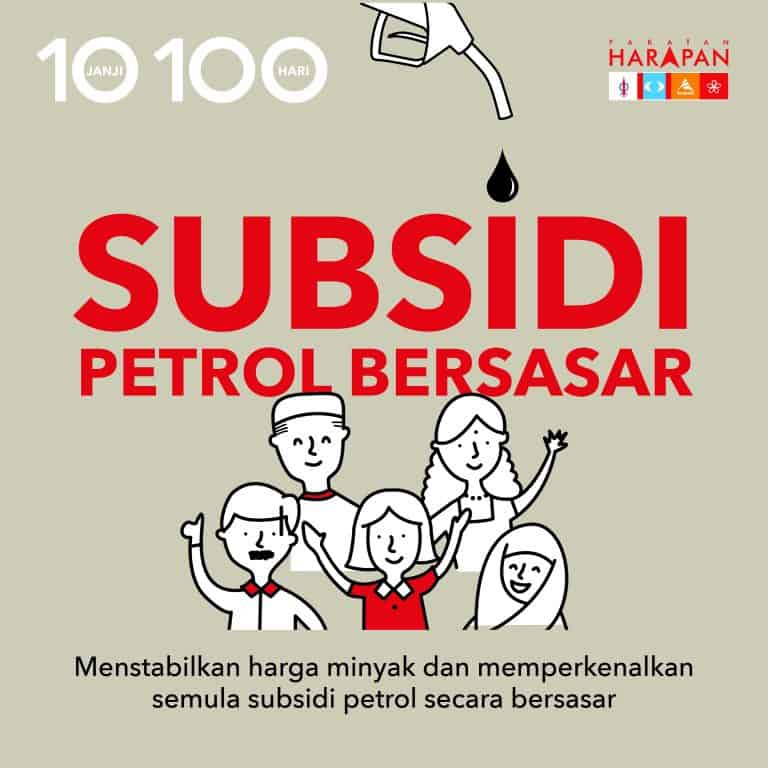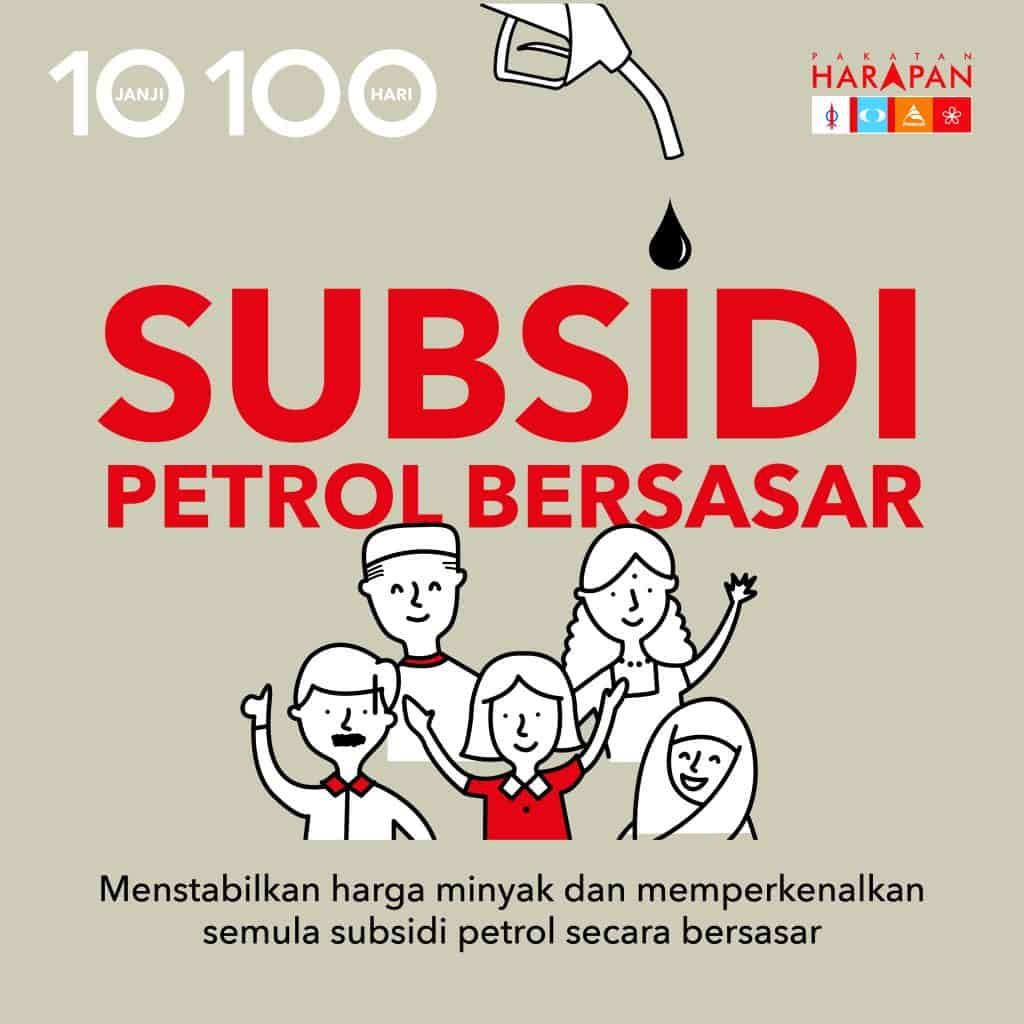 Reintroduce fuel subsidies for motorcycles with engines below 125cc and cars under 1300cc.
Relevant in view of rising global oil prices.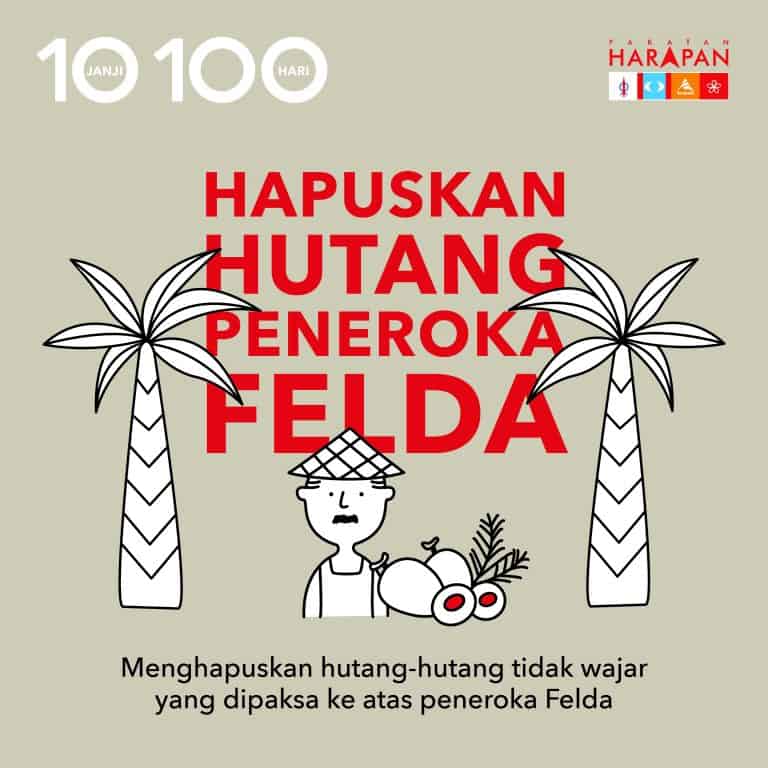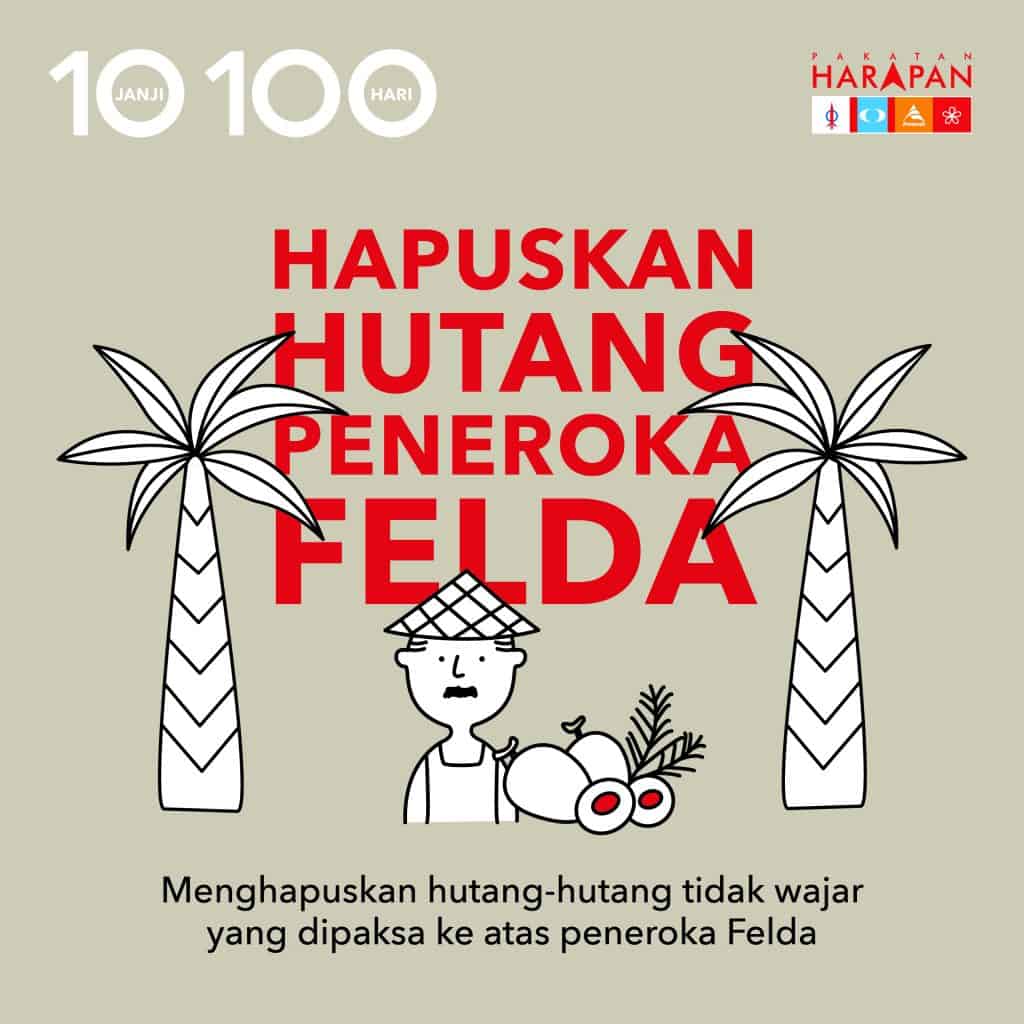 Abolish unfair debts owed to FELDA by settlers.


| | | |
| --- | --- | --- |
| Owing Amount | Settlers | Total Owing |
| < RM20k | 8,500 | 127,500,000 |
| RM20k – 40k | 7,400 | 222,000,000 |
| RM40k – 60k | 8,500 | 425,000,000 |
| RM100k – 120k | 1,300 | 143,000,000 |
| RM120k – 140k | 520 | 67,600,000 |
| RM140k – 160k | 240 | 36,000,000 |
| > RM160k | 140 | 33,600,000 |
| | 26,600 | 1,054,700,000 |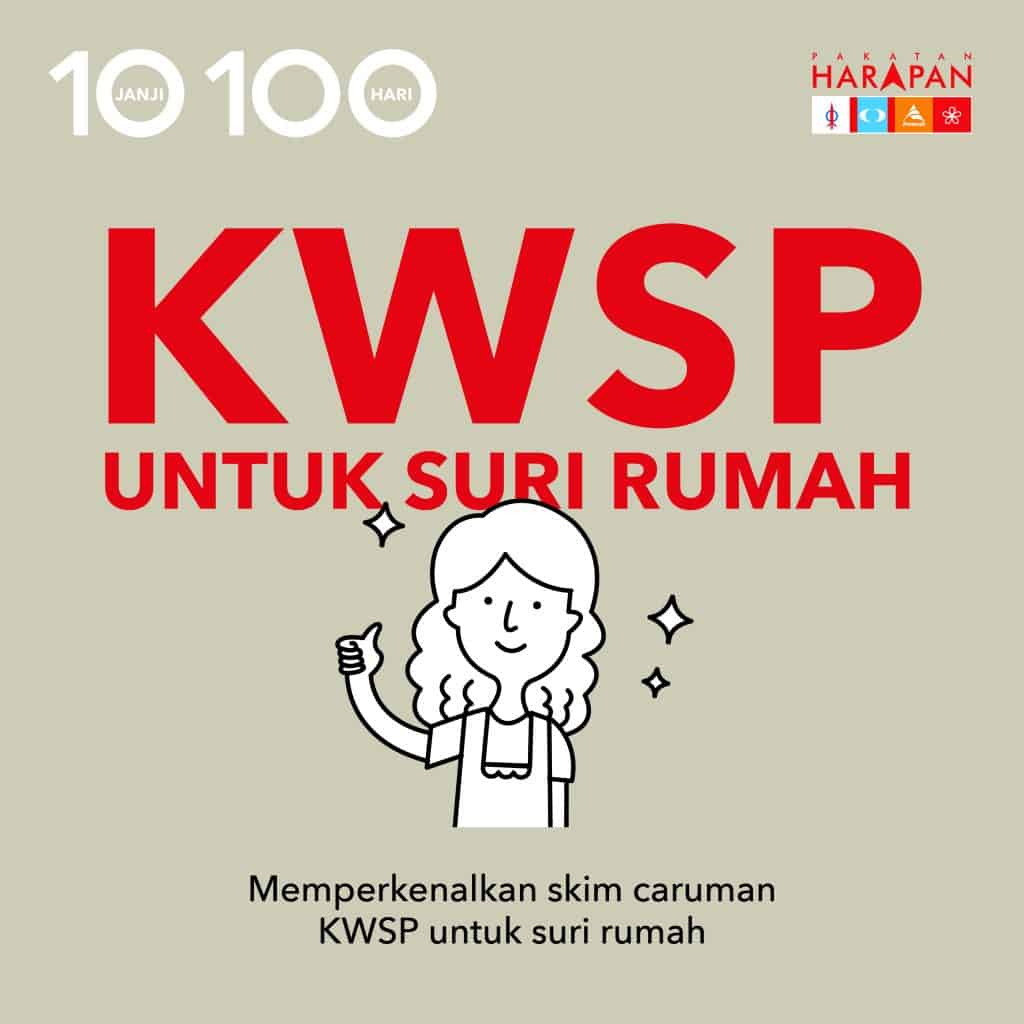 EPF contribution scheme for homemakers to recognize their role and sacrifices.
EPF contribution by spouse at 2% rate.
Under the previous administration, home makers are able to contribute to EPF under SP1M.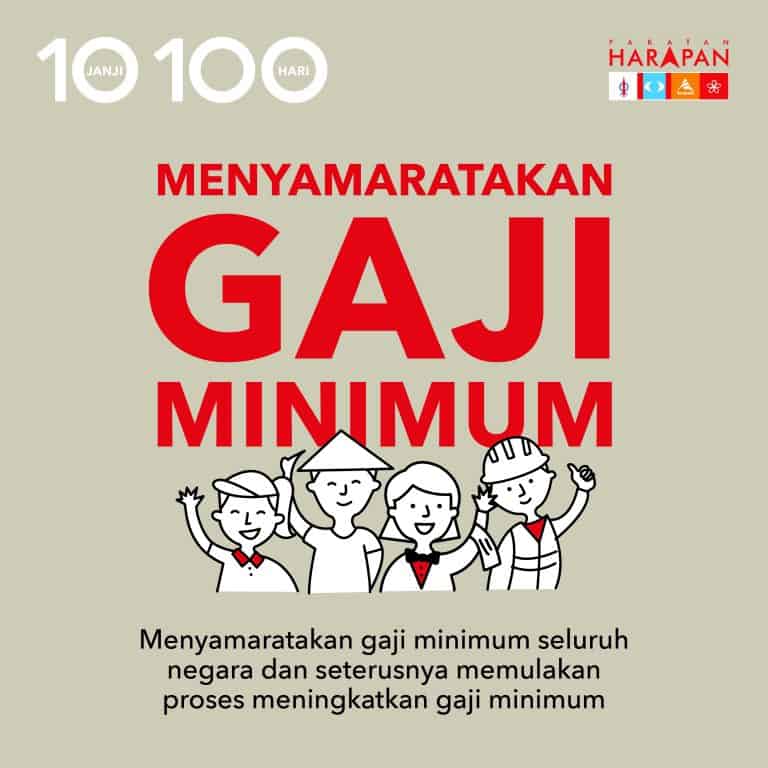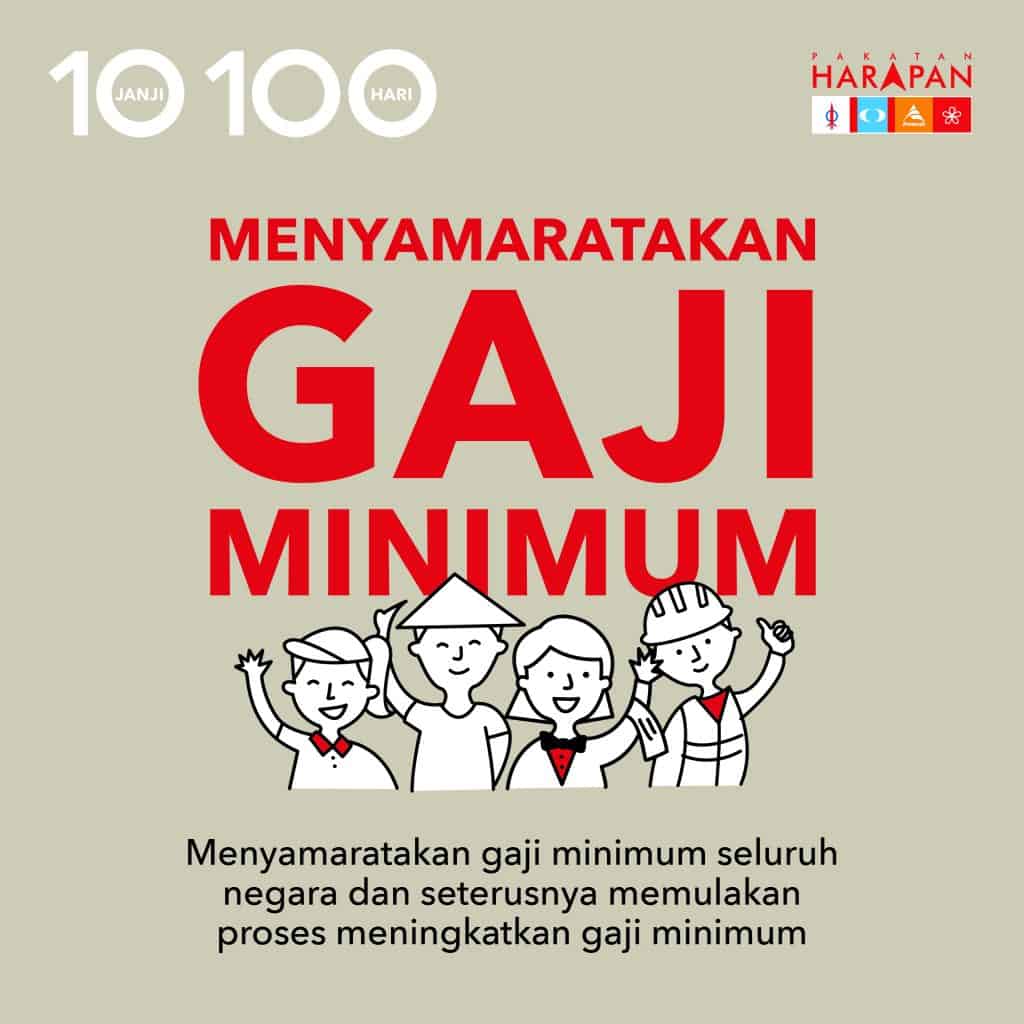 Standardize and increase the minimum wage.
Current minimum wage (since 2016)

Peninsular Malaysia: RM1,000 monthly (RM900 before 2016)
Sabah, Sarawak, and Labuan: RM920 monthly (RM800 before 2016)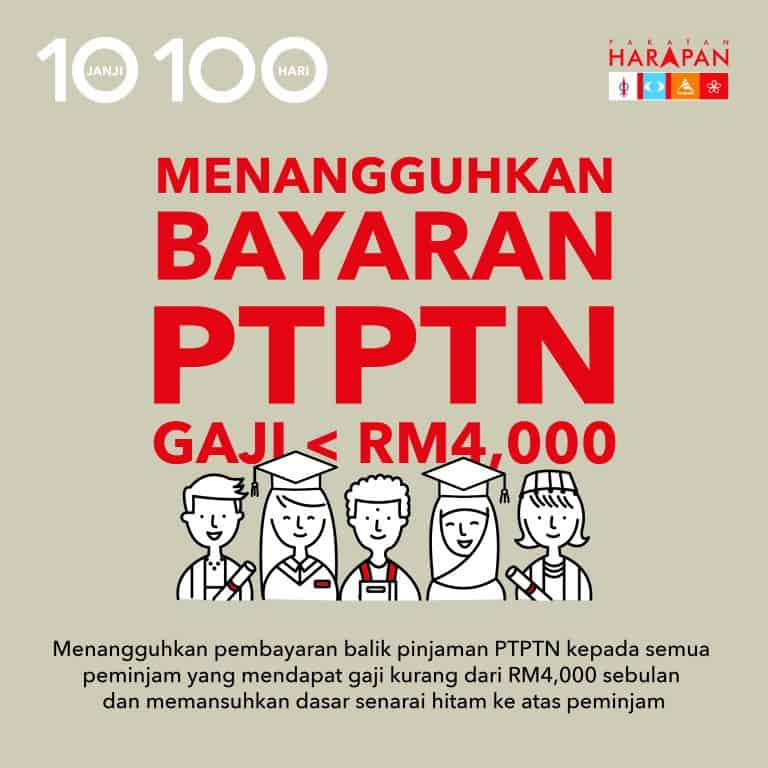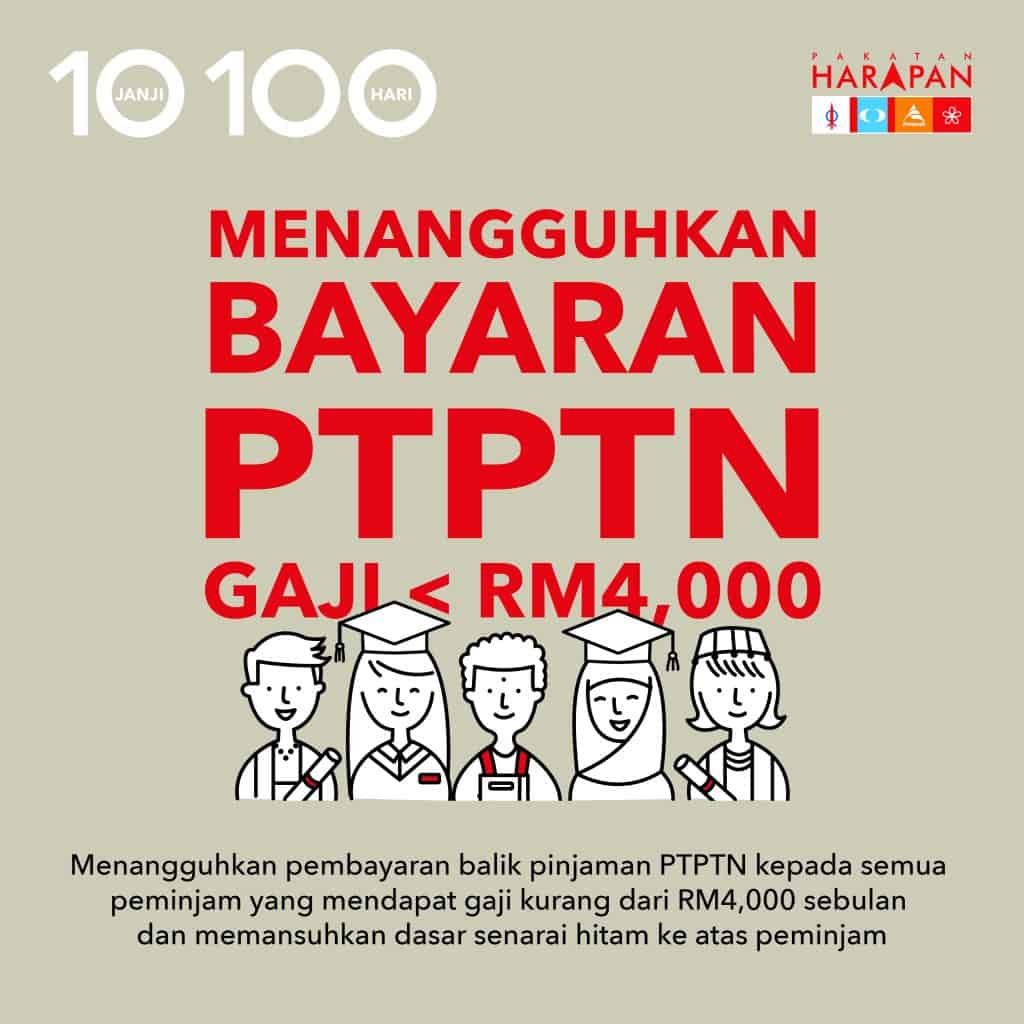 No more PTPTN travel blacklist!
PTPTN debt cancelled or discounted for high achieving and/or poor students.
Tax incentive for employers paying employee PTPTN without tax deduction.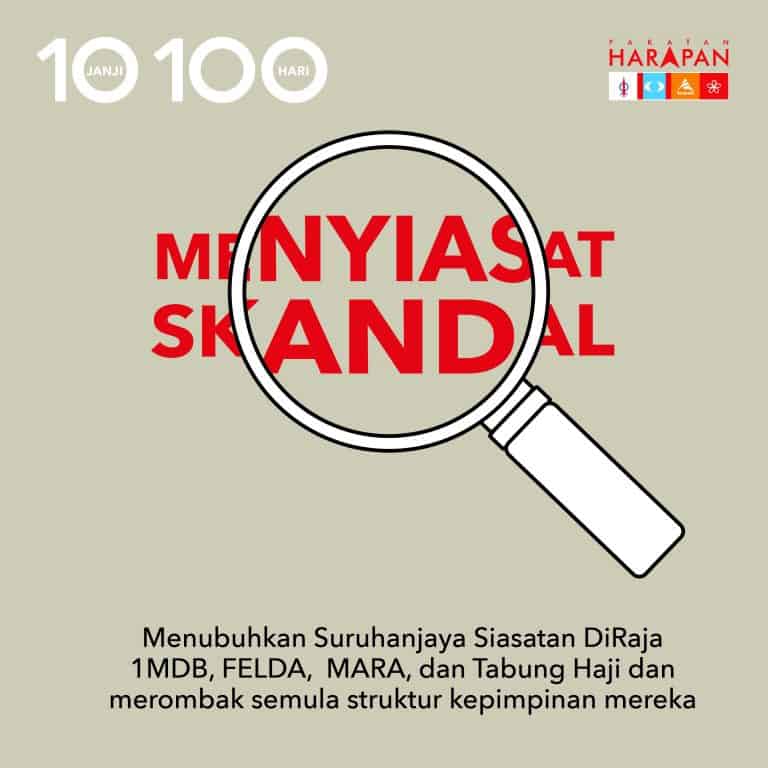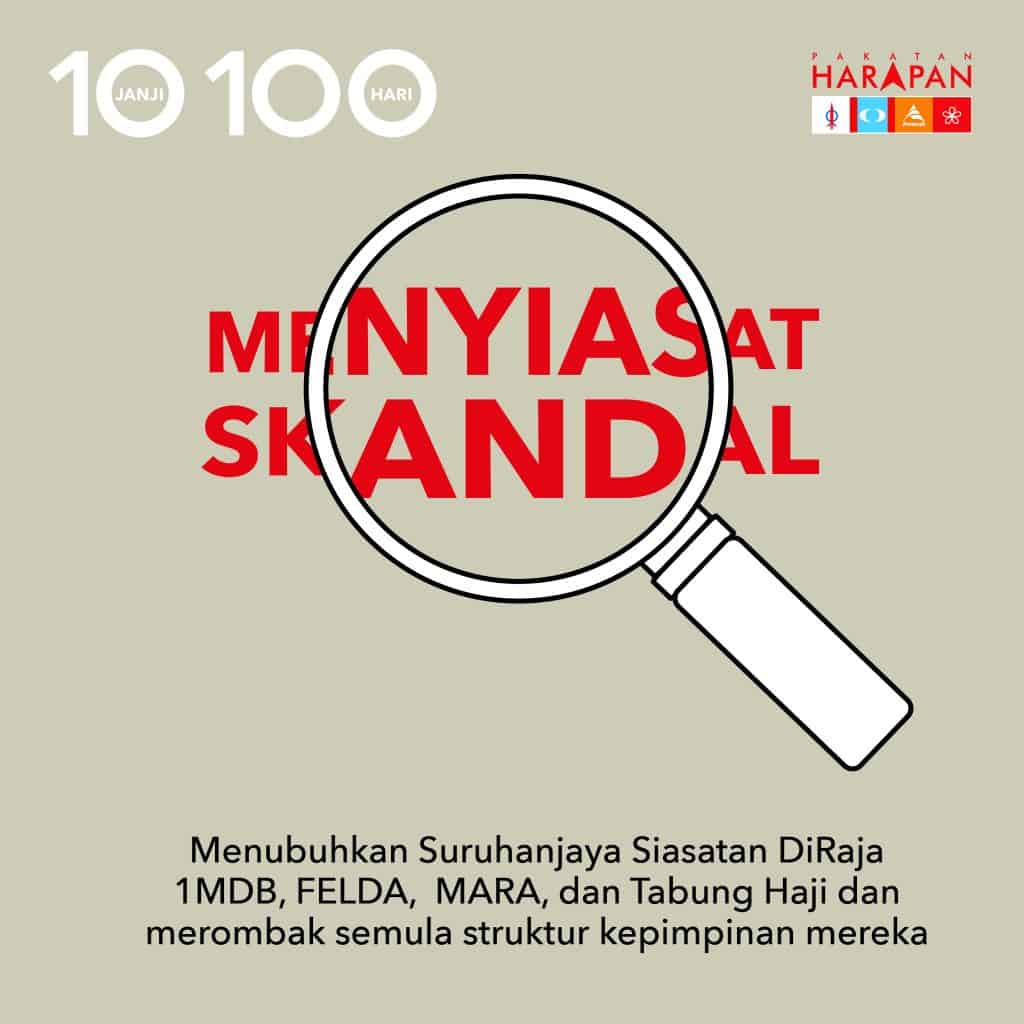 Investigate scandals in institutions through a Royal Commission of Inquiry (RCI).
Possible institutions to be investigated include 1MDB, FELDA, MARA, and Tabung Haji.
Stop improper and dubious investments overseas.
Clean up corruption.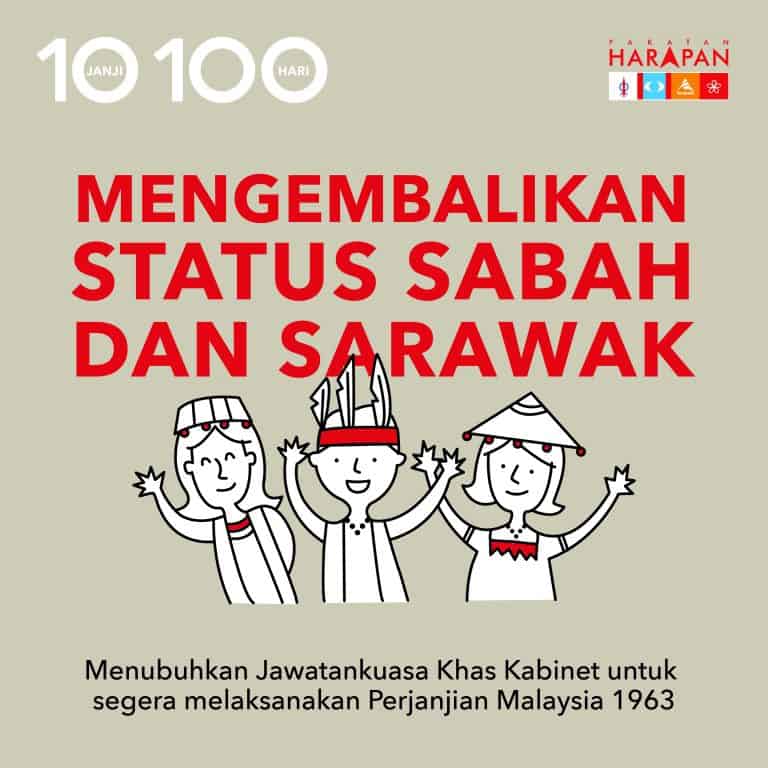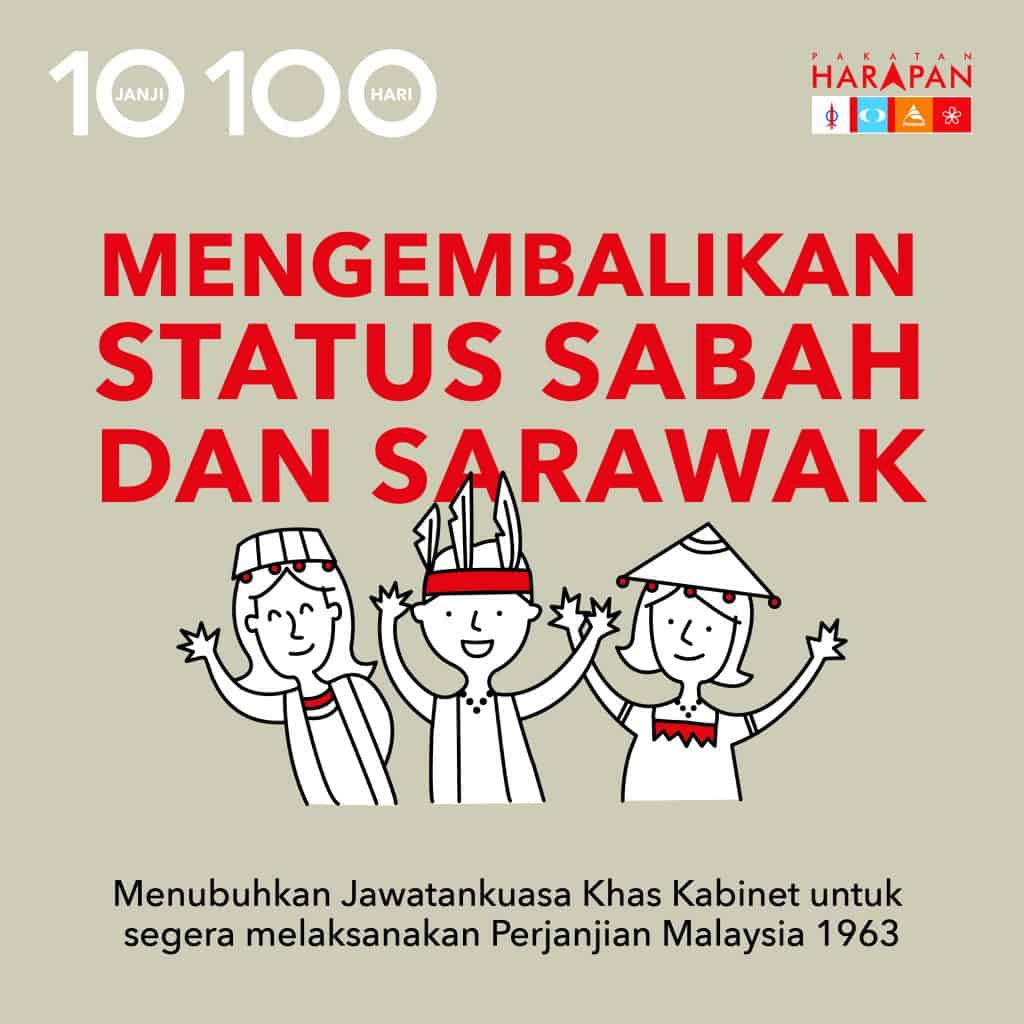 Setup special cabinet task force to study Sabah and Sarawak autonomy promises set out in the Malaysian Agreement 1963.
Decentralize power to Sabah and Sarawak.
20% oil royalty to oil producing states.
Return power for trade and commerce to Sabah and Sarawak.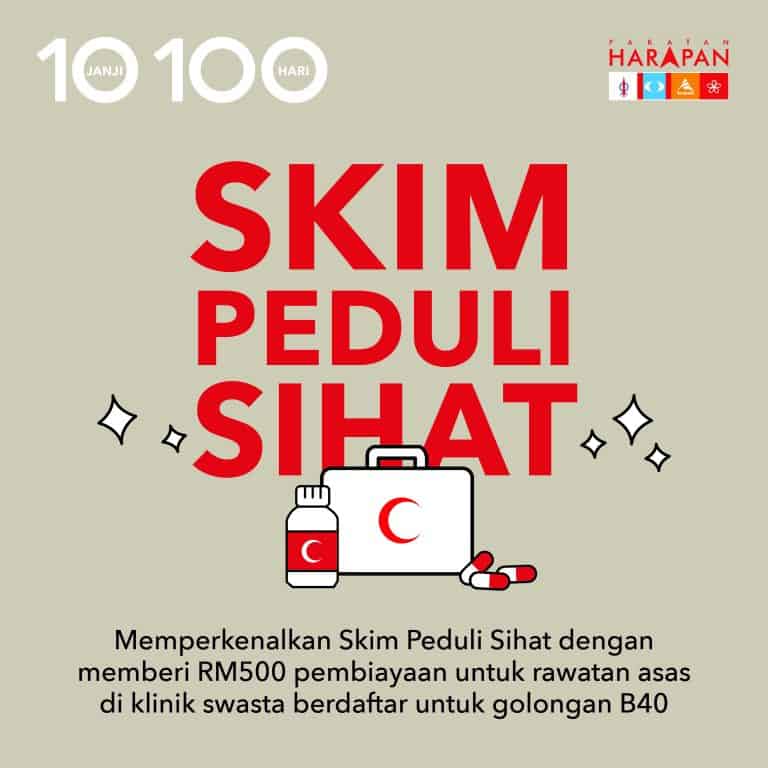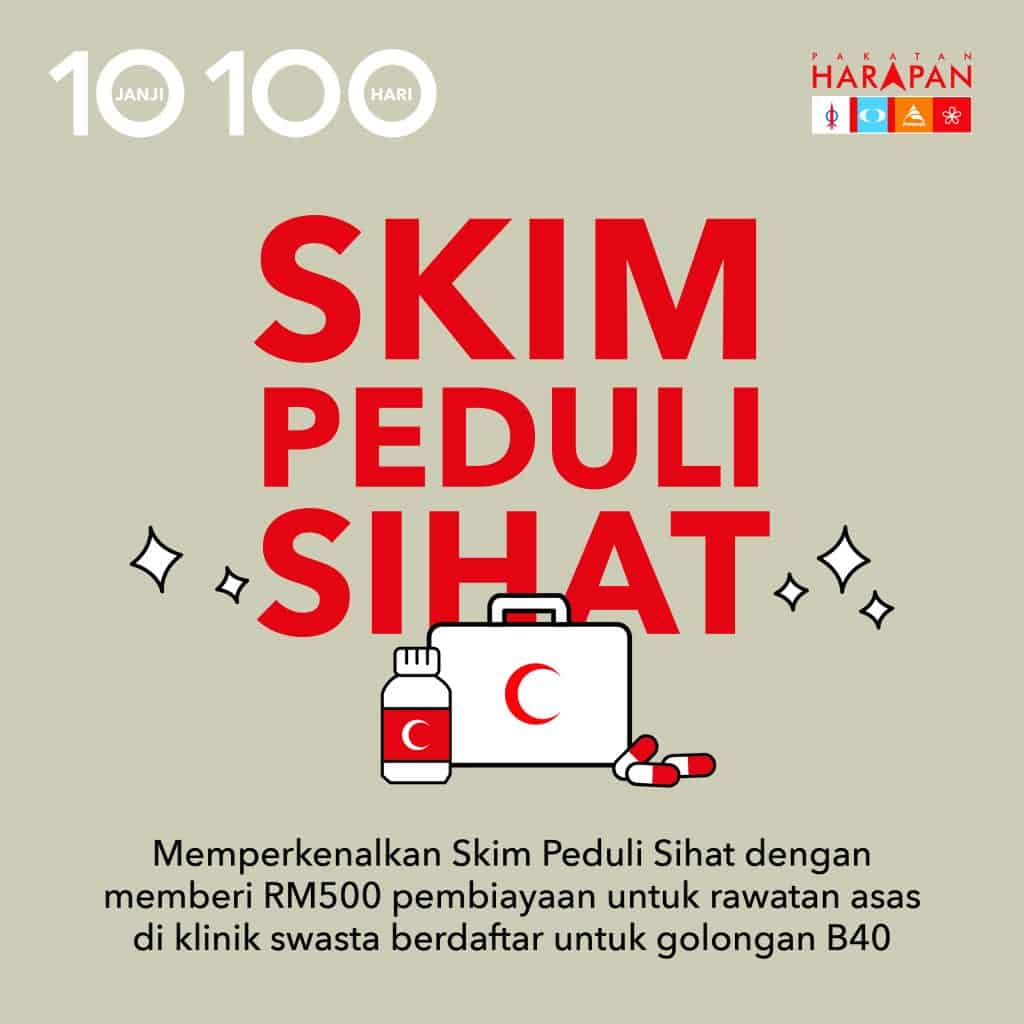 National healthcare assistance initiative of RM500 monetary assistance for private clinic treatment.
Applicable to households in B40 group whereby monthly household income below RM3,000.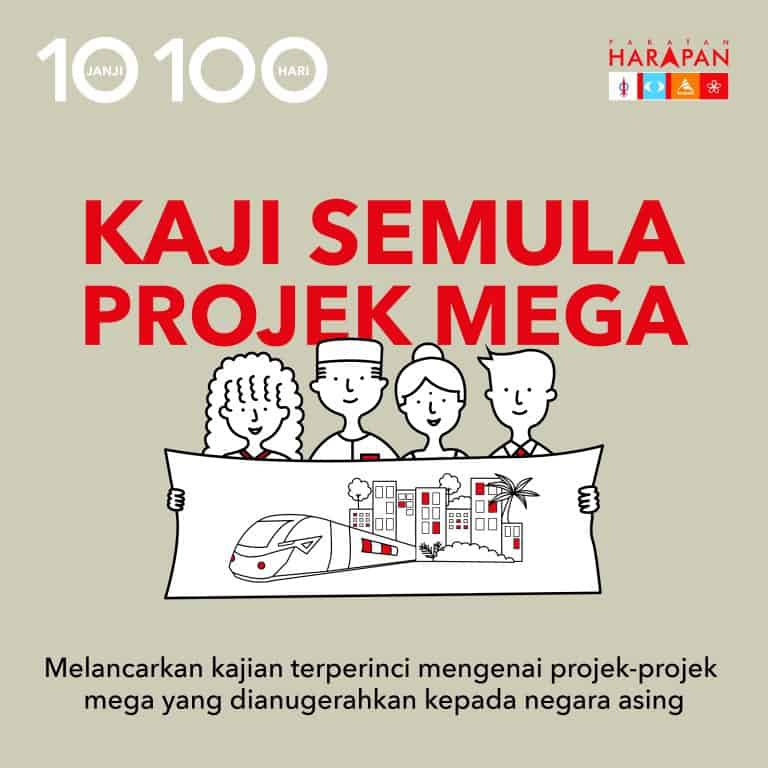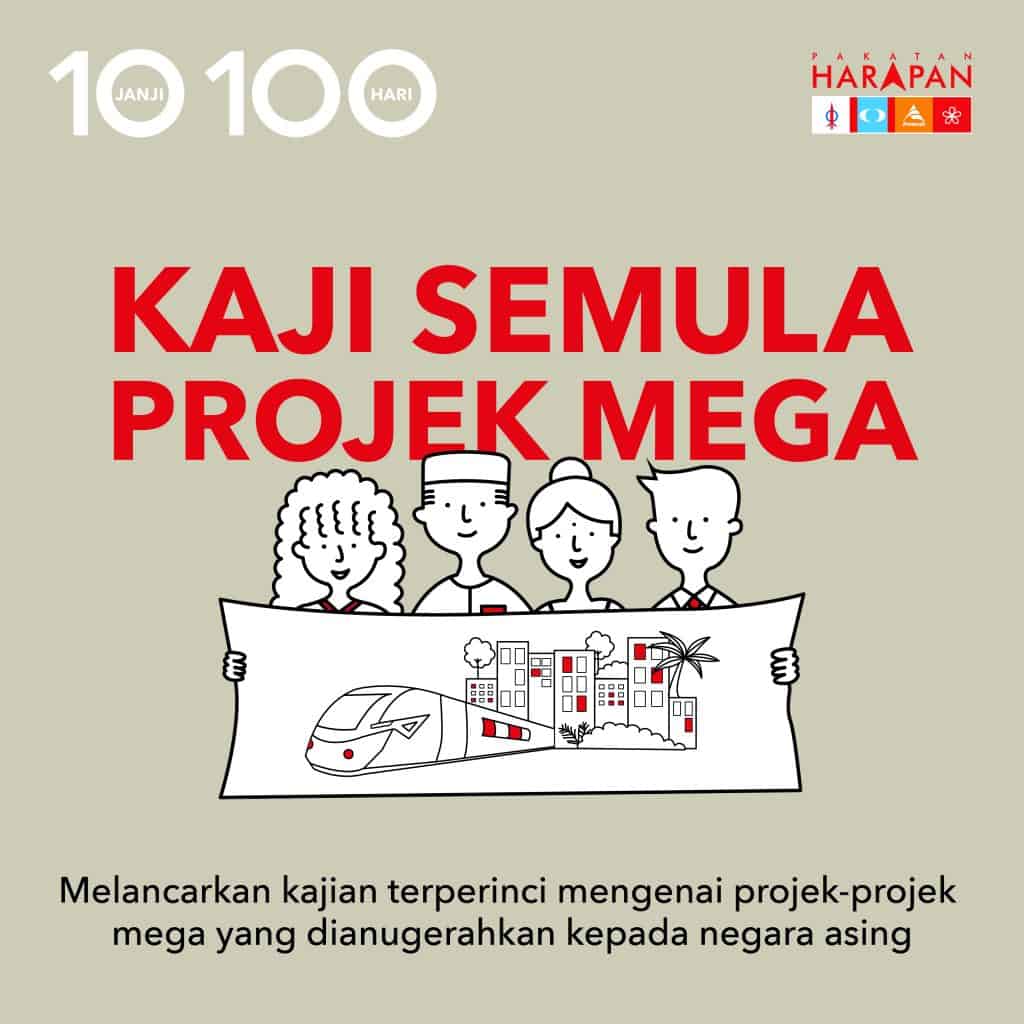 Relook at mega projects awarded to foreign countries.
Renegotiate some deals with China.
One Belt One Road Initiative with China to continue but no warships in our waters.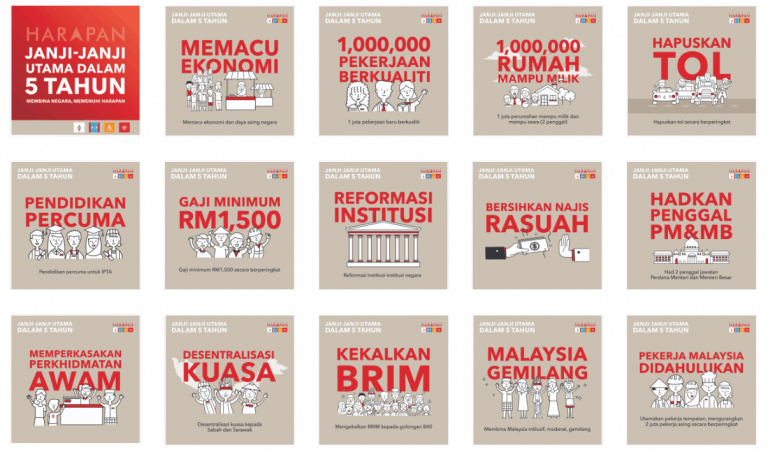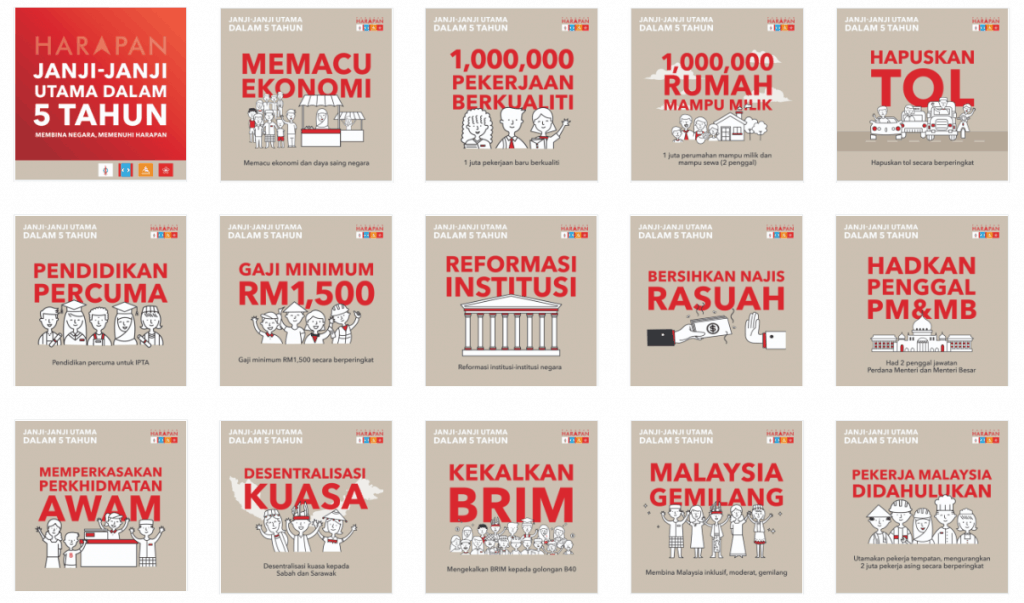 Janji Utama 5 Tahun
60 Key Promises in 5 Years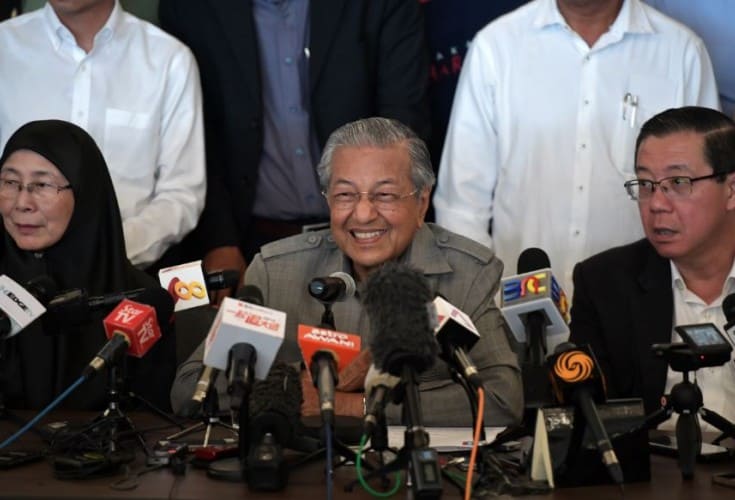 Economic-related
To prioritize Malaysians for job opportunities and reduce dependence on foreign workers by 2m in stages.
Key focus on finances and economy (but abolish "cash is king"

principle

).
Spur the economy and competitiveness of Malaysia.
Create 1 million new quality jobs.
Minimum pay of RM1.5k monthly implemented in stages.
Review taxes for M40 group (monthly salary between RM3,000 – 6,275).
Equal pay for women.
Tax breaks for senior citizens who are still working.
Build 1 million affordable homes over 2 terms.
Abolish tolls in stages with there being 177 tolls in Malaysia with 31 highway concessionaires, 30 collecting tolls, and 20 different owners.
Free education for public universities (Institut Pengajian Am Tinggi).
Continue with BR1M (Bantuan Rakyat 1 Malaysia) to B40 Group (monthly income below RM3k).
Marriage incentive for couples below age 35.
Focus on increasing investors' confidence.
Confident of economic growth citing previous experience through financial crisis.
Malaysia is a trading nation that needs markets and wants to be friendly with global community and other countries.
A strong and vibrant stock market with a growth in market cap.
Petrol price no longer to change weekly and increased price stability.
Look into renegotiating debts including duration and rates.
No clause for revaluation of Ringgit and will try to hold at steady level.
Expect short-term increased Ringgit volatility: offshore Ringgit weakened to USDMYR 4.265 (-4.7%) before recovering slightly to ~USDMYR 4.020 levels.
Malaysian government official debt owing RM700-800b (annual growth 10.8%) but does not include off balance figures. Priority to reduce debt.
Get back 1MDB money being held overseas.
People Centered
Build an inclusive, moderate, and successful Malaysia.
Adding 10,000 public transportation buses.
Reduce cost of internet and increase speed.
Deliver clean water and electricity outside towns.
Build more schools and service centers.
Strengthen relationship among races and religions.
Reduce bureaucracy for registered children and Malaysian citizenship.
Technical and vocational training for special needs (Orang Kurang Upaya).
Mandatory special needs facilities at all government departments.
Stop illegal and smuggled alcohol and cigarettes.
Focus on green technology and renewable energy.
Strictly manage logging quotas.
Strict action against illegal hunters and loggers.
Improve infrastructure and schools for aboriginals/natives (Orang Asli).
Good Governance
Strengthen and improve civil service.
Stop monopolies such as rice (BERNAS) and satellite television (ASTRO).
Increase healthy competition especially for medication.
Limit PM and Chief Minister (Menteri Besar MB) to maximum 2 terms (5 years x 2 terms = 10 years).
PM not allowed to hold any other minister positions.
Reduce JPM (Jabatan Perdana Menteri or Prime Minister's Department) ministers from 10 to 3 and budget from RM17b to RM8b.
Appointments to government institutions must be approved by parliament and can be called for questioning.
Reform government institutions.
Power over institutions under PM to be under parliament instead.
Return money to any donors who were unfairly targeted/taxed for supporting PH.
Promote any deserving government officials that were unfairly demoted.
Look into cases based on the laws of the country for people who were unfairly charged and politically motivated.
Abolish unfair and oppressive laws.
Work on Anwar Ibrahim's full pardon who will then be eligible to become PM (release date: Jun 8, 2018; unable to hold office until Jun 8, 2023 without royal pardon).
Dr Mahathir will stay for as long as needed to share his experience, but not too long.
We thank the majority of Malaysians who have given us hope, which is also the name of our party. We will make sure that the laws of the country will guide us through our administration. Business people should be assured that we intend to build up Malaysia's economy with the help of investors inside and outside the country. ~Tun Dr Mahathir Mohamad, Malaysia's 7th Prime Minister