Rakuten Trade now offers contra trading with up to 5x cash and shares value! Learn how contra trading works and how you can easily open a contra trading account today!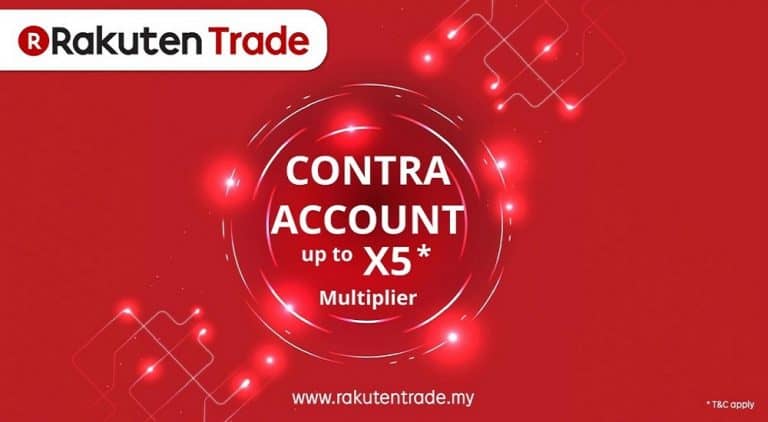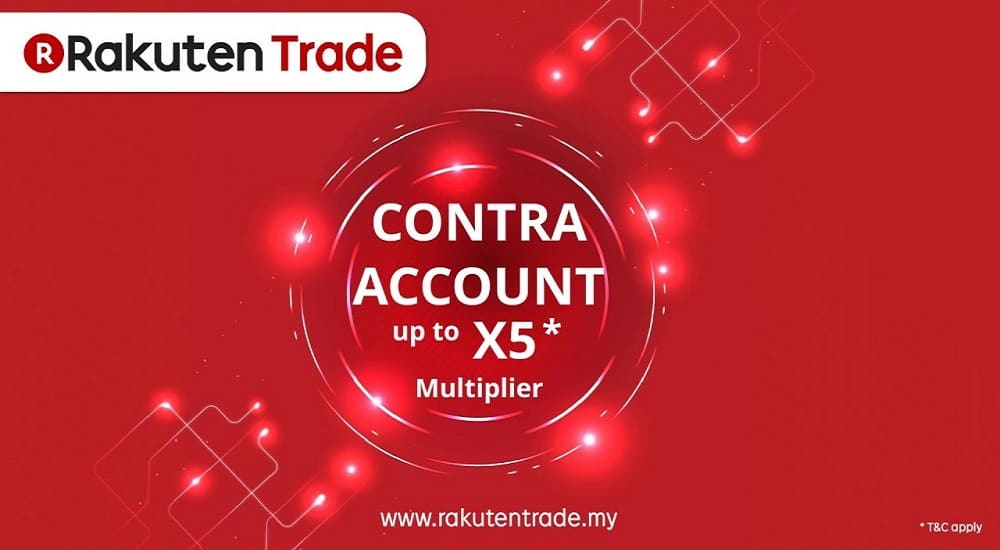 Rakuten Trade Launches Contra Account Trading
Rakuten Trade is a joint venture between Kenanga Investment Bank Bhd. and Rakuten Securities Inc.
JV was signed in April 2017 and is their first equities business outside Japan.
1st launched was Rakuten Trade Cash Upfront Account and Contra Account launched in 2018.
Contra trading launched June 4, 2018 (June 2 for early invites).
Low contra brokerage fees.
Earn Rakuten Trade points.
Only individual Contra accoutn allowed (no joint account).
Contra Trading Benefits
Allows you to trade more than the money you have in your account.
Maximize your trading exposure by offering shares as collateral.
Available cash balance in the account will earn interest at 2.5% per annum.
Settlement of transaction (either earned or payment to cover loss) is only required 3 days after the transaction (T+3).
Trading limit of up to 5x cash and shares collateralized.
Shares collateral value depending on the counter.

Main Market: 80% value
ACE Market: 50% value

Warrants, ICULS, and REITs: no collateral value.
Fixed deposits (FD) from other banks: not accepted as collateral.
Rakuten Contra Trading Restrictions
Unable to trade the following:-
LEAP (Leading Entrepreneur Accelerator Platform Market)
Rights
Loan bonds
Warrants (two weeks before expiry)
Contra Account Brokerage Trading Fees
Below RM1,000: RM8
RM1,000 – RM9,999: RM10
RM10,000 – RM99,999: 0.18% trading value
RM100,000 above: 0.15% trading value
"Trading on the Malaysian equity market has never been more seamless and more efficient. In true Rakuten style, we are enhancing the trading experience for our investors by providing a platform that is different and more advantageous than what is currently being offered. Our contra trading complements the existing cash upfront facility as it gives additional leverage of up to five times to our clients, higher than what is currently offered, yet at low brokerage rates that are the lowest in town." ~Rakuten Trade MD Kaoru Arai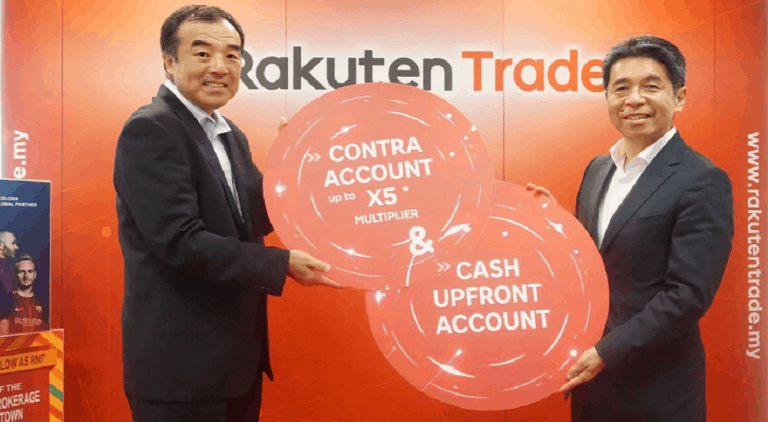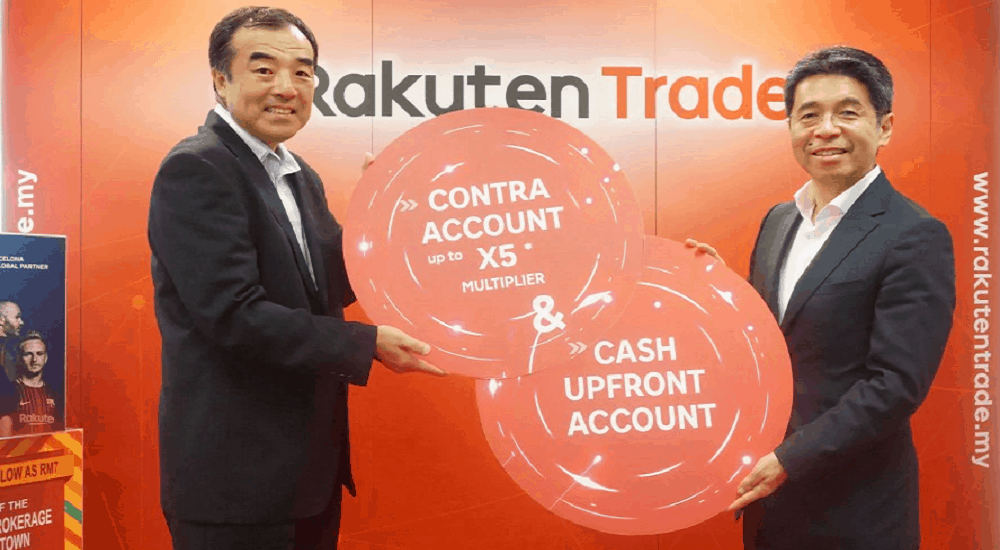 Rakuten Trade Contra Account Opening
New Rakuten Trade Clients
NRIC/passport image (front and back).
Individual / joint bank statement from a local bank.
Utility / phone bill as proof of address if different from permanent address.
Individual debit/credit card for CDS account payment fee (not a company or 3rd party account).
1 month x payslip / income tax Borang B.
Existing Rakuten Trade Clients
Account opening fully online in 3 easy steps.

Login to your Rakuten account & go to your Dashboard.
Fill up an Contra additional in on your financial profile and provide 1-month income evidence.
Pay the RM10.00 Bursa account opening fee (Visa/MasterCard credit card accepted).

Account details sent to you within 2 hours.
Contra Account Opening Promotion: Two is Better Than One 
Clients who open both a cash upfront and contra trading account will receive a rebate of RM10 (not eligible for existing clients).
Upon successful execution of their first trade, clients will receive 2,000 Rakuten Trade points.
Promotion June 1 – December 31, 2018
Friend referral code: MYPF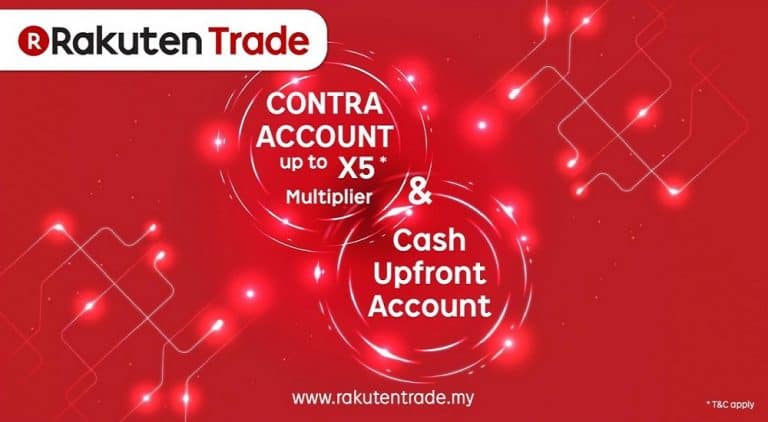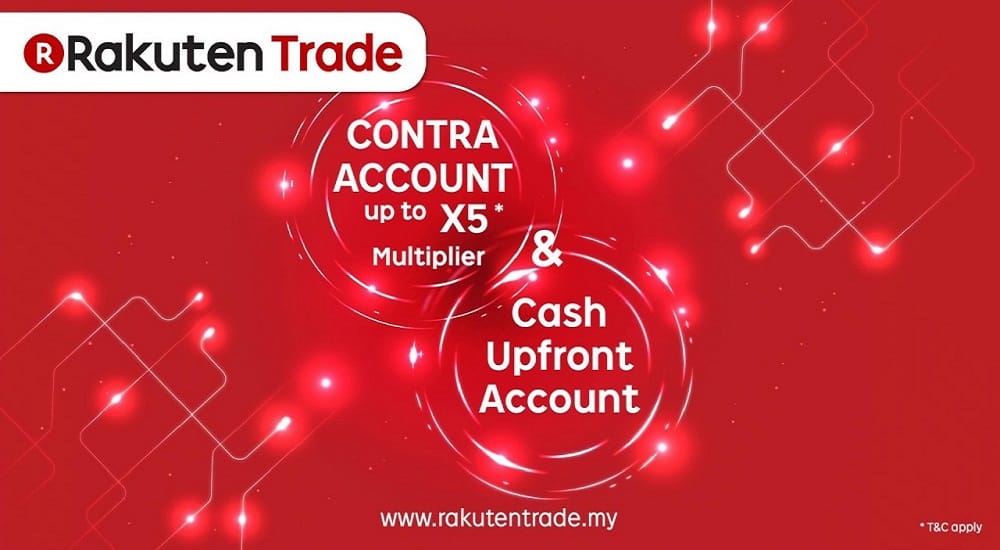 On Contra Trading
Contra trading allows you to buy shares short term without actually having to make payment immediately (allowing you to trade a higher amount than your upfront cash/capital). However, contra trading is higher risk and you earn up paying higher costs for you trades (even with Rakuten, the costs are higher compared to upfront Cash).
Below RM1,000: RM8 (RM1 higher vs cash)
RM1,000 – RM9,999: RM10 (RM2 higher vs cash)
RM10,000 – RM99,999: 0.18% trading value (0.08% higher vs cash)
RM100,000 above: 0.15% trading value (0.05%++ higher vs cash RM100 flat rate)
If you do fail to settle your outstanding purchases by 5pm on the 3rd trading day (T+3), your shares will be automatically force sold on the 4th day (T+4) morning.
Your contra losses (if any) will be deducted from your available funds (cash) automatically.
If your cash funds are insufficient, Rakuten will force sell your collateralized shares on the seventh trading day (T+7) from the transaction date of the outstanding purchases.
If your collaterized shares are insufficient, Rakuten will issue A Letter of Demand on the eighth trading day (T+8) for any unsettled outstanding Contra losses.
Late payment interest charges of 6% per annum on outstanding Contra loss will be charged until amount is fully settled.
FAQ & More Info
Q: Can I open a Contra account without income evidence?
A: No. Income evidence is mandatory.
Rakuten Trade Contact Info
customerservice@rakutentrade.my
Toll free 1-800-88-6001