The deadline for updating your PTPTN loan repayment info is on July 25, 2018. Do you qualify for PTPTN loan exemption or repayment deferment? Do you qualify for the new repayment deferment if you are earning below RM4,000 monthly?
Updated: Sep 28, 2018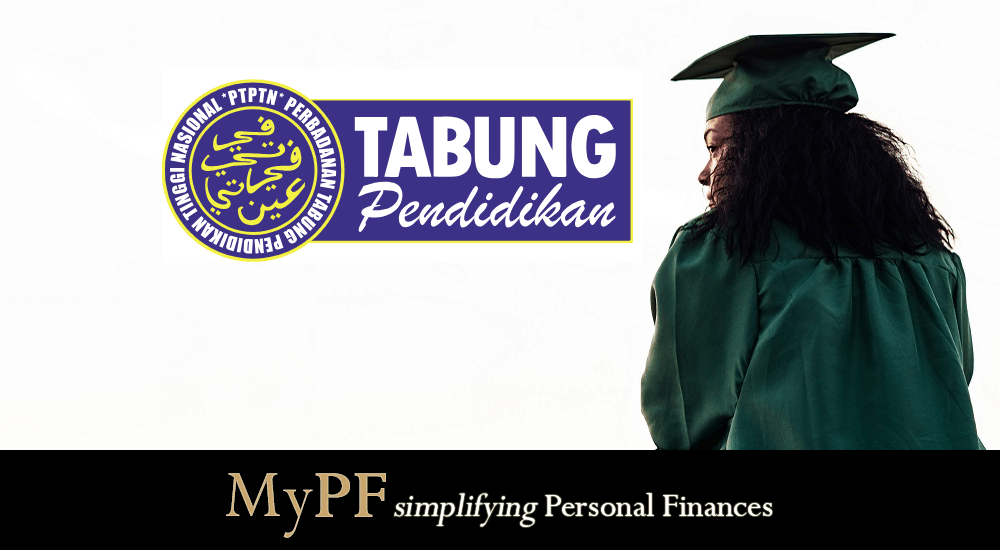 PTPTN is the National Higher Education Fund Corporation (Perbadanan Tabung Pendidikan Tinggi Nasional) provides education loans available for tertiary education at a very low interest rate of 1% (based on syariah-compliant Ujrah)!
PTPTN Funding Eligibility
Requirements
Malaysian citizen
Age 45 below
Received offer in MQA approved course for tertiary education at public and private institutions
No other sponsorship received
Maintain GPA 2.0 and higher throughout studies
PTPTN Loan Repayment Exemption
You are exempted from paying back your PTPTN loan by fulfilling the following conditions:-
Awarded first class degree honors or equivalent.
Full time studies completed on timeline as per PTPTN loan document.
Fulfills original PTPTN funding eligibility requirements.
Submitted within 12 months from convocation date.
PTPTN first class honors loan repayment exemption application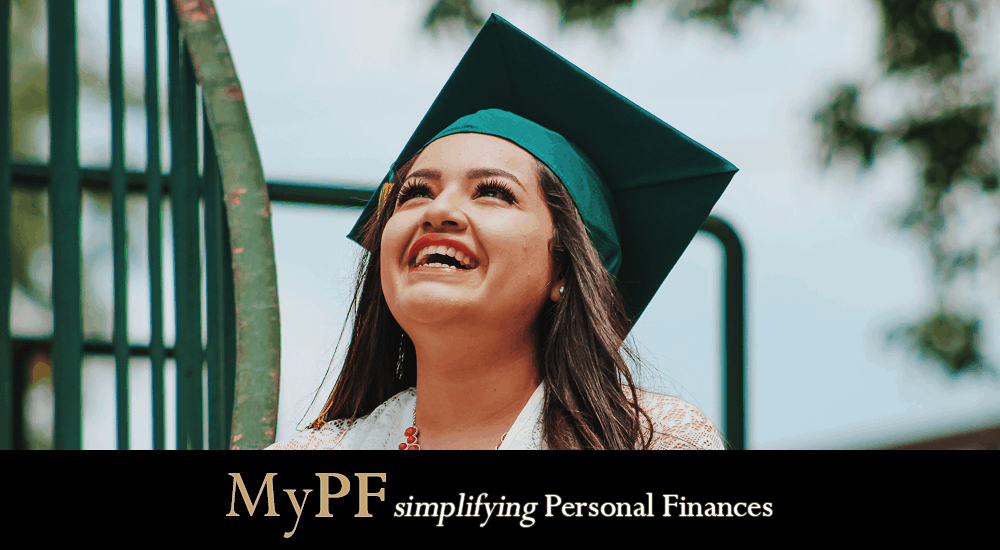 PTPTN Loan Repayment Deferment
Repayment for PTPTN starts 12 months after you finish your studies (even if notice of repayment is not received from PTPTN). Wage cost/upah (Ujrah) is charged every month starting from the 13th month. The repayment duration will be based on the remaining loan.
You can defer your PTPTN loan repayment in the following scenarios:-
Full study duration: You continue/extend your education full time locally or overseas.
Up to 24 months: You are unemployed with 6 months deferment per application.
NEW: You are earning below RM4,000 monthly.
Education Deferment Process
Submit official PTPTN repayment deferment letter.
Submit latest education offer letter from tertiary education provider stating the study end date.
Unemployment Deferment Process
Submit official PTPTN repayment deferment letter.
Submit documents

Letter of oath stating unemployment.
Latest EPF statement OR official EPF letter confirming borrowed is not contributing to EPF.
Earning Below RM4,000 Monthly Deferment Process
Deadline: July 25, 2018
Update your latest salary at http://www.ptptn.gov.my/akuanpendapatan/.
Note: The above link has been removed by PTPTN after the deadline (ptptn.gov.my)
If you don't have your No. Pinjaman (Borrowing Account No), call the PTPTN careline 03-2193 3000, icare eApp or contact a PTPTN officer via WhatsApp with your NRIC No, Full Name, Mother's Name, and Course Name.
| No | PTPTN Officer | WhatsApp |
| --- | --- | --- |
| 1 | ABDUL MAJID BIN MUING | 013-5418704 |
| 2 | AFIZAH BT OMAR | 011-14202084 |
| 3 | AHMAD MUHAIMIN BIN HAFIDZ | 013-4085659 |
| 4 | AHMAD SUFIAN HA BIN SIRAJ | 012-2794832 |
| 5 | AIN NADIRAH BT ROZMI | 016-6792629 |
| 6 | ANIS FAZRINA BINTI MOHAMAD | 013-9972779 |
| 7 | ANUAR BIN GHAZALI | 017-8053971 |
| 8 | ARUSTI BINTI RABU | 012-2793949 |
| 9 | ASREF BIN ASRI | 017-6917002 |
| 10 | ASRYZAL BIN ESA | 017-7761287 |
| 11 | AZIFAH HUMAIRAH BINTI ABD AZIZ | 014-5448095 |
| 12 | AZILAWATI BINTI MOHD SUHAIMI | 019-3375542 |
| 13 | AZURA BINTI OTHMAN | 019-3369278 |
| 14 | CHE AZMAN B. CHE ZAN | 019-3221147 |
| 15 | DANIEL JARVIS BIN JOSEPH JUKI | 011-31707636 |
| 16 | FADZLIANA BINTI FADZIL | 019-3378799 |
| 17 | FARRAH SUHAILY BINTI SAFIAN | 019-3278773 |
| 18 | FATIMAH BINTI RAMLI | 017-8703507 |
| 19 | FAZIL BIN MUSTAPA | 019-2939179 |
| 20 | FAZLI BIN ABU OSMAN | 013-9287796 |
| 21 | HANAN HAYATI BINTI WAHID | 019-3383027 |
| 22 | HARNITA BINTI YUSOH @ HARUN | 012-2793946 |
| 23 | HASNUL ABD HAFIDZ BIN HASNUL HADI | 012-3436982 |
| 24 | HELMI BIN AZIZ | 019-2804858 |
| 25 | IFO HASLINA BINTI SHAJRIAL | 019-2696292 |
| 26 | ISMAIL @MOHD FADLI BIN ZAKARIA | 012-3573243 |
| 27 | ISMAWANIE BINTI ABD AZIZ | 011-11859919 |
| 28 | JAMILAH BINTI LONG | 012-2507312 |
| 29 | JULIA BINTI MIRZA SHAH | 019-6465801 |
| 30 | JUSURAIMI BIN JUSOH | 019-3237827 |
| 31 | KHAIRUL HAFIZ B MOHAMED YUSOF | 011-37077036 |
| 32 | MAHAZIAH BINTI ROSLI | 011-20788569 |
| 33 | MASLIANA BINTI MOHAMAD | 012-2526162 |
| 34 | MASRAN BIN MUSTAPHA | 017-8021504 |
| 35 | MASZURA BINTI JIDIN | 019-2939630 |
| 36 | MATTRIX BIN IBRAHIM | 014-9951066 |
| 37 | MIRA MARIANA BINTI KAILAN | 013-8177830 |
| 38 | MOHAMAD AZIZI SOLEHIN B MAKHYUDIN | 012-3043067 |
| 39 | MOHAMAD HAFIZI BIN JAMALUDDIN | 019-6630506 |
| 40 | MOHD AFZHAN BIN ANUAR | 013-6894716 |
| 41 | MOHD AZIM BIN ABDUL LATIFF | 012-2694051 |
| 42 | MOHD EDI IRAWAN BIN LAMING | 017-8941878 |
| 43 | MOHD FAUZI BIN RAMLY | 014-5159084 |
| 44 | MOHD FITRI BIN RAMLI | 019-3391553 |
| 45 | MOHD HANIF BIN HAMZAH | 014-5045556 |
| 46 | MOHD HASHIM BIN ZAINAL ABIDIN | 017-3663145 |
| 47 | MOHD KHAFIZI BIN RAHMAT | 017-7031949 |
| 48 | MOHD NUREZUAN BIN DIN | 012-2341029 |
| 49 | MOHD SHAHRUL AZRI BIN MOHD ISMAIL | 019-3392782 |
| 50 | MOHD ZAMRI BIN ISHAK | 019-2580237 |
| 51 | MUHAINIZAN BINTI MAHAMAD | 011-14201934 |
| 52 | MUHAMAD ADHAM BIN WAN JOHARI | 012-3335405 |
| 53 | MUHAMAD AFIQ BIN MUHAMAD PAUZI | 012-2341785 |
| 54 | MUHAMAD ALIMI BIN ABD RAHMAN | 017-6074825 |
| 55 | MUHAMAD FIRDAUS BIN MOHD YUSOF | 014-5493183 |
| 56 | MUHAMMAD HISYAM BIN ZAINAL | 012-2426964 |
| 57 | MUHAMMAD JAMIL BIN IBRAHIM | 017-4432457 |
| 58 | MUHAMMAD SHAIFUL NIEZAN BIN SIDIK | 014-5088815 |
| 59 | NAZIFAH BT DAUD | 019-2343492 |
| 60 | NAZWANE BINTI SUDIN | 010-9280598 |
| 61 | NONA SUZANA BINTI HAJI DESAN | 019-2646346 |
| 62 | NOOR AYUNI BINTI RAMLI | 012-9432080 |
| 63 | NOOR AZELAH BINTI AHMAD | 017-8709074 |
| 64 | NOOR DIYANA SHAHRUDIN | 013-5308610 |
| 65 | NOOR SHAMIMIE BINTI JELANI | 013-5042913 |
| 66 | NOORHASLINDA BINTI MD YUSOF | 012-2693086 |
| 67 | NOR AFIZA BT MOHAMAD | 012-2692781 |
| 68 | NOR AHKEMALIZA BINTI RASLI | 012-9595710 |
| 69 | NOR AIMIYAH BINTI SUDIN | 012-2341270 |
| 70 | NOR ASHIKIN BINTI ALIAS | 014-5158061 |
| 71 | NOR ASMAH BINTI OTHMAN | 017-8702195 |
| 72 | NOR HIDAYU BINTI KASSIM | 011-12849088 |
| 73 | NORA BT ABU BAKAR | 019-6660508 |
| 74 | NORASHIKIN BINTI RAZALI | 012-2693546 |
| 75 | NORHASHIMAH BT ABD HALIM | 019-3377840 |
| 76 | NORHASNIDAH BINTI ARIFFIN | 012-2481087 |
| 77 | NORISWA BINTI PAUZI | 010-4087796 |
| 78 | NORZILA BINTI ARIFFIN | 019-2662529 |
| 79 | NUR AFIQAH BINTI AJIS | 012-3679257 |
| 80 | NUR IDAYU BINTI KHUSAINI | 011-31715313 |
| 81 | NUR KHAIRIAH BINTI NAWI | 019-5593341 |
| 82 | NUR MASFIRAH BINTI MOHAMED YATIM | 019-2142117 |
| 83 | NUR ZUHAILI BINTI AZMI | 019-3544238 |
| 84 | NURHAIZAN BINTI ZAINAL ABIDIN | 012-2507214 |
| 85 | NURUL ASMAQ BINTI CHE REMELI | 016-8887261 |
| 86 | NURUL HUDA BT HAMID | 012-2692473 |
| 87 | NURUL NADIRA BINTI ABDUL HAMID | 012-2692083 |
| 88 | NURUL NISAH BINTI INI | 014-6825785 |
| 89 | NURUL SHUHADA BINTI AHMAD | 019-3379862 |
| 90 | PAULINE NANIE MULA ANAK NATING | 014-8822452 |
| 91 | RATNAWATI BINTI MUHAMAD YUNUS | 019-3433989 |
| 92 | RIFNASARI BINTI ANDI ARIEF | 013-9297928 |
| 93 | RODIAH BINTI HAMZAH | 012-5513102 |
| 94 | ROHASMIRA BINTI ZAINAL ABIDIN | 014-3389324 |
| 95 | ROHIMI BINTI JALANI @ ZAINI | 013-3783018 |
| 96 | ROS AIZAM BINTI DIN | 019-3397085 |
| 97 | ROSLAN BIN HAMDAN | 019-3986284 |
| 98 | ROSNI BINTI ABDUL RAHMAN | 012-2344372 |
| 99 | RUZIEANA BINTI IBRAHIM | 012-9226635 |
| 100 | SALIZA BINTI ZAKARIA | 011-32410631 |
| 101 | SARINA BINTI RASLAN | 013-380 8258 |
| 102 | SHAHREL BIN RAMLEE | 017-8053856 |
| 103 | SHARIN BIN ABDUL RAHIM | 011-31636078 |
| 104 | SHAZRUL AZHAN BIN ABDULLAH | 016-4322948 |
| 105 | SHIMAH BINTI TUMIRAN | 013-7112950 |
| 106 | SITI HAFSOH BINTI ANANG BASSRI | 019-2552681 |
| 107 | SITI HAJAR BINTI ABDUL KADIR | 019-3394387 |
| 108 | SITI JAHARA BINTI MOHD IDRIS | 019-2550671 |
| 109 | SITI KHATIJAH BINTI MOHD AMIN | 013-5339445 |
| 110 | SITI LIANA BINTI JOHARI@BAHA | 017-5613412 |
| 111 | SITI MADIAH BINTI SALIM | 019-3461401 |
| 112 | SITI NORMALA BINTI ISMAIL KHAN | 019-8689984 |
| 113 | SITI NORMALAH BINTI AMAN | 016-5828485 |
| 114 | SITI NORZAIDAH MOHD SAKRY | 010-9309668 |
| 115 | SITI SARAH BT MOHD FAIZAL | 013-4953664 |
| 116 | SITI SHARAH BINTI KAMARUDDIN | 019-3381361 |
| 117 | SITI SUHANAFIAH BINTI SOEFJAN JOENOES | 012-2314972 |
| 118 | SOLAHUDDIN BIN MUHAMAD NOOR | 013-9450135 |
| 119 | SUHAIDA BT SHAFIE | 012-2794605 |
| 120 | SUHAILIN BT SHAHRUL ANUAR | 013-2114428 |
| 121 | SURAZLAN SHAH BIN OTHMAN | 012-6897100 |
| 122 | TEH HANISHAH BINTI NASARUDDIN | 010-9289766 |
| 123 | WAN AISHAH BT WAN SULAIMAN | 019-3565811 |
| 124 | WAN ALIFF BIN WAN KASSIM | 013-8006115 |
| 125 | WAN MULIATI BINTI WAN ZAINAL ABIDIN | 014-5026786 |
| 126 | WAN NORASYIKIN BINTI WAN HUSSIN | 012-2793297 |
| 127 | WAN SITI AISHAH BINTI MEGAT HASHIM | 019-3382405 |
| 128 | YUSHANALIZA BINTI HAMDAN | 012-5354278 |
| 129 | YUSNIWATI BINTI YUSOF | 017-8700563 |
| 130 | ZAIFRIDAH BINTI ZALUDDIN | 013-2228942 |
| 131 | ZALMIZI BIN SIHI @ AB.MANAF | 019-3398215 |
| 132 | ZIADI SABRI BIN ISMAIL | 019-2699145 |
| 133 | ZIRWATULISYKI BINTI YUSOFF | 017-9188144 |
| 134 | ZULHAIRI BIN ISHAK | 012-2794067 |
| 135 | ZULKIFLI BIN MUHAMAD | 013-3524270 |
| 136 | ZULZAMRI BIN ABDUL RAZAK | 019-2553442 |
PTPTN Account Details Updating Guide (unofficial English translation help)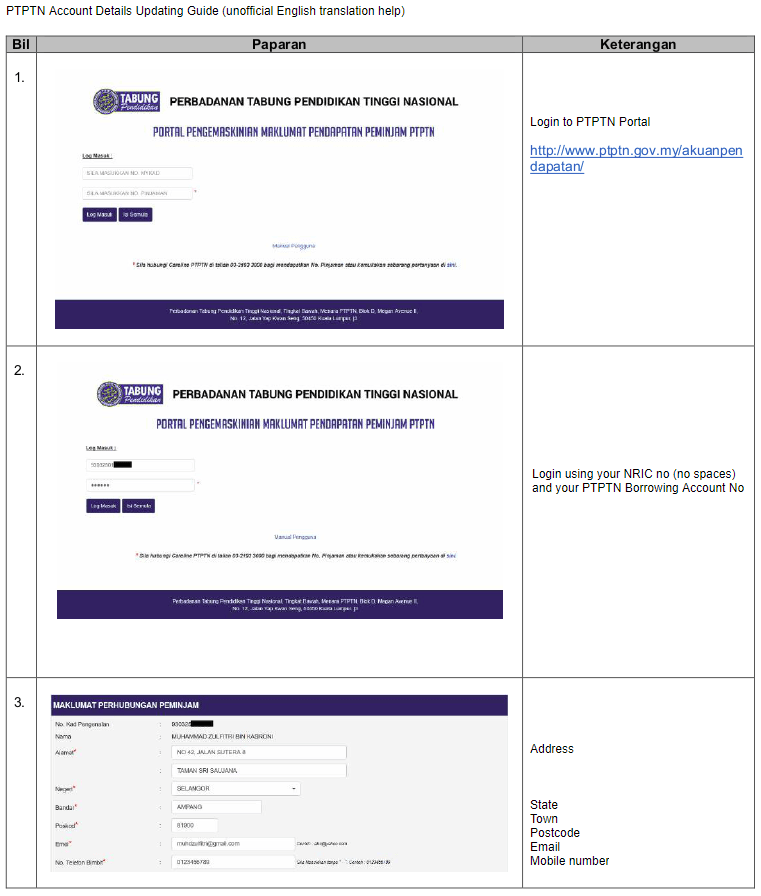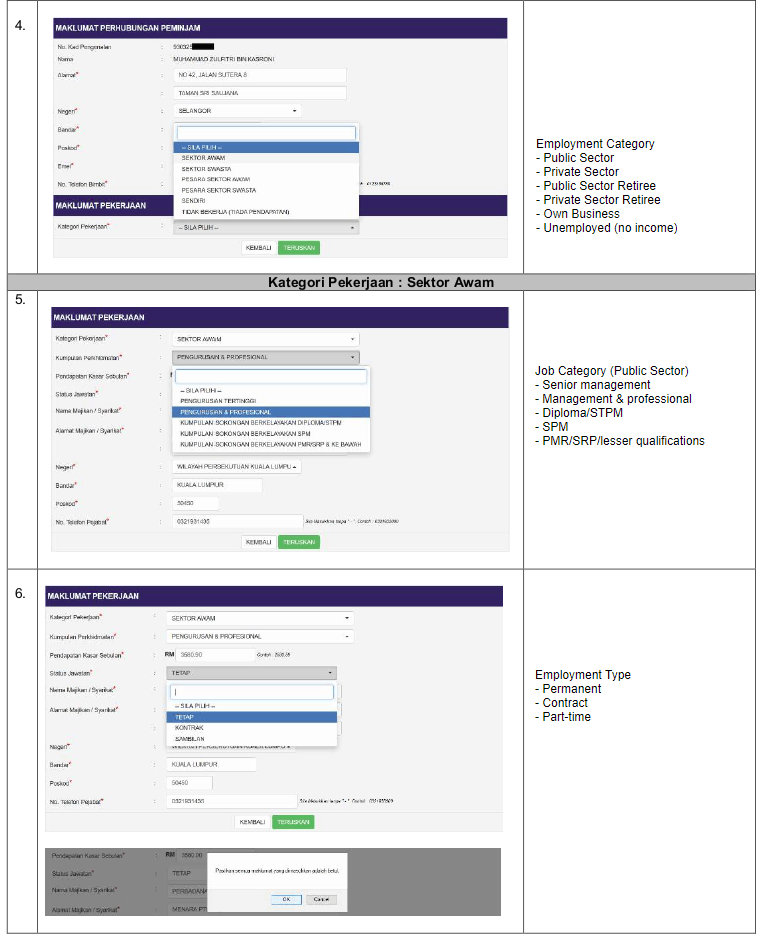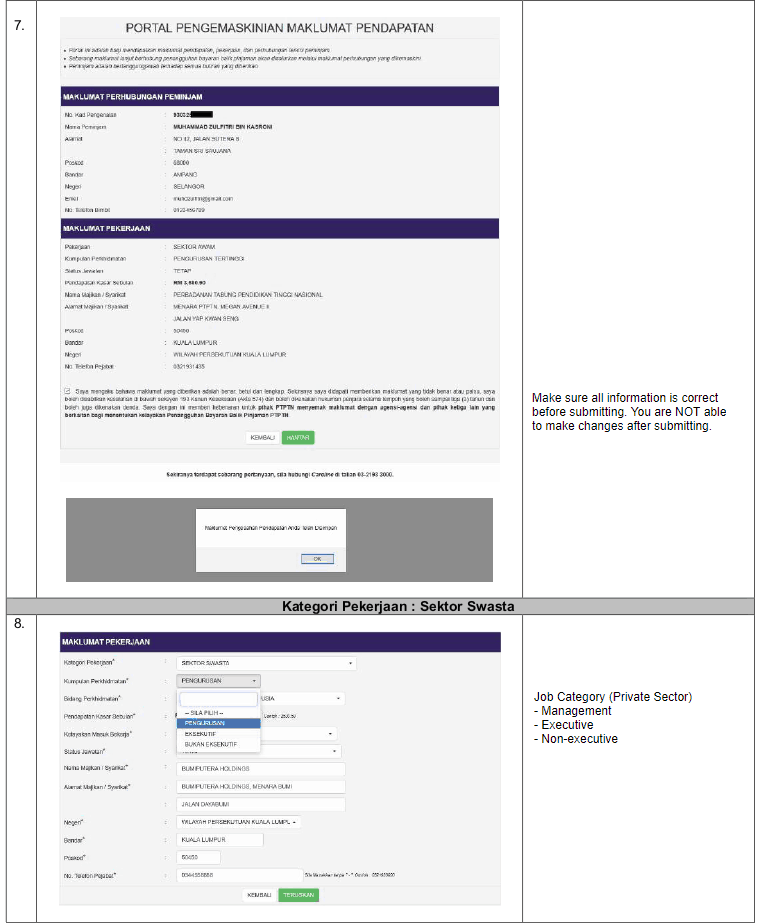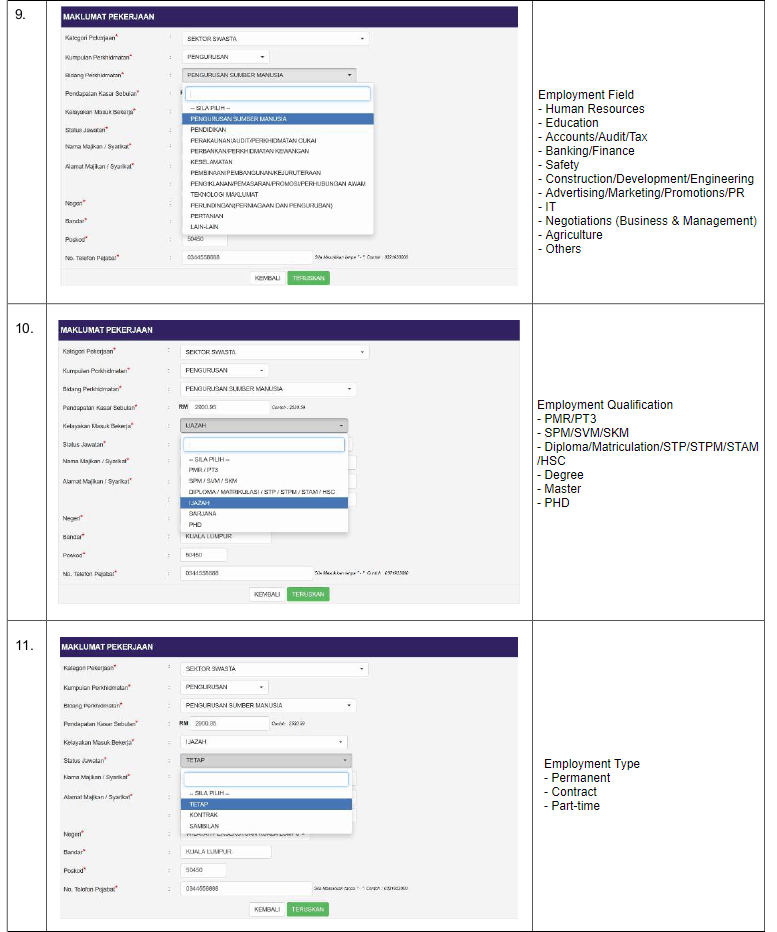 Share and discuss on PTPTN Loan Deferment