MyPF.my is listed by BlogFrog, a leading next generation influencer, as an established growing Top Influential Blog in the Finance category.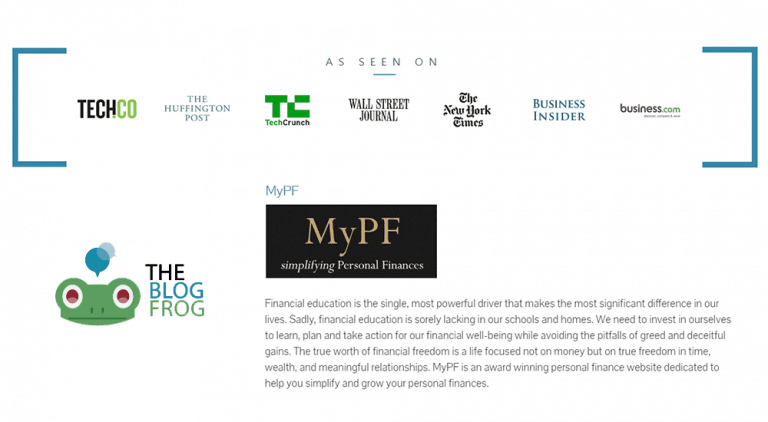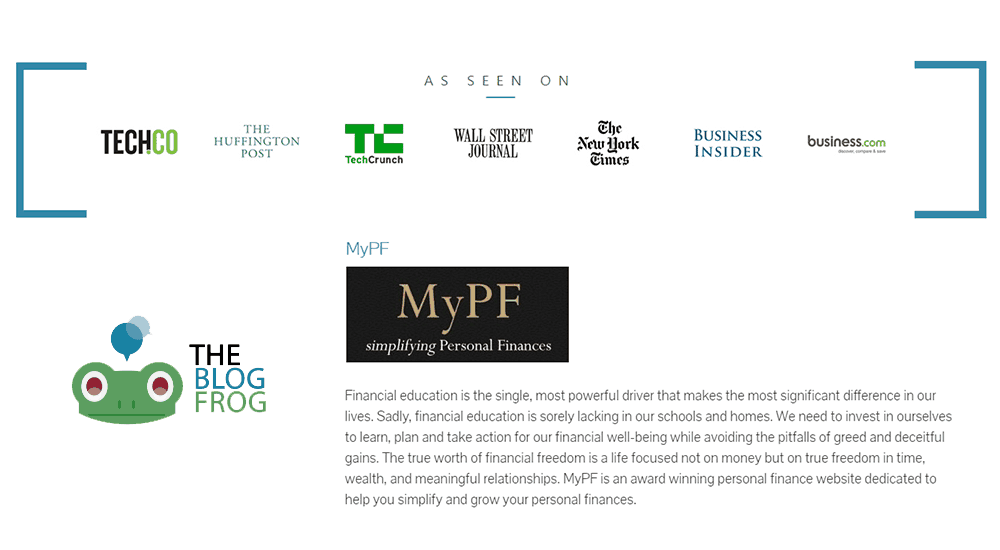 MyPF.my is honored as the 1st Malaysian website to be listed in the Best Finances Blogs to Follow joining other notable finance blogs including:-


J. Money has unconventional approach to personal finance and Budgets Are Sexy is a money blog trying to spice things up a bit. He gives regular updates on his net worth changes, along with free tools and templates you can use for your finances, while his main focus is on saving money. They rock out budget planning, retirement, credit cards, 401k, templates & becoming a millionaire.


Get Rich Slowly is one of the most famous blogs about finance and it has been around since early 80's. It is named a best blog by Time magazine and most inspiring money blog by Money magazine is devoted to sensible personal finance.It includes the basic tenets of the Get Rich Slowly philosophy and the ideas that fuel every article we post.

Unconventional Lifestyle & Dividend Growth Strategy
A former private banker that now lives under his own terms.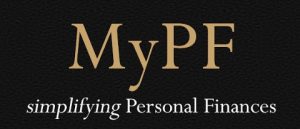 Financial education is the single, most powerful driver that makes the most significant difference in our lives. Sadly, financial education is sorely lacking in our schools and homes. We need to invest in ourselves to learn, plan and take action for our financial well-being while avoiding the pitfalls of greed and deceitful gains. The true worth of financial freedom is a life focused not on money but on true freedom in time, wealth, and meaningful relationships. MyPF is an award winning personal finance website dedicated to help you simplify and grow your personal finances.
Do check out some of these finance blogs but don't forget to come back to MyPF.my!
Moving Forward
That's one small hop for MyPF, one giant leap for Malaysia's personal finance blogspace.
We hope that more quality personal finance sites, especially Malaysian ones, continue to flourish helping to contribute to the growth and financial development of not only Malaysians but global citizens of today's world. Malaysia and mankind boleh!