What is Malaysia's Shared Prosperity Vision 2030? Malaysia is at risk of slowing GDP growth and widening disparities. Learn how this commitment help to improve living standards of all Malaysians as outlined by Malaysia's prime minister Tun Dr Mahathir Mohamad.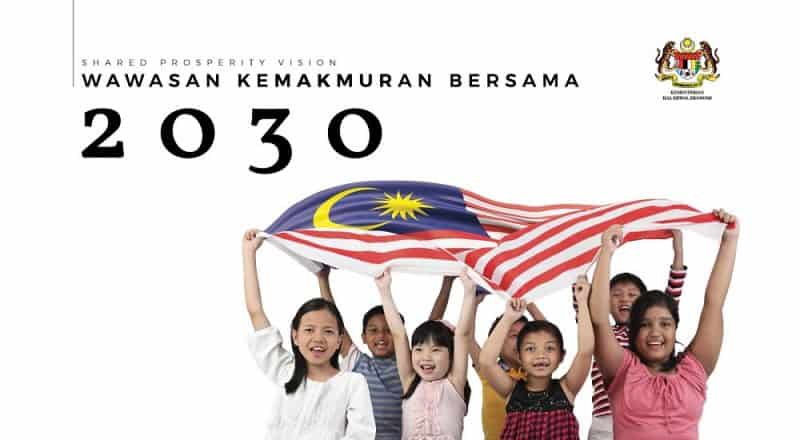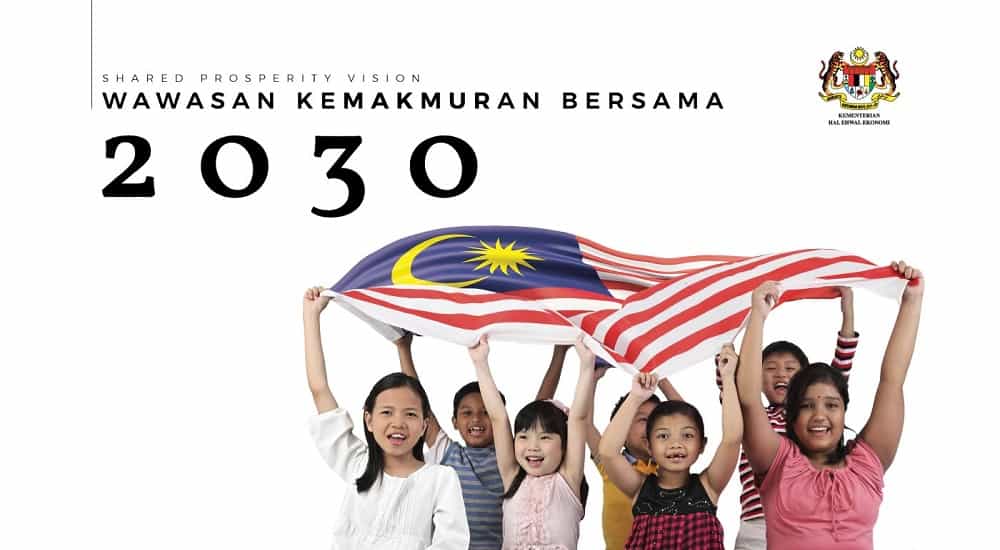 "The people who unite without prejudice in celebrating the diversity of races and cultures are fundamental to the unity of the country. The aim of the Shared Prosperity is to provide a decent standard of living to all Malaysians." ~Tun Dr Mahathir Mohamad, Malaysia's Prime Minister
Shared Prosperity Vision 2030
The primary aim of Shared Prosperity Vision (SPV2030) is to provide a decent standard of living to all Malaysians by 2030.
SPV2030 is a commitment to make Malaysia an nation that achieves sustainable growth along with fair and equitable distribution, across income groups, ethnicities, regions and supply chains. The commitment is aimed at strengthening political stability, enhancing the nation's prosperity and ensuring that the rakyat are united whilst celebrating ethnic and cultural diversity as the foundation of the nation state.
Objectives
Restructuring economy
Addressing inequalities
Nation building
Highlights
Malaysia GDP growth is slower than China, East Asia and Pacific. Our economic growth has not realised full potential.
Malaysians economy very reliant on commodities which face rise of price uncertainty and may result in economic downturn.
Technology adoption is still low in manufacturing (37%) and services industries (20%), which contributes 79% of GDP.
Income disparity between employee and capital owners is substantial which key issues being overdependence of foreign labor, and high percentages of semi- and low-skilled workers while investment in workers upskilling and automation remain low.
Widening income disparity between T20 (Top 20%) vs B40 (Bottom 40%) groups, and between ethnicities.
Bumiputeras are lagging behind in most registered professional occupations (besides dentistry), low contribution to GDP (if exlcuding GLCs), and low Bumiputera SME contribution to economic growth.
Widening development disparity between urban vs rural regions.
Corruption and abuse of power stifling economic growth and distribution.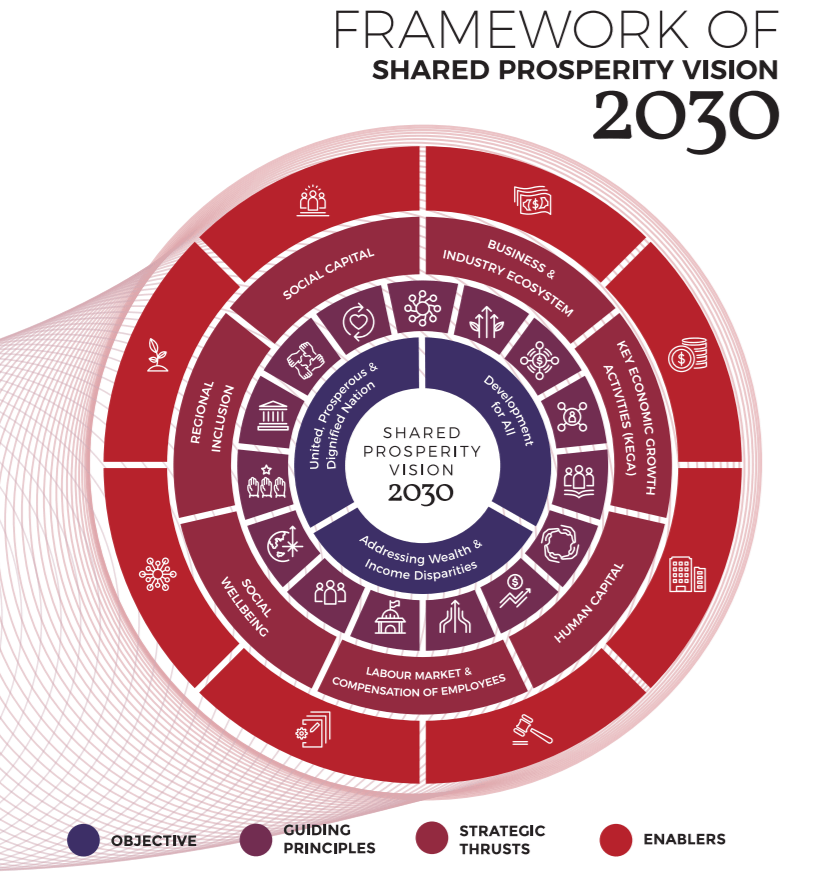 SPV 2030 Action Plan
15 Guiding Principles
Continuous Prosperity
Learning Society
Economic Centre of Asia
Equitable Outcome
Future Economy
Democracy and Stability
Equitable Growth
Need-Based Approach Economy
Integrity and Good Governance
Distributed Economy
Institutional Political-Economy
Unity in Diversity
Inclusivity
Integrated Social Model
Sovereignty and Sustainability
7 Strategic Thrusts
Business and Industry Ecosystem
Key Economic Growth Activities
Human Capital
Labour Market and Compensation of Employees
Social Wellbeing
Regional Inclusion
Social Capital
8 Enablers
Fiscal Sustainability
Financial Capital
Effective Institutional Delivery
Governance & Integrity
Education & TVET (Technical and Vocational Education and Training)
Big Data
Sustainability
Enlightened Society
15 Key Economic Growth Activities (KEGA)
Islamic Finance Hub 2.0
Digital Economy
Industrial Revolution 4.0
Content Industry
ASEAN Hub
Halal & Food Hub
Commodity Malaysia 2.0
Logistic, Transportation & Sustainable Mobility
Coastal & Maritime Economy
Centres of Excellence
Renewable Energy
Green Economy
Smart & High Value Agriculture
Advanced & Modern Services
Malaysia Truly Asia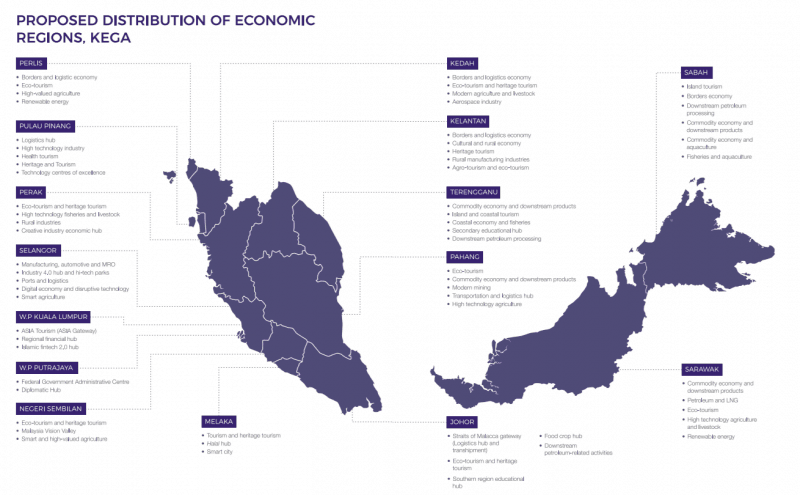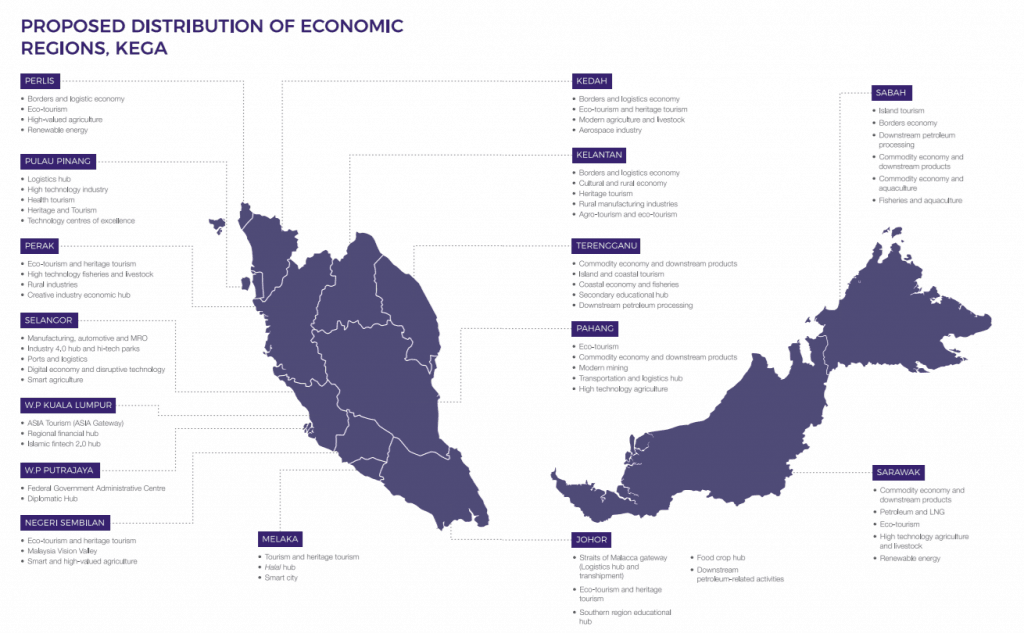 Share your thoughts on Malaysia's Shared Prosperity Vision 2030.
You May Also Like