Q1. What Is Defined As "Income"?
You must pay income tax on all types of income, including income from your business or profession, employment, dividends, interest, discounts, rent, royalties, premiums, pensions, annuities, and others.
For salaried employees, this not only includes your monthly salary, but also things like bonuses, overtime, commissions, and all other taxable income that you received in that particular year.
Q2. Who Needs To Pay Income Tax?
Any individual earning more than RM34,000 per annum (or roughly RM2,833.33 per month) after EPF deductions has to register a tax file.
You don't have to pay taxes in Malaysia if you have been employed in the country for less than 60 days or for income that is earned from outside Malaysia.
It is advisable for those who earn lesser than the amount stated earlier to also file in their tax to keep a good record of their credit history.
Understanding Tax Rates And Chargeable Income
Here are the income tax rates for personal income tax in Malaysia for YA 2019 (i.e. Year of Assessment 2019).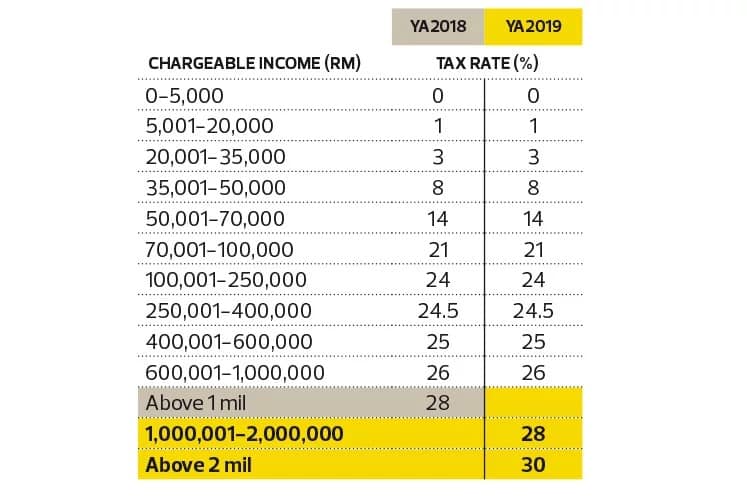 Example Scenario
Your annual taxable income is RM48,000. Based on this amount, the income tax to pay the government is RM1,640 (at a rate of 8%). However, if you claimed RM13,500 in tax deductions and tax reliefs, your chargeable income would reduce to RM34,500. This would enable you to drop down your tax bracket to 3% instead. Which means, you only require to pay RM585. That's a difference of RM1,055 in taxes!
Please note that chargeable income is your taxable income AFTER deducting any tax deductions and tax relief. It's very important you know how it works because as you can see, the tax rate you are charged with increases as your chargeable income does. The more you reduce your chargeable income through tax reliefs, the lesser your final tax amount will be!
Q3. When Do I Need To File (Submit) Online for My Income Tax Form?
For the BE form (resident individuals who do not carry on business) the deadline is usually mid-May for e-Filing.

This year deadlineshould 15 May May 2020 via e-Filing extended to Jun 30, 2020 due to MCO
For the B form (resident individuals who carry on business) the deadline is usually the end of  mid-July for e-Filing.

This year deadline 15 July for e-Filing extended to Aug 30, 2020 due to MCO.
Important note: The Inland Revenue Board (IRB) in a statement in Mar 2020 announced that deadline to submit income tax return forms has been extended for 2 months due to the Movement Control Order (MCO) which is starting from March 18 until March 31. You can file your taxes online via ezHASiL on the LHDN website.
Q4. How Do I File My Income Tax – Is There A Form To Fill?
Step 1. Register as a first-time taxpayer on LHDN e-Daftar