Malaysia's tourism industry received a beating by Covid-19 pandemic. Is recovery possible?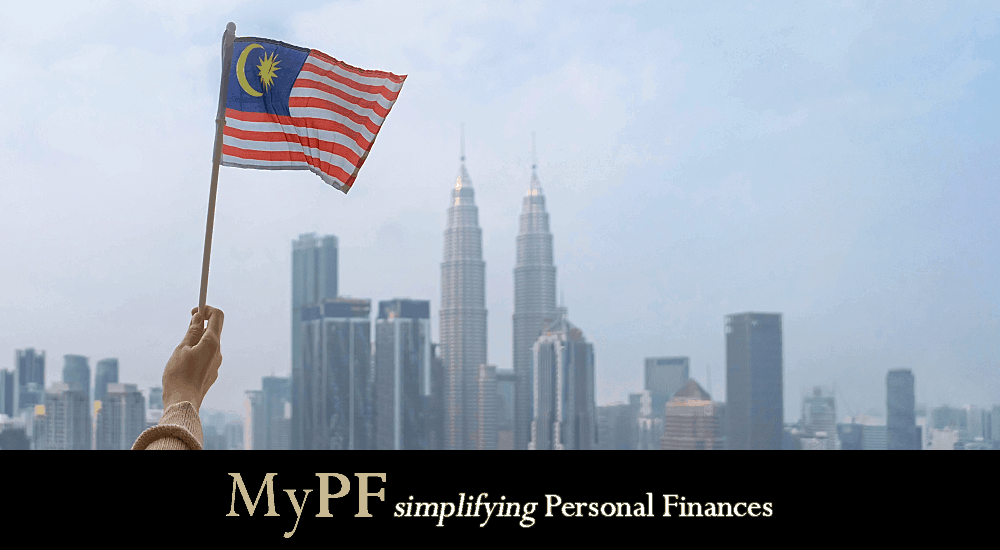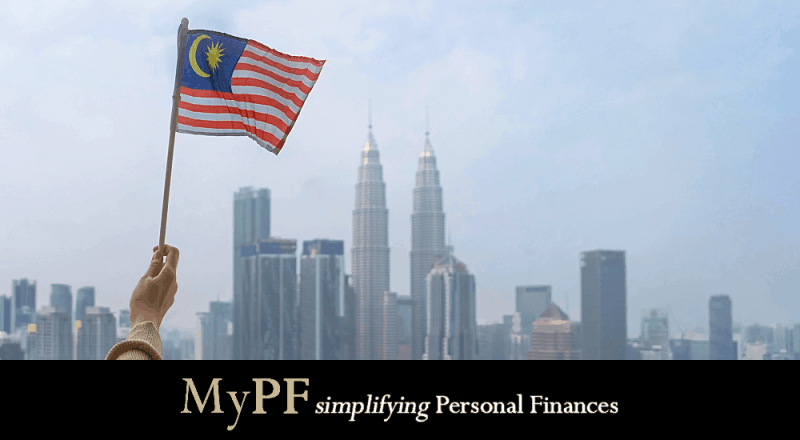 This year, tourism was supposed to boom like never before. Worldwide, the advertising drive for the big campaign "Visit Malaysia 2020" was set in motion. Our tourism campaign, 'Visit Malaysia 2020 (VM2020)'  was expecting to attract around 30 million tourists with an expected revenue of a solid RM100 billion.
"To ensure the success of VM2020 and strengthen the tourism industry in Malaysia, the government has allocated RM1 billion in the Tourism Infrastructure Fund until end of 2020 to provide financial assistance to existing and new companies involved in tourism-related activities and services," then noted by AllianceDBS Research.
However, the Covid-19 pandemic has put a damper on all of this, affecting more than 3.5 million people working in the tourism industry.
Loses faced by tourism industry
The Malaysian Tourism, Arts, and Culture Ministry announced on March 24 that the current estimate of losses faced by the country's main tourism industry players for the January 2020 to March 2020 period to be  RM9 billion. The players in question include the accommodation, transport, shopping, food and beverage sectors as well as the organizers of business events.
According to  Malaysia's director of tourism in Indonesia, Roslan Othman, most visitors came from Singapore, Indonesia, and China. But Malaysia was also becoming increasingly appealing to European tourists.
However, with the pandemic forcing countries including Malaysia to impose entry ban and border closures, what was once a promising year has now turned into a struggle for many in the tourism industry.
Malaysian Association of Hotels (MAH) CEO, Yap Lip Seng tells The Edge that for the January to June period, hotels are looking at potential losses of RM3.3 billion from room revenue alone.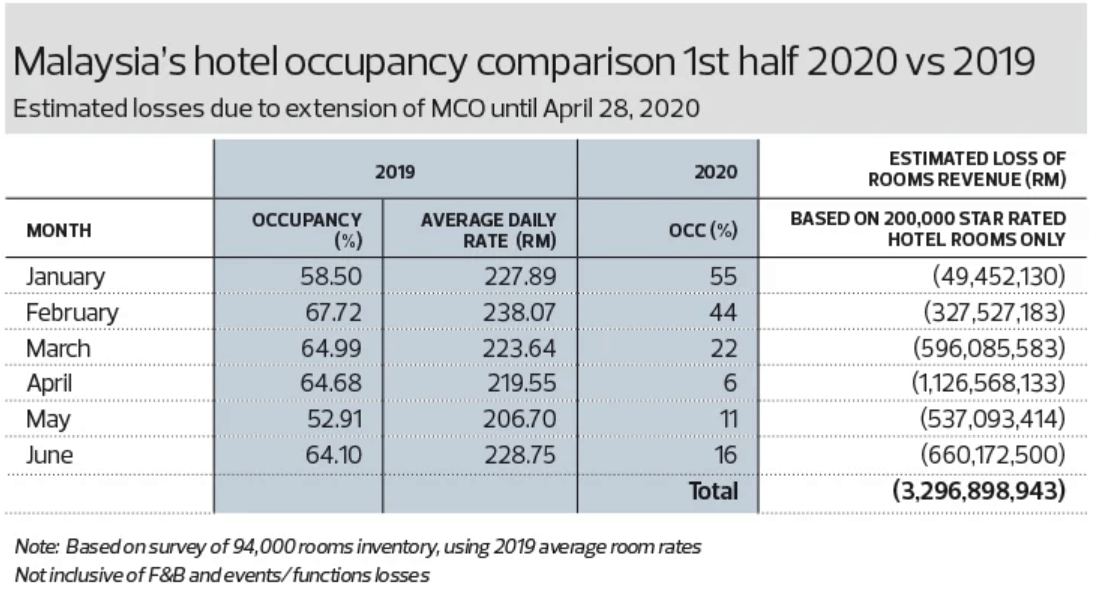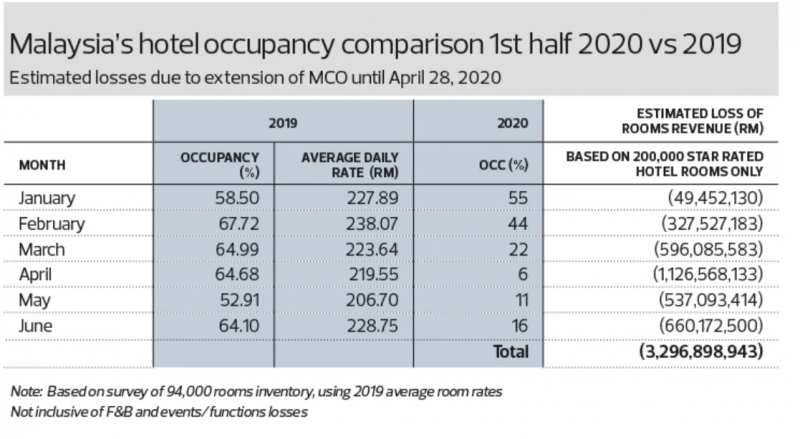 This table is based on a survey conducted by MAH, published on The Edge Markets
During the first phase of the Movement Control Order (MCO) in Malaysia from March 18 to March 31, hotels lost RM510 million in room revenue, and in the second phase from April 1 to April 14, hotels then loss an estimated RM570 million.
"On average, every 14 days of MCO will cost the hotel industry RM500 million [in losses]. The industry is anticipating a ban on mass gatherings for the next six months and, thereafter, [it would be] dependent on the situation at the time," says Yap.
A recent job survey of MAH's hotel operators revealed "signs of desperation" among employers, Yap says, adding that as at March 20, some 4% of employees had been laid off, 17% put on unpaid leave, and 9% had taken pay cuts.
"With little to no revenue since the MCO, hotels are already cutting operational costs, but it does little to help ease the burden of cash flow, in particular payroll. In general, the payroll costs of budget hotels are about 25% of revenue; mid-range hotels, 32%; and high-end hotels, 29%. This represents a third of what the hotels are not making, hence, the difficult decision to impose pay cuts and unpaid leave in order to retain jobs instead of terminating or laying off employees," he says.
 Several hotels have also closed their doors permanently as they cannot cope with zero occupancy during the MCO period. Among them are:
Jazz Hotel, Penang
Kinta Riverfront Hotel and Suites, Ipoh, Perak
Tower Regency Hotel, Ipoh, Perak
Ramada Plaza Hotel, Malacca
G City Club Hotel, Kuala Lumpur
For the aviation industry, Malaysia could see a 39% fall in demand, involving an estimated 25.49 million passengers, arising from the Covid-19 pandemic, said the International Air Transport Association (IATA).
"Malaysia airline industry could faces an estimated US$3.32 billion loss in revenue, affecting some 169,700 jobs," said IATA.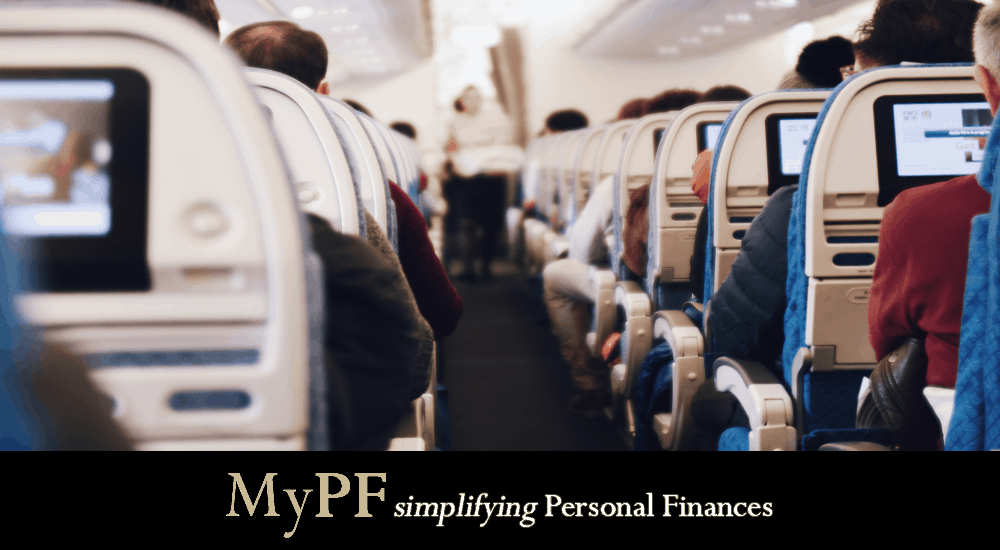 Overall
Once the MCO is lifted, Malaysians will still want to travel, and spending their money with domestic tourism is a likely choice. Besides that, postponed events are likely to be rescheduled, and so parents will want to attend their children's convocations, and business travellers are likely to start attending trade events and professional conferences again.
According to a licensed financial planner, Kian Ng, our tourism industry must think of new ways to regain positions and improve financial situation and eventually there will be always sunshine after a rainy day.
As Malaysians choose to travel within the country, their spending will help businesses in the travel and tourism sector achieve their income goals. We certainly hope all Malaysians will have the opportunity to enjoy the remaining long weekends in Malaysia.
You May Also Like
Besides travelling locally, what are some other ways you can help to help boost our tourism industry post Covid-19? Share with us in the comments section below.