Peer-to-peer lending lets small businesses and entrepreneurs obtain capital, aka borrow, from a pool of investors via an online platform. How do you setup leading P2P lending Funding Societies auto investment to reduce risk and for decent returns.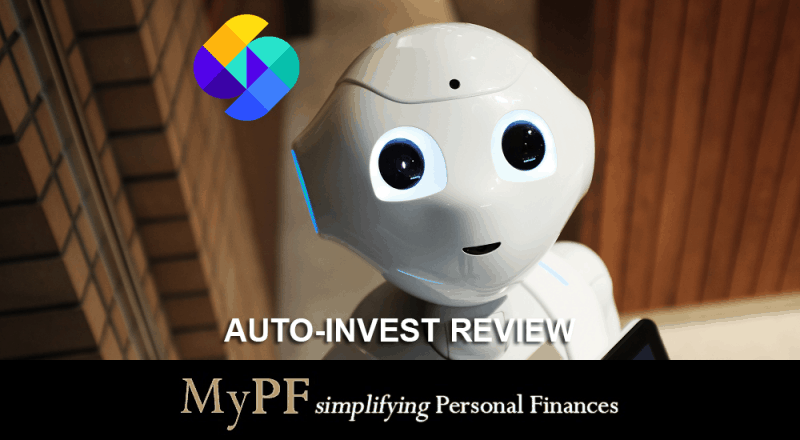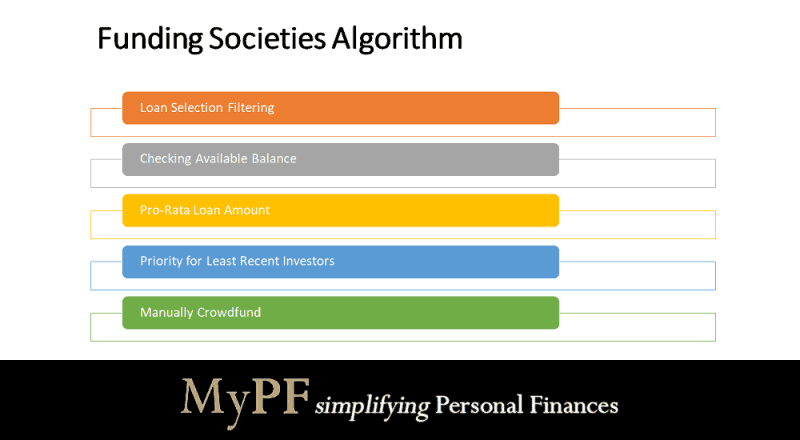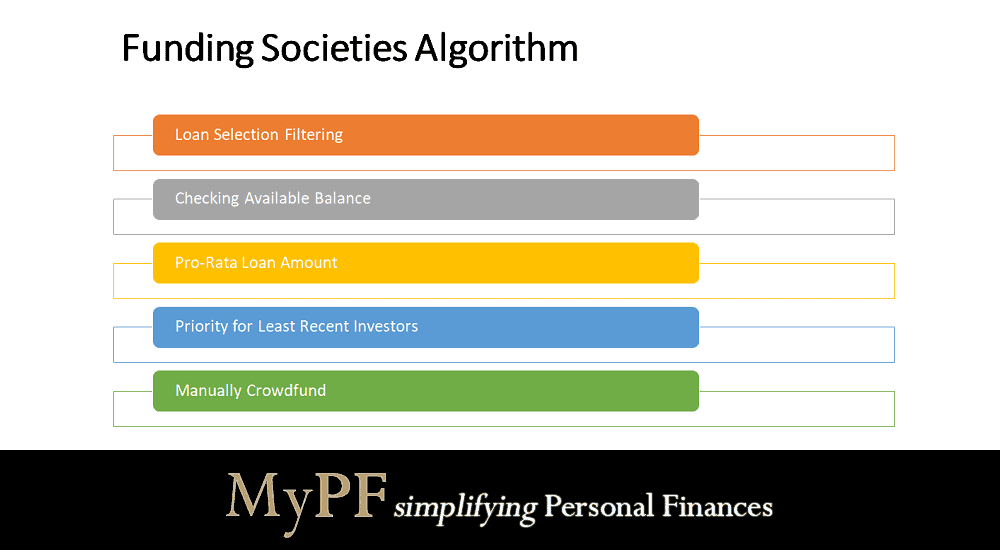 What is Funding Societies' Auto Investment
Note: Unsure what is P2P lending or Funding Societies, read this first.
Funding Societies algorithm starts by first running through all filters set to see which investors settings match the note. Up to 90% of the note will be open for auto-invest. About 10%+ will be left open for manual crowdfunding.
If your available cash balance is less than the minimum auto investment amount specified, you will still be auto-invested if you have selected to exhaust your balance.
If the total auto-investments are more than the allocation for auto-investment, it will be pro-rated down to the nearest $10 down to at most the minimum amount stated when selecting your investment range.
If too many investors are on auto-invest and not all investors can be accommodated, the algorithm will prioritize investors who have less recently auto invested.
The manual crowdfunding option is still available if you were unable to auto-invest or auto-invested less than you desired.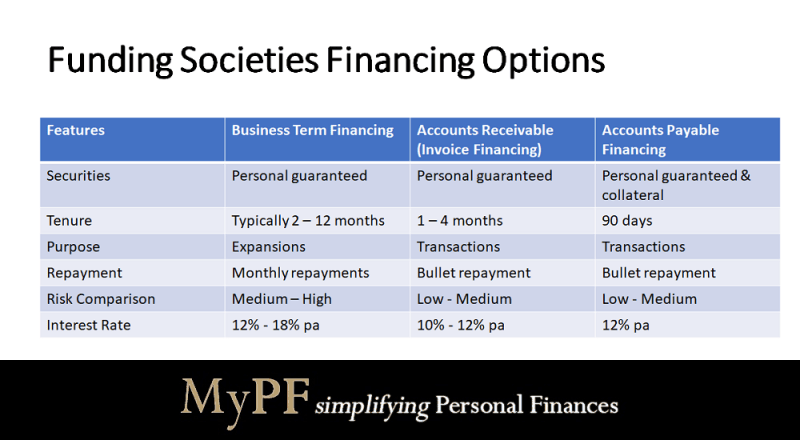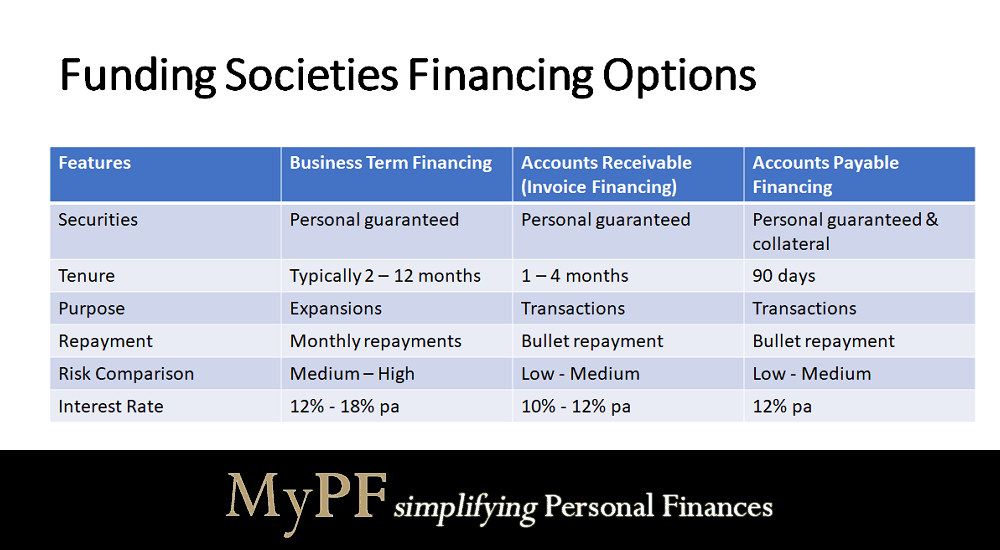 How to Setup Auto Investment
Go to Settings > Auto Investment (Tip: Funding Societies Malaysia co-founder and CEO Wong Kah Meng in an exclusive interview with us recommended using the Funding Societies mobile app) and click "Create a new bot".
You will have 3 options for Investment Type:

Term Financing (medium-high risk)
Accounts Payable (AP) Financing (low-medium risk)
Accounts Receivable (AR) Financing (low-medium risk)
Tip: If all the risk levels are acceptable to you, setting up auto investment for all 3 investment types is recommended so you are further diversified and have choices of exposure.

You can filter out the Industries for any industries that you want to exclude where by default all industries are setup.
Tip: You can exclude any industries which you feel are at a high risk of defaulting.
Set your Annual Interest rate range (min/max):

Term Financing: 6% – 19%
AP Financing: 6% – 18%
AR Financing: 6% – 19%

Set your Tenor (min/max):

Term Financing: 2 – 24 months
AP Financing: 30 – 150 days
AR Financing: 30 – 120 days

Set your Auto invest amount from min RM100 to max RM50,000.
Other Notes & Tips
Bullet repayment refers to repayment structure of principal + interest repaid at the end of the Note tenure.
Set your Annual Interest rate to be in the middle range without taking on overly high risk.
A longer tenure (duration) can be risky thus financing of below 12 months for term financing and below 90 days may be less risky.
A smaller Auto invest amount may be good to increase the amount of different notes you can invest in and with that increase diversification and reduce risk of defaults.
Other Auto Investment Settings
Max Issuer Exposure
It is recommended to set Max Issuer Exposure which limits your maximum borrowings to a single Issuer (borrower). By default the Max Issuer Exposure is at 25%.
Tip: Recommended to setup Max Issuer Exposure at 5% to reduce a single default affecting you 
Exhaust Balance
If your balance falls below your Auto invest range, the Auto Invest Bot will still attempt to invest for you. For example, if you have set your auto invest amount between RM500 – RM1,000 but your balance is only RM400, the auto investment bot will still invest up to RM400.
Tip: It helps maximize your funds that would otherwise sit idle so it is recommended to turn on Exhaust Balance.
We hope this article helps you to better setup your Funding Societies Auto-Investment bot.
Note: This article is not-sponsored but in response to our audience questions on this topic. This article is for educational purposes and not a recommendation or investment advise.
Yet to Signup for Funding Societies?
Funding Societies signup promotional code FREE RM30: jghl0uiv
You May Also Like
Like this article? Signup if you have yet to and share! Any other tips? Do share with us in a comment below.